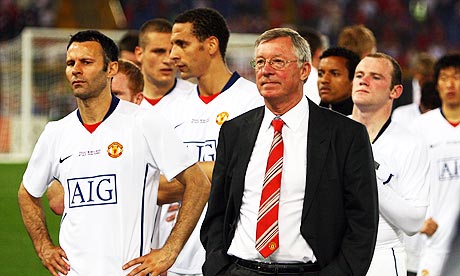 AUTHOR: – Doron
Winning. adjective that wins; successful or victorious, as in a contest: the winning team.
Losing. adjective causing or suffering loss, as in a contest: the losing team.
Charlie Sheen wouldn't necessarily be a good United fan. Under Sir Alex Ferguson the club has generally been winning however four times they've been Premier League runners up, lost 3 FA Cup finals, lost 3 League Cup finals, lost 1 European Cup final and lost other one off finals such as Charity Shields and Super Cups.
As the season heads towards April and with United fighting for three trophies, what is it that the players and staff will draw upon as a motivator for potential success?
I was recently rereading Steve Bartram's end-of-season book from last year, The Story of Our Season: The Official Manchester United Players' Diary 2009-10. It was only whilst reading it for this, the third time, that I realised how true (in my opinion) and prophetic the last line of the book is:
"After all, it's the pain of failure, rather than the joy of success, that is the biggest motivator at Manchester United."
Football is an emotional sport. The highs are as memorable as the lows. Until recently I'd never really spoken to anyone at length about the European Cup Final in Rome in 2009. I've still never watched that game back and although I'm not in denial about its existence it just feels like a very painful memory. Yet, it's memories such as that one which drive our players today.
Why is it that defeats seem to be remembered more by the players than the victories?
A few weeks ago, Darren Fletcher signed a new contract. Speaking to manutd.com, Fletcher said, "There have been so many high points but lows as well – and those are the ones that give you strength and determination to go on and achieve more."
As fans, we tend to look back on success rather than the rare defeats as we know we never had the ability to truly influence the results. However, clearly, for the players it's different. Fletcher isn't the first to suggest that it's the low points that serve as motivators for the club. Evra, a real thinker, often cites losses as the moments he can't forget, "That bad moment affected me more than any other moment" he said referring to the Champions League final defeat in 2009. Even after losing a league game Evra suggested, "Losing is the most pain you can have when you play for United".
The most decorated Man United player, Ryan Giggs, could be forgiven for reflecting upon his 32 trophies won with the senior Man United team. Yet he still gets annoyed that there are times where he could have won more. He describes losing as, "That awful feeling of emptiness". He chooses not to speak of past achievements where possible, certainly he gets embarrassed by personal records and frequently suggests they're something to look back upon when he's finished playing.
I'm not suggesting United is a depressing club! Far from it, there is a winning mentality that runs through the history of the club right up to the present. Only last weekend did a side down to 10 men score yet another late winner to extend the lead at the top of the table. This only serves to suggest that actually winning is the biggest motivator. Jamie Redknapp has said about United that "It's bred into every player that a game is not over till it's over" – similarly, West Brom player, Youssouf Mulumbu, said only last week that United have a winning mentality that possess the club and enables them to fight until the last minute of every game to ensure victory.
Personally, I think that I side with Ryan Giggs: "It's the disappointments that keep you going" – the drained feeling that comes with defeat at the end of a long season is something that would spur me on to avoid it happening again. As we come to the make or break time of the season, what do you think serves as the driver for the team – the pain of past defeats or the potential prize on offer that comes with success?
AUTHOR: – Doron