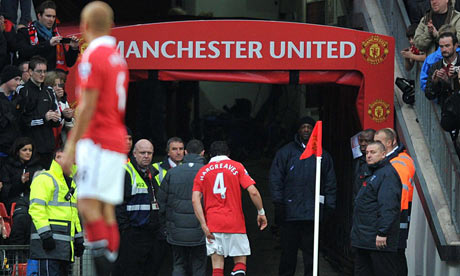 As the transfer window draws towards a close, United have only made minor moves in brining in a new back-up goalkeeper. This summer is likely to bring a fair few changes to the squad personnel at the club. We've invited Herzog's Child to share his thoughts on why this is a good time for the club to move on and welcome a new era; starting with the likely departure of Owen Hargreaves…
Owen Hargreaves – insert nauseous 'who?' gag here – turned 30 this week; an age which, the common consensus regularly churns out, is just a little after a footballer's prime. He was 27 when he last completed a full 90 minutes in a first-team game. A promising stroll in the reserves a few months back, and that cruel – albeit somewhat predictable – tease against Wolves shortly after are all that have amounted in a prolonged hiatus, that now, reports suggest, will soon be rendered permanent. The decision to resist a renewal of his contract will pain all associated with the club – not solely for the reason they will have lost a player who should have been integral to an underwhelming United midfield, but also for the man himself, who has tried but failed to resurrect a career plagued by continuous plight. Hargreaves's knees have failed him. Injuries can be absolute in their inflictions. Just ask Dean Ashton – 3 years Hargreaves's junior – another victim prematurely forced to bow out in agony due to a recurrent ankle injury suffered whilst training with England.
A quick browse of a host of United-related message-boards secures an accurate outlook on how Hargreaves is now viewed through the eyes of those who once adored him. Giggly wishing of curly locks are no more, and – presumably – the line of proffered wives put forward by appreciative reds has trickled down into a ghostly nothing. Empathy has been replaced with apathy. In some reaches, the mention, or sight, of Hargreaves is met with hilarity. His displacement from the bowels of United's playing-squad has ebbed from disharmony to being the butt-end of quips that have already grown old. The reaction, admittedly cruel, is without malice – laughing aids the recovery from a pivotal loss. The advent of apathy amongst reds is also a natural response to the reality of the combative midfielder's decline; like all good players, his movements, – or, in this case, lack thereof – are scrutinised closely. Through online chatter he has been morphed into a parody for one reason alone: we miss him. We miss him because we need him, especially now as we attempt to stride towards a perch-knocking 19th.
His unavailability has always been galling, but it's highlighted even more strenuously now. United's place atop an undeniably mediocre pile has been an admirable feat, but clear worries persist. Fletcher's inability to retain his form of previous years, combined with Carrick and Anderson's erratic displays, have borne light upon the need to strengthen one of the few areas of the field where we are lacking. Scholes, ever masterful, still spreads the ball with the devastating precision of a sharking torpedo, but he cannot keep pace with the unrelenting nature of the campaign's hectic fixture-list anymore. Ferguson's persistence in 'freshening things up' is fine, but only the fuzzy-eyed will challenge the notion that our performances have suffered due to lack of a consistent midfield twosome. If the money is 'there' – Where?! One begs to ask – why isn't it being used? Placing faith in a second-coming for Hargreaves would be naive, and is not – presumably – the reason. The emergence of a promising threesome of midfielders via the youth setup could, perhaps, be the outstanding factor in Ferguson's reluctance to spend, but they're still some way off yet. One, indeed, who – one isn't reluctant to propose – would/could (?) have been Scholes' natural replacement, may even already be gone beyond the point of return. Or perhaps, most realistically, there is no money.
It was Owen Hargreaves who first sprinted to embrace Edwin Van der Sar on that magical night in rain-drenched Moscow. The Dutchman, who only today confirmed suspicions he's to retire come the season's end, will close his career at the highly commendable age of 40, a scary decade beyond Hargreaves' ravaged spell. Commenting on a career's demise may appear premature, but the reality of a 2 and a half year confinement to the physio-room offers little hope long-term. Whispers from decent sources have suggested Owen's psyche has turned fragile due to his recurring setbacks, and that, coupled with being physically unfit, the psychological trauma borne out of not recovering has inspired a new hesitancy. Such a reaction is natural, of course, and does not bode well. Any hopes of a miraculous resurrection appear the stuff of a giddy fantasist; even if he restored some semblance of fitness, he'd be returning 3 years older, to a pace terrifically frenetic. It's looking like an increasingly insurmountable task, and one very, very few footballers have ever achieved.
The manner of sound-bites recently espoused by Ferguson would also suggest things have not worked out. He recently stated the club's priority was to ensure the player returned to the stage where he could still play football. His lack of relating a resurgence to United specifically told its own pitiful tale; back-room staff have also expressed their concern for Hargreaves' lack of progression. With his contract coming to an end this summer, and several key United players reaching their twilight, the most sensible option for the club would be to sever their association with the player. Critiques of the terminally injured can appear unfair at times, but, whether rightly or wrongly, many will point to the amassed wealth of wages Hargreaves has garnered during his spell out of the game. The burden of United's crippling debt will, one can only presume, be factored into the equation. United need to spend their money more wisely than ever before; and, crucially, they need to spend it on players who'll be available to play.
When the time, as it is expected to, finally arrives, the gossip columns, internet message-boards, radio-phone ins, and -sickeningly- Sky Sports News happy-tappers, will become inundated with possible solutions to United's vacuous midfield. Uncertainty over Scholes' prolongation for the moment still prevails. The future below the first-team excites, but cannot for now be depended upon. United will need to buy, and, importantly, will need to ensure they get it right. The usual names will crop up. An insufferable uprising of wind-up-merchants, supposedly in the know, will regularly disgorge a litany of dull tit-bits. Everyone will have some idea, and – if United's transfer policy is anything to go by – everyone will get it wrong. The more regular stories state we will buy English. What is a certainty is that we'll buy young. The advent of buying young, nurturing talent, and thus ensuring a hefty future sell on fee, is a bleak, yet ultimately evident reality. Following Berbatov's signing, a belief formed that United shelling out large sums on players in the late 20's bracket was to be put to bed. The notion has been further strengthened by the purchases of Bebe, Obertan, Smalling and Hernandez. -all young, relatively unproven prospects. The latter two, to their credit, look increasingly like sterling snips. The former, however, are struggling.
Some of the more credible sources have continuously earmarked a trio that fit the aforementioned criteria. Jack Rodwell of Everton, Jordan Henderson of Sunderland, and Aston Villa's Ashley Young are all thought to be under United's radar. Critically, they're all relatively Premiership-experienced, British, and, most importantly, young. Doubts will encircle any deal, though; about quality, and the nature of their fees. Rodwell – who, as yet, remains an Everton squad player – would cost circa £20m. Ditto Henderson, a superior talent. Young is inconsistent; a right-footed left-midfielder. The former two are good prospects, but – again – would be significant risks. Young, who doesn't produce regularly enough, is simply not good enough. United's midfield is aching for dynamism; someone who can manipulate the ball well, who can shift it quickly, and link the play to our strikers. We need a player of Modric's calibre. One who doesn't go missing, – who is clever and supplies a threat. There is not a plethora of players who fit the bill, but United, who invest heavily in a world-wide scouting system, are going to have to source a number of options out. Potentially they need a Sneijder; a single player who can take control and dominate a game. The player must also be a goalscorer, finding the net is something our central area fail to do far too often these days. Our collapse in Rome horridly showcased the levels of ineptitude we can recede into when up against the levels we need to aim for. Regardless of what May brings, be it success or a just as likely petering out, the summer should herald major change.
If the summer is to herald change, it would be naive not to expect further names – along with Hargreaves – to bow out. Van der Sar's departure, as noted, has been confirmed. Michael Owen may follow, too, to little dismay. Save for that glorious finish that blew apart City hearts, his impact, bar the odd goal here and there, has been minimal. United's support have naturally struggled to warm to him. His leaving will see the return of Danny Welbeck, who has excelled on his loan stint at Sunderland. Wes Brown, who, like Owen, has not featured regularly this season, may leave too, in similar vein to Phil Neville's jaunt across to the murkiness of Merseyside. Now 31, Wes deserves a consistent shift elsewhere. The progression of Rafael – Gary Neville's very able successor – will secure the right-back position for years to come. The centre back spaces are as well covered as they've ever been. His opportunities have grown slack. Others should be shifted but won't. Another year will be wrongly, in my opinion, granted to Gibson, when Tom Cleverley's return should, by right, signal a move for the shambling Irishman. Paul Scholes, an artist rather than a footballer, has yet to decide his status for next season. Fergie will once again have to unleash his persuasive powers.
The game is an eternally uncertain one. Past concerns have before dissolved with happenings which can only be rendered miracles. Last year, when Edwin's familial concerns took him away for a spell, many commentators proclaimed it would signal the end of his illustrious career. It didn't. He signed on for another year, and has – to date – been the league's most consistent 'keeper once more. A number of years ago, you'd be hard pressed to find a red not irate with the sight of Darren Fletcher in our starting 11. He is now – despite his current dip – an integral part of the team. Early expletives towards Nani have quietened; though still capable of infuriating, it appears he now understands. His rate of production, in goals and assists, is one of the most consistent in world football. There are many thrilling things about our current set-up, but they need to be reinforced by a few – just a few – changes. City's steady charge – hideously absurd as it is – should be enough to motivate the need to not fall behind. We have a manager and players who are settled, they do not.
Whatever the future releases, the harrowing probability of it not stumping a modicum of luck for Owen Hagreaves seems likely. The announcement, if it does come, will arrive in the summer. Already the forgotten man of Manchester United, it would be a desperately saddening end to a career – one of success – to end as football's forgotten man. The next 5 months will tell all. United are unlikely to take the risk, not again, after the past 2 and a half years, but a club elsewhere may take it. It should have been so much more, for him and us. Regardless of wealth, to be permanently unable to participate in the things we love would shatter us all – it's the same for him, and will be forever. He could, of course, wipe his boot over all of the above in the coming months, and make the sort of recovery Lazarus would bow down and weep to, and nothing would please us more. But both the club and he will know that endgame is approaching soon. We forget he's appeared just 39 times for us. We don't forget what he brought: stealth, steel and – often overlooked – a vast amount of quality. All of which are dearly missed. His style ignited a sense of fire within the side that has remained extinguished since. His career, though overshadowed, provided moments 99% of footballers will never attain. Though we've already adjusted to his departure, the official word will be a poignant reminder, and will make us remember once more the player we've missed for what seems so long.