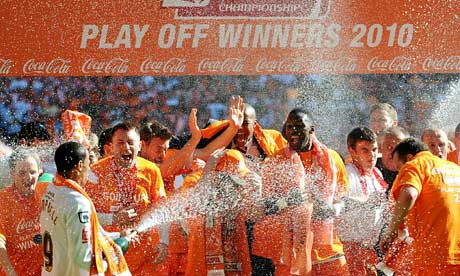 One would think Manchester United is capable of taking all three points from the newly-promoted Blackpool, yet that away curse still looms large ahead of United's journey to Bloomfield Road. Most were shocked when Blackpool earned promotion in the Championship play-off last season, and now they're exceeding expectations in the Premier League. The Seasiders are currently 11th in the table, six points out of the relegation zone.
This is one of the games in hand for Manchester United, after the original fixture was postponed due to weather. United travels to Blackpool the in-form team with four wins in their last five matches. Blackpool, on the other hand, have won only once in their last five fixtures, that victory coming against Liverpool.
Although United's poor away form remains a concern, I would still expect Sir Alex Ferguson to use a 4-4-2 in this match. No disrespect to Blackpool, but they are hardly one of the title contenders which may warrant a 4-5-1. Having served his suspension against Birmingham on Saturday, Rafael will be available for selection and should reclaim his berth at right back. Rio Ferdinand missed out over the weekend, and rather than risk him, Chris Smalling has shown he is a more than adequate deputy. Edwin van der Sar, Nemanja Vidic, and Patrice Evra should all maintain their place in the squad barring injury.
Michael Carrick came off injured on Saturday and may be a doubt for Blackpool, but we all know Darren Fletcher is more than capable in the centre of midfield. Ryan Giggs was substituted off against Birmingham, which suggests Sir Alex may have been preserving him for this match. Despite his goal, Nani was frustrating most of the match; nevertheless, our lack of depth on the wings should secure his place in the team. Anderson, very much the in-form midfielder at the moment, deserves to hold down his place in the XI.
Dimitar Berbatov, fresh off his hat-trick over the weekend, seems a near certainty to lead the line. And although his struggles in front of goal continue, Wayne Rooney warrants a spot after all his contributions in build-up play throughout the match against Birmingham. Berbatov remains atop the Premier League scoring charts and wrote his name in the history books with a third hat-trick for the season, so look for him to continue his threatening presence in front of goal.
The main threat from Blackpool will be captain Charlie Adam, who was the target of an 'insulting' £4m bid from Liverpool last week. Adams has 23 goals in 70 appearances for Blackpool, which is actually rather impressive from a central midfielder. While not one of Blackpool's star players, one that United fans may be familiar with is Craig Cathcart. The Northern Ireland centre back signed for the Seasiders from United last summer. Cathcart never made a competitive appearance for United, and with only five appearances for Blackpool this season it seems doubtful that he'll even feature against his old club.
After over half a season of doing the previews for away matches, I've slowly grown pessimistic. I always predict for a United win, and have been mostly left disappointed having to settle for a solitary point. Despite all the past results telling me otherwise, I am still choosing to predict a win. Again, no disrespect to Blackpool, they have been a breath of fresh air in the Premier League. Despite having just been promoted, you can always count on Blackpool to go out and try to win regardless of the opposition. It's rare you can say that about promoted teams these days. Nevertheless, United have more than enough talent to bring home all three points from Blackpool. Fresh off their five-star performance against Birmingham, I believe my prediction of 2-0 is certainly reasonable. Berbatov has my full backing to continue his deadliness in front of goal. The second goal I think, or at least hope, will be from Rooney. He's definitely contributed to the team, but the one thing we continue to lack from him are goals. With Berbatov in form, the Rooney of last season would all but assure United the title.
It has been said before, and it will certainly be said again before all is said and done; the Premier League title is now United's to lose. The Red Devils are ahead of Arsenal by two points with a game in hand, and three points above third-place Manchester City with two games in hand. The home form has been more than enough to carry United to the top of the table at this point, but being able to secure three points away from Old Trafford will be necessary to bring the Premier League title home. Hopefully, this can be the match where United turn their fortunes around on the road.
—————