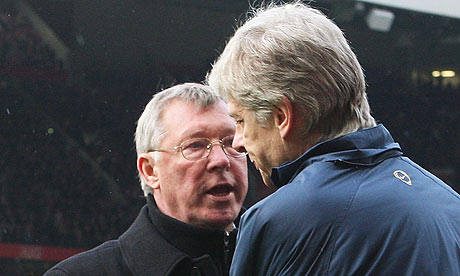 Stretford-End.com wishes to support Manchester United manager Sir Alex Ferguson's comments regarding the sick chants aimed at Arsene Wenger.
We acknowledge that our supporters are not the only ones to sing the chants but we have a responsibility as the best supporters in Britain to not sink to this level, and more importantly, show respect. There is a concern that singing the chants are becoming accepted and we as supporters have to make a stand against that and kick it out.
Ferguson is right, anyone singing the chant is letting themselves and the club down – this isn't offensive to one person, it's offensive to any right minded member of the public. To anyone attending tonight, concentrate on watching two of the best footballing teams in the country. You can read our full preview of the match here.
Honestly, we don't enjoy rival supporters singing about Munich, it's disgusting. It may be impossible to compare the chants but it doesn't matter, it's unnecessary. The bottom line is it is unacceptable. Unacceptable in any civilised form of society, and unacceptable in any kind of football supporter culture. In no way, shape or form can the chants be justified by comparison.
Our concern as a website is that the publicity surrounding the chants means it is inevitable they will be sung, even by a minority, thinking it's cool to do it. But think twice and think of the ramifications. These aren't amusing jibes based on someone's misdemeanours in the public eye. It isn't a stolen toilet seat, it's a malicious, unpleasant disgusting song that should not be allowed to embed itself into desensitisation.
Let's be dignified. Let's create an atmosphere to be proud of, and get behind our team instead of this mindless abuse.