Anderson contract deal: Brazilian is a Red for a while longer!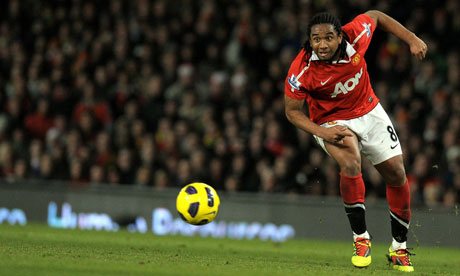 Our number 8, Anderson has signed a new long-term contract with the club today. This follows a successful return from injury and backs up Stretford-End.com's continuing support for him when others have called for an end to his United career.
As firm admirers of Anderson here at Stretford-End.com, today's news that he has signed a three year extension is welcomed with a big thumbs up.
News of a new contract was first mentioned four days ago by the Manchester Evening News. It seemed a strange time to renew not because of how long was left on his original contract but based upon his lack of match time.
Nearly a month ago I updated an old blog I had written – it predicted that Anderson would have a big role to play this season once he returned from injury. Following a return to the team he went and got injured again. During this period out of the team the media started to speculate about his future and he was linked with loan moves away from the club. It was rumoured that Ferguson had lost patience with Anderson. To me this seemed unlikely and so I felt it was time to go back to the old blog and add to it.
I argued that Anderson had not been given a fair chance this season…in fact I argued that we'd yet to see Anderson reach any level of consistency for reasons that were out of his own hands. His first season was a great success but he suffered in his second year due to the form of other midfield players – he struggled to rise to the challenge of competition and found himself being brought in for the odd game here and there. His third season was again one of frustration as he picked up a bad injury.
This fourth season was meant to be a key one. It had taken Nani the best part of two and a half seasons to start to fulfil his potential. Arguably he's been the most important Man United player this season alongside Vidic. When you look at how long in terms of games played it took Nani to really make an impact it should be roughly now that Anderson too starts to make an impact.
Without getting too excited or claim he's the best midfielder ever(!), Anderson's most recent comeback from injury has been a throwback to the early days. His form in the past four games has been nothing short of excellent. Whilst Berbatov got the plaudits for his five goals against Blackburn, it was Anderson who ran that show; the disaster at West Ham saw Anderson emerge as the only player to get any praise from Ferguson; he scored his first Old Trafford goal in another top performance against Valencia; and most recently, playing in a more advanced role behind Rooney he was one of the stand-out players against Arsenal, nullifying their deepest midfielder and providing penetrative runs that were so reminiscent of his first season.
Four good games isn't enough to merit a new bumper long-term contract but quite clearly Ferguson is putting his faith in Anderson. Going into the Chelsea game, Anderson is undroppable, he's our in-form midfielder and he'll be wanting to prove Ferguson and Gill were right to extend his contract until 2015. From a contractual point of view, with 18 months left on his previous deal it made sense to renew it now but I know he's yet to convince lots of fans that he deserves it. Certainly many other fans, blogs, fansites and media sources had said they believed his time was up or that he was no longer worth keeping.
It's worth remind people that he is only 22. He was only 19 when he joined and like any teenager he was immature. Apparently Ferguson is impressed with his growing commitment to training and football. His lifestyle choices have long been questioned and a change was always needed. It's noticeable that he is much trimmer now, he looks fit and focussed. Anderson will have to work hard now to maintain his place in the first team and prove he is worthy of this new contract – a lot of trust has been placed in him.
Personally I think it's important he starts to add goals to his game. I am delighted he's signed this contract and he has started to prove a lot of doubters wrong. Admittedly these four good games will mean nothing if he follows them up with mediocrity but it's a start. Anderson can now start this new chapter in his career and push on to become first choice at United. How far Anderson can go will depend on his attitude more than his ability but it would seem he's now making the right choices and hopefully is set to follow in the footsteps of Nani.
To read my original thoughts on Anderson from July 2010 click here.
To read my second blog on Anderson from November 2010 (pre-Blackburn) here.
These are the official quotes from the club on his new contract…
Sir Alex Ferguson:
"We are delighted he has signed a new contract, Anderson has developed tremendously since joining us and he has fantastic potential at only 22; he is going to be a really top player."
Anderson:
"This is the best club to be at and I would like to thank everyone for the great support I have received over the years. I am looking forward to winning many more trophies with United and I am so pleased to have signed a new contract."
You can share with us your thoughts and opinions on Anderson on the forum.