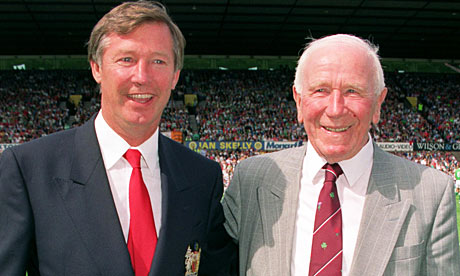 FIFA's impending announcement of the 2018 and 2022 World Cup hosts is dominating headlines at the moment, but there's still plenty of Manchester United news to report. Sir Alex Ferguson is about to become United's longest-serving manger and the current youth crop is taking criticism and facing the exit door according to reports.
Sir Alex set to become United's longest-serving manager – Guardian
Against Chelsea on 19 December, Sir Alex Ferguson will become Manchester United's longest-serving manager. The previous holder of this title? Sir Matt Busby. This is a massive accomplishment for Sir Alex, who was nearly sacked before winning the FA Cup in 1990.  Sir Alex has since become the most successful manager at Old Trafford, and it is fitting he should also be the longest-serving. Even now, as he approached 25 years in the United hot seat, fans hope that 69-year-old Scotsman will continue for years to come.
Sorry Alex… the kids ain't right – Sun
Former United player Viv Anderson claims our youngsters are not good enough. Following the 4-0 loss at Upton Park, the youth players at United have taken massive criticism. Viv Anderson has now joined the critics claiming that this crop is not United quality. The team against West Ham was comprised of mainly youngsters and the blame is being placed largely on them. It's unfortunate because so many of the players have proven their quality in the past. Lou Macari has joined the critics, claiming that United have not had a clear star come through the academy since Ryan Giggs and Paul Scholes.
United axe looms over Evans – Mirror
Jonny Evans has experienced a nightmare season with United, and The Mirror is now reporting that he will be shown the exit door following his role in Tuesday's 4-0 loss against West Ham. In the past two seasons, the 22-year-old centre back appeared to be the future of United's defence with fantastic performances against world-class strikers, particularly Didier Drogba. Last night, though, Evans couldn't even silence Carlton Cole. This dip in form has become a concern among fans, with some even calling for the Northern Ireland international to be sold. The article also mentions Gabriel Obertan, Federico Macheda, Fabio, and Bebe as youngsters who may face the chopping block. This seems like another miserable story from the Mirror.  The loss was bad, there is no arguing that, but I cannot even fathom Sir Alex responding with such a knee-jerk reaction. Yes, Evans has been terrible this season; he's arguably been our worst performer of the entire campaign. That said, he has shown in the past that he has incredible promise. He may be running out of chances, but I don't think Sir Alex will give up on him just yet.
Discuss all today's news and rumours in the forum
Follow Kyle on Twitter at KDill_MUFC