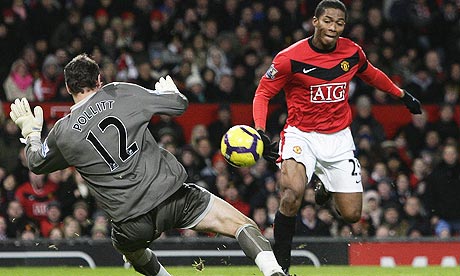 It's two weeks to the day that United last played at Old Trafford in what was a nail biting and often unforeseeable win against Wolves. Today, Wigan are the visitors. They've not had much luck at Old Trafford recently managing just one goal in five Premier League matches, but things haven't been straightforward for United so far this season…
Wigan are a team in patchy, bottom-half-of-the-table form. Their last six matches have produced one win (last weekend against West Brom), three draws, and two defeats. They sit 17th in the league, hovering just above the relegation zone but are only a win off 9th place, such is the nature of the league.
Roberto Martinez likes to get his side to play football 'the right way'. It would be a real surprise if they came to Old Trafford with a negative set up. Their squad is made up of strong, quick and athletic players. Hugo Rodallega and Charles N'Zogbia will be the two players most likely to cause any problems. Both are direct, fast and tricky. N'Zogbia in particular always feels that he has a point to prove when playing big teams. Slightly less glamorous, but the Alcaraz and Thomas perform important roles in providing the axis for the team.
Wigan only became a fixture in the 2005/6 season when they won promotion to the Premier League. They've successfully retained their place every year since, throwing up five league games at Old Trafford. Unfortunately the aggregate score from those games is 17-1 to United and Wigan have never managed to win a point. Last years encounter was a 5-0 win to United with five different goal scorers – Berbatov, Carrick, Rooney, Valencia (against his former club) and my favourite, Rafael, who celebrated so brilliantly by running to his brother, Fabio on the bench.
Wigan will be without Pollitt, Boyce, G Caldwell, McCarthy and Tom Cleverley who is ineligible to play as part of the terms of his loan deal. Wigan's reserve team suffered a 3-1 defeat to United on thursday evening, can their first team do any better?
Here's how I believe United will line up:
With all due respect to Wigan, history shows this is a game that should equate to three points. In saying that, so should many of the games United haven't won this year. Ferguson will have half an eye on an intense away Champions League match against Rangers in a few days time but there is the bonus of knowing that only one point is required in that game. I've therefore picked one of the strongest teams available. In years gone by I think we'd have seen the Champions League prioritised with the squad rotated for a home league match but due to the circumstance in each competition at the moment I think a strong team in the league is important.
United have some injury doubts – Rafael, Ferdinand, Smalling and Giggs are all likely to miss the game or not be risked whilst Valencia, Owen and Hargreaves are out. I've picked an experienced back four using the other players available – O'Shea, Brown, Vidic and Evra. Following his injury and a full match for Northern Ireland mid week I'm not sure Evans will be given a start, and although putting in a lively display for the Reserves, I don't think Fabio will break in at right back. This is of course the kind of game where we might see the name Gary Neville pop up on the team sheet so don't discount that.
The midfield four is hard to call for this game. Out wide there still aren't many options, Nani and Park should continue, which for me is a shame as I would love to think Obertan's positive influence away at Villa would merit inclusion. In the middle I've picked two fresh players who'll keep the ball and pick the right passes, Scholes and the in-form Carrick. Fletcher could do with a weekends break, Anderson is available again but I think the Rangers game is where he may be used. It's unclear whether Gibson is or isn't available following the illness to his daughter – we wish her well. There are many variations possible, Ferguson may wish to save Scholes for the Rangers game. I personally am keeping up my own campaign to see Magnus Eikrem involved at some point. He missed the Reserves on Thursday as he played international football the night before, I'd like to think he'd make the bench for this game. Up front Berbatov and Chicharito should both start despite the former going two months since his last goal. Rooney's return will probably only stretch as far as the bench but a start at Rangers should beckon. Kiko Macheda is the striker in the best short-term form. He got a stunning goal last weekend and two goals for the Italian U21 team mid-week – he like Obertan will feel he's done enough to justify an inclusion from the start.
United go into this game as still the only unbeaten side (just about) in the country. The past two games have thrown up two draws but prior to that it was three wins on the bounce. Wigan should be a good chance to return to winning ways. A fantastic stat from Opta shows that this pitches the team who have converted the highest percent of their chances into goals – United (17%) against the team who have converted the lowest percent of their chances into goals – Wigan (7%) – unsurprising given that United have scored at least twice in 11 of their 13 league games this season whereas Wigan have scored the fewest number of goals in the league.
I'm going to predict a 4-0 United win.
Before I sign off, here is the Stretford-End.com betting info for anything Wigan related:
If you fancy a bet on this game, then with Stretford-End.com you get a special joining fee at Paddy Power:
Get a free £20 bet when you join
Man United Vs Wigan Atheletic Betting Odds (correct at time of publishing)
Man Utd to win 2/9
Correct score markets:
1-0 is 11/2
2-0 is 5/1
2-1 is 15/2
First scorer
Rooney 3/1
Hernandez 7/2
Berbatov 7/2
Fletcher 16/1
Share with us your thoughts ahead of this game on the Wigan thread on our forum