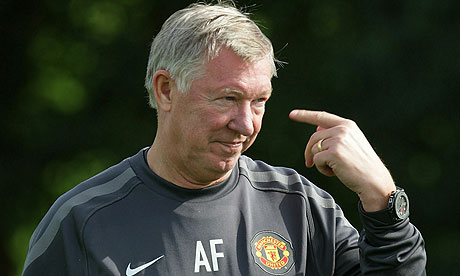 Sir Alex doesn't know what he's doing! He's finally lost it! We should have signed someone in the summer! United supporters may lose themselves in over-reaction and the media may be beside themselves with delight after their London darlings trounced Champions League minnows. Is it too late to point out that United's form directly correlates with their start to the 98/99 season? And is better than that of the 07/08 season?
Not that I'm suggesting we're in such rude health. Far from it. Not even the most starry eyed United supporters would pretend that our current front six are anywhere near as potent or fluent as that in 1999, but, that's not to say the potential isn't there. Those late draws at Fulham and Everton were like kicks to the naughty regions – both with crazy finales; Craven Cottage was a magnificently crazy final 10 minutes which started as it ended, with the teams level, so we could have no real complaint.
On the balance of play at Goodison over 90 minutes we could have no complaints (when looking at the statistics, at least, even if the demonstration of the unfolding play suggested United were good value and very comfortable at 3-1). 4 points dropped? Sure – United should – should – have won both games 3-1… 2 points are 2 more than what we got in those fixtures last season, though. Not that such an argument should prove to be infallible, but, neither draw was completely disgraceful at least on paper.
Compared to 98/99; a home draw against Leicester and a 0-0 at West Ham; then the results look better! Likewise, our Champions League campaign that season started with a home draw. The 3-3 thriller with Barcelona was infinitely more glorious to the eye but the value of the point gained is exactly the same as the one we "won" on Tuesday night.
Liverpool are up next and serve as perfect inspiration. The players barely need a team talk. United are lacking Valencia but will have a fresh Nani to unleash; and if we are being honest, the young Portuguese winger's rebirth was primarily due to his blistering form on the right hand side in mid-winter. There is a problem on the left hand side but one would suppose Park or Giggs will be deployed to work Johnson, giving Evra the opportunity to expose the visitors' lack of defensive discipline down that side.
Long term is a different prospect, but this knee jerk pessimism (and finger pointing at Fergie, which always seems to occupy the minds of fickle supporters after slow starts in September) is without real foundation and, far more importantly, is not productive. I was guilty, after the Everton game, of saying that the complacent trend set in our away games is looking like it might be costly. Normally it wouldn't concern me; but Chelsea's title wins of recent years were built on fast starts that put them in an unassailable position. Their easy start means that any complacency from the chasing teams – even at this stage – is likely to be punished double.
Be that as it may, and without wanting to sound like a Liverpool fan, United only need to look back at their own recent starts to seasons (and, indeed, spells within seasons) for consolation. A draw at Goodison in the early stages of 08/09 was not a fatal blow to a record equalling league title winning season. A bore draw at home to Villareal to begin our Champions League did not stop United getting to the final. Even with the devastating injury to Antonio Valencia, in such crises heroes are born. Injuries in 07/08 gave Anderson an introduction into midfield and that coincided with our best run of form that season. Injuries at Tottenham forced Harry Redknapp to play Gareth Bale as a left winger and the young Welshman was on fire, inspiring Spurs to the Champions League at both the back end of last season and this season's qualifier. United's Champions League Final of 2008 started with Owen Hargreaves and Wayne Rooney working the wings.
Doron identified possible candidates to step up to the plate in Antonio Valencia's absence; just as relevant as the identity and ability of the replacement is the impact that it will have on the team's very performance. Unknown to us; unknown to opponents. Surely, at this stage, the unknown is cause for optimism. It certainly isn't cause to point the finger at Fergie; particularly when his track record from precisely this position (or worse) usually ends up with one major trophy at least by May.