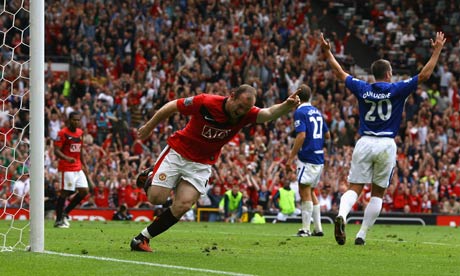 After a summer of speculation and agonizing, when the first league fixture finally comes round relief sets in. Football is back. With Newcastle at Old Trafford on Monday 16th August getting nearer I thought I'd take a look back at how Manchester United have performed in the opening fixture for the past ten years. I was hoping to find some interesting patterns or themes that would help to predict how the season might start but instead I discovered…
…that a load of stats are quite hard to decipher anything conclusive from!
The facts:
8 home games and 2 away
7 wins; 2 draws and 1 defeat
19 goals scored and 5 conceded
53 players used (21 are still at the club as players; 21 play at other clubs; 10 have retired; 1 is a free agent)
1 player used in every game
9 players used on 5 occasions or more
21 players used just once
5 goalkeepers used
The results:
2009 – home – Birmingham – 1-0
2008 – home – Newcastle – 1-1
2007 – home – Reading- 0-0
2006 – home – Fulham – 5-1
2005 – away – Everton – 2-0
2004 – away – Chelsea – 0-1
2003 – home – Bolton – 4-0
2002 – home – West Brom – 1-0
2001 – home – Fulham – 3-2
2000 – home – Newcastle – 2-0
The fixtures are usually favourable – more often than not the season kicks off at Old Trafford. This year follows that trend and the game sees the club taken on it's (joint) most frequent opening day opponent from the past ten years – Newcastle. Man United met the Magpies in 2000 and 2008 winning 2-0 and drawing 1-1 respectively. Worryingly for Newcastle, after World Cups in the 21st century, United have always won their opening matches.
Three things surprised me about these stats: 1. not many goals have been scored, 2. the one defeat was by a single goal, 3. how many players have been used. With the 5-1 win over Fulham in 2006 and the 4-0 win over Bolton in 2003 I expected the goals scored tally to be much higher. Unfortunately in the past three years goals have been hard to come by with only 2 scored in that time. The positive news is that 17 of the goals scored in opening fixtures have come in the 8 games at Old Trafford, so we can expect at least two scored against Newcastle.
The one defeat came back in 2004 away at Chelsea. Looking back at the team that played that day it is impressive to think the defeat was just by one goal: Howard, G.Neville, Fortune, Silvestre, O'Shea, Miller, Keane, Djemba-Djemba, Scholes, Giggs, Smith; Subs used: Bellion, Forlan, Richardson. It seems the opening fixture often has some surprising names involved – injuries and fitness mean that squad players often have the chance to play a role, hence 21 players have been used on just one occasion, including: Wallwork, Chadwick, Blanc, Yorke, Irwin, Miller, Bellion, Campbell, Fabio, Possebon, Rafael, Foster, Heinze and Saha.
Newcastle should expect to face 14 different Man United players. Sir Alex Ferguson has always used all three substitutions in this recent set of opening games. Of the 14, according to history, at least two will be appearing on the opening day for the first time. By contrast, Paul Scholes should feature, having been the only player to have played in every opening game since 2000. In past years United have often entered into seasons with lots of injuries, this year there aren't so many so I expect the squad for the Newcastle game to mirror the tour team, it'll be strong. It may well even be boosted by some of the World Cup players after it was confirmed they will all take part in the pre-season game in Dublin on the 4th of August.
Sadly, there are no truly exciting patterns that will enable me to predict for sure what will happen in the opening game of the season. However, every time we've played a newly promoted side on the opening day we've won, and the last 1-0 win was followed up by a 4-0 win the year after. Importantly, Newcastle haven't beaten Man United when the sides have met first up and Old Trafford has proved to be a fortress with 20 points taken from a possible 24.
Opening fixtures have become harder to predict especially when a newly promoted team is involved. They always feel they have more to prove, and when that team is a big club like Newcastle, the game can only be tougher. Whilst I can't shed any further wisdom on this game, I have contributed to the Stretford-End.com season predictions – which I might add I'm very confident about. In the meantime, enjoy pre-season and when the opening game arrives I hope a few of these facts and stats will add to the optimism that often goes with getting off to a good start in a new season.
I'm not quite done though, I've saved the best till last. If there was one reason to get truly excited about the fact it's Newcastle first up then let it be this: 5 times in the first decade of the 21st century the league title ended up at Old Trafford. On the two occasions that Newcastle have been played at Old Trafford on the opening day of the season, United have ended up as league champions! I hope that the opening fixture this is year is an omen for the season that lies ahead.
Feel free to follow me on Twitter