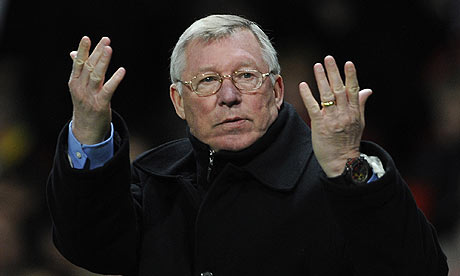 With the season over, minds inevitably wander to that personal wish list of transfer targets that you would like to see Manchester United sign. Ben Foster's imminent departure reminds us that it's not just incoming transactions that will take place this summer – with many United fans wanting to see something of a fundamental overhaul, I take a brief look at where I don't think Sir Alex should be raising his transfer funds.
It caught my eye from the BBC Gossip column that there is a rumour doing the rounds that United will use Anderson as bait for Benfica's Angel Di Maria, and give some money too! Granted, the BBC have started to take their gossip from trashy websites now, and this is probably a case of 2 and 2 making Berbatov look like good value at £30m, but both stories – Anderson's exit and Di Maria's imminent transfer somewhere or other have existed for some time.
I'm a huge, huge fan of Anderson so obviously don't want him to leave the club – let alone taking a huge chunk of money with him in exchange for this summers flavour – and it does seem a strange one, though not impossible, that Sir Alex would allow the Brazilian to leave when he is midway through his rehabilitation. It's probably fair to say that after 3 seasons, if he hasn't already gone through last orders at the nightclub he's probably in the queue. Some were unimpressed still with him before his season ending injury in late winter but it still felt as if Fergie was trying to shoehorn him into a side with incompatible midfielders, primarily because Anderson simply doesn't seem to understand (nor do any of us for that matter) whether he was meant to attack or hold. Alongside Michael Carrick who with many years more experience still seems to have the same problem – though his is clearly a personal one rather than directive – then it's clear to see why the player himself is probably as disillusioned as many of the fans.
But there are more than just the rare glimpses of form – he impressed when he took to the pitch this past season, most notably with an all action, dominating display at Stamford Bridge against arguably the best all around midfielder in the league, Michael Essien. Essien's game is probably the one that Ferguson would like Anderson to adopt given that the manager is a known admirer but again, Ando is one of a kind.
It's not just my own view or the possibility he could "do a Nani" and re-vitalise his career, but a couple of other factors to consider as well. Firstly, the Portuguese speaking contingent at the club – with Nani, the Brazilian twins, Possebon, and more besides, there is a great camaraderie between a lot of the younger players, not to mention an immense talent that exists. If we're to draw a contemporary parallel you might have Nani as a Beckham, the twins as the Neville brothers, Possebon as a Nicky Butt, and Anderson as maybe the Scholes of the set. Not that each is equivalent in talent; merely to identify a role in the current set up. It is a core that was damaged by the removal of the Giggs (Ronaldo) but not one that is irreparable.
To disrupt that would be the first steps into trying to build whole new dynamics at the club – our current team is obviously hindered by the need to try and, again, shoehorn, Berbatov into a set up that clearly neither us nor the player benefits from. Anderson and Rooney should be the long term engine room of the team with either a 4-4-2 or a 4-3-3 – Valencia and Nani have proven their worth as first choice wingers so I would argue it's a case of finding a foil for Anderson that allows both the new signing and the Brazilian to fully develop their own natural games alongside each other.
The other factor is something I thought about after seeing Gabriele Marcotti on ESPN and having a brief exchange with the man himself regarding Gerard Pique. Pique was part of the same youth set up as Leo Messi and Cesc Fabregas before we brought him to United; when he returned home to Barcelona – a decision taken by Sir Alex as both best for the player and for the club, considering Jonny Evans' rise to form which would have seen Pique 4th choice (not for his own ability but more Evans' suitability to the English game) – he has grown so much in stature over the course of 2 years that he was described by Marcotti as a "monster" of a defender who could rightly lay claim to being one of the top 2 or 3 centre halves in world football after this season.
He's right; most people would concur, too. Most of those people, for whatever reason, though, did not concur about the boys potential when he was at Old Trafford. Generally it is the desire to see a United player fail by all outside the club; the conventional wisdom (!) that sees Fergie's judgment on a player mocked on arrival due to transfer fee and in some cases only vindicated when said player wins trophies at the club. Such is the venomous attitude that exists outside of the club though, that despite playing a full part in the most successful period in the clubs past, the likes of Anderson, Nani, Michael Carrick and Dimitar Berbatov have seen their value questioned. The easiest retort is the one never used – these transfer fees (Berbatov aside) were agreed with a down payment and the rest on the success of the club and the player, most often within the period of the first contract. By definition that would make any transfer fee paid for Anderson, Nani and Michael Carrick to this point fees that have completely been justified.
There weren't that many of us willing to give Nani a chance this season but I have always felt there was an enormous amount of talent in the lad – no smug sense of self satisfaction here, just one of happiness that he plays like he does for the team I support. The point being here that in January he was being written off as a flop (despite an outrageously impressive first season) and a few games later he was being talked about as the best winger in the league. The sublime chip against Spurs and the shot against Sunderland that looks more impossible on each viewing were the crowing glories of a season that will ultimately be regarded as an unsuccessful one for the club given our recent trophy littered spell.
After Anderson's injury I blogged that I felt the time off may add a maturity or composure to his game, something that could perfectly be described as the Roy Keane syndrome. At the very least, such frightening potential deserves the same last chance as Nani got, and I wholeheartedly hope that if it's a choice between signing a new central midfielder or keeping Anderson, that we keep the one we have.
There isn't a single United fan that begrudges Pique the staggering 2 years he has had and there aren't many that would argue against Gabriele's comments about his standing in todays game. Likewise, though, with Ferdinand's dodgy back and the unpredictability that surrounds Vidic, any United fan would have Pique back in a heartbeat. And as much as I want to see Anderson become the best midfielder in the world, I would like to see that happen at Old Trafford and not, for example, the San Siro.