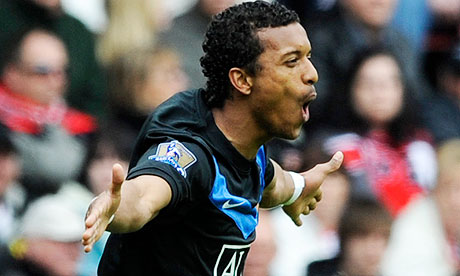 Nani's expertly hit drive just before the half hour kept alive Manchester United's slim hopes of retaining the Premier League. Sunderland at the Stadium of Light were formidable opponents with one of the best home records in the league, but United were able to overcome a physical battle on the pitch and the psychological blow of the most unprofessional of surrenders up the M62 to push the most unpredictable top of the table merry go round in modern memory right the way to the last game.
Sir Alex Ferguson fielded a 4-4-2 with Antonio Valencia absent – Wayne Rooney was deemed fit but Rio Ferdinand had to settle for a place on the bench as the team who had won three titles in a row had to rouse themselves after Liverpool predictably raised the white flag to Chelsea earlier in the day.
That scoreline led to a pretty subdued opening to the game, both in atmosphere and performance. Gradually, though, both improved – the travelling faithful, though severely restricted in number, definitely made their presence felt in volume after the Red Devils had a couple of opportunities in the 4th minute. Dimitar Berbatov was selected alongside Rooney and the Bulgarian played in his strike partner. Rooney's shot was parried by Craig Gordon and Ryan Giggs' attempt on the rebound was quickly blocked by ex-United defender Phil Bardsley.
Sunderland's response and approach was spirited but lacking in conviction – a free kick after quarter of an hour was headed over by Cana, before midway through the first half Patrice Evra surged from defence to feed Giggs. Giggs' movement inside was good and his shot beat Gordon all ends up but not the frame of the goal, as the angle denied him. Steed Malbranque then responded with a 20 yarder of his own and this was on target for the home team, but Edwin van der Sar made a marvellous save at full stretch. Four minutes later, Ferguson's men got the breakthrough, and unlike their title rivals, it took a moment of real magic to achieve it rather than have it handed to them. Rooney and Giggs have had wonderful seasons, Rooney for his goal tally and Giggs for his truckload of assists, and both were involved in most that was good about United's impressive movement at times. They combined with Berbatov and Fletcher, with the Scot laying the ball off short. Nani was on hand to lash the ball home, a goal that was impressive on first viewing but even more so on the replay.
The first half from then on was comfortable – it wasn't until injury time that either goal was really threatened again. First Giggs and Rooney combined well to play in Evra, whose shot was saved comfortably by Gordon, and then Nani did well to find Rooney before being flattened by substitute Lee Cattermole. Steve Bennett played advantage, Rooney rolled the ball to Berbatov but his finish was symbolic of his recent form, wide and not so handsome.
United proceeded to miss a whole host of chances in the second half – with Berbatov the main culprit, but not the first. Fletcher's clever backheel created some space for Nani, who ran through but seemed in two minds whether to shoot or cross and paid for that indecision as Gordon dealt with it.
Berbatov then strode into an unwanted spotlight – Rooney and Giggs again combining to create two gilt edged chances for United's record signing within the space of 5 minutes. First Giggs did well and played in Rooney – Berbatov connected with the ball with the goal at his mercy and somehow put it over when it seemed easier to keep it down. Then, Rooney showed impressive strength in his hold up play in the area to create space for Giggs, and the Welsh veteran's cross was headed onto the back of a defender and over by Berbatov – this chance slightly less wasteful but still, he should have done better.
There could be no questioning Sunderland's aggressive commitment to the cause with Malbranque and Cattermole at their tenacious best – Ferguson, with perhaps the result and taking Berbatov out of his misery in mind, brought off the forward for Michael Carrick. It was a decision that almost paid instant dividends – the new shape freed Fletcher, he made a move central and tried an effort from 25 yards. That was blocked, but screwed to Rooney who half volleyed with stinging power narrowly wide.
It was Michael Carrick who had the best chance of extending the lead after this point. There were 13 minutes left when Rooney was played through, but saw his chance snuffed out by the onrushing Gordon. The Scottish keeper couldn't do enough to smother the ball and it squirmed wide to Nani – with the stopper out of his goal, Nani cleverly played it across to Carrick but the ex-Spurs midfielder's shot was not particularly strong and was cleared off the line.
Sunderland's closest effort of an equaliser came in the 82nd minute. Steed Malbranque had just performed a studs up challenge on Jonny Evans, but was only booked, and his cross for former Red Frazier Campbell was met by an acrobatic effort that went wide.
Fergie's thoughts were turning to consolidation and Rio Ferdinand came on in defensive midfield, with the manager probably mindful of the particularly hard tackling of the Black Cats. Owen Hargreaves did make a long awaited return to first team action with seconds remaining, his only touch being United's last of the game.
United's result may after all is said and done seem pretty insignificant after Chelsea had cantered to victory, literally gift wrapped, at Anfield. The nature of that result – which included the only time Steven Gerrard will assist a goal that (probably) decides the title – illustrated the shambles of Liverpool Football Club which once stood for something. Had their opponents been Manchester United today you could guarantee a transformed performance and even a different team selection, but Rafael Benitez confirmed fears he would approach the game with all the lack of integrity and professionalism he has shown throughout his spell in England.
The damage to United will be a temporary though admittedly significant setback but the repercussions for Liverpool are likely to be far more severe – it was always on the cards that a huge upheaval in the managerial area would be taking place over the summer but their tummy-tickling surrender of any hope of 4th place could spark a dark period of turmoil for our once proud rivals – this year marks their 20th season without the league trophy and their refusal to take the league with any respect has guaranteed they won't be playing Champions League football. Few would bet, in those conditions, that Anfield will be housing a league championship winning team in the next decade at least. It would be just reward for their blatant lack of professionalism and also one in the eye for Liverpool supporting Mike Dean whose own contribution to the title race has been inherently corrupt.
For now, though, Manchester United are still in the hunt to be Premier League Champions for the fourth time in succession. They may still be depending on other teams to do them a favour but it's a sorry state of affairs when football fans across the country can honestly say Wigan Athletic will put up a more convincing effort than Liverpool.
Beyond that, and taking a closer examination of the players in this match, Berbatov cut a forlorn figure as confidence had completely deserted him. A confident or at least clinical striker would have bagged a hat-trick with the chances presented to him. The forward has often been referred to kindly as languid and harshly as a poor excuse for Cantona, but in recent weeks it has been that fundamental lack of ruthlessness that, for example, a van Nistelrooy would bring. The short term solution would suggest the smart money all being chucked on a Karim Benzema shaped replacement while Federico Macheda learns his trade. Unfortunately for Berbatov, Macheda's inexperience does not dissuade the vast majority of fans wanting to see the young Italian in the here and now. The sympathy is clear because Berbatov so clearly wants to succeed and United fans are by and large as patient as it gets – just as Diego Forlan. The problem for Bulgaria's record goalgetter is that he has been afforded the patience yet does himself no favours by going missing when the chips are down – that's the kind of attitude that is welcomed on Merseyside but will find short shrift at Old Trafford.
Ratings : van der Sar 7, O'Shea 6, Evans 7, Vidic 7, Evra 7, Nani 7 (Hargreaves), Scholes 8, Fletcher 7 (Ferdinand), *Giggs 8, Berbatov 5 (Carrick 5), Rooney 8