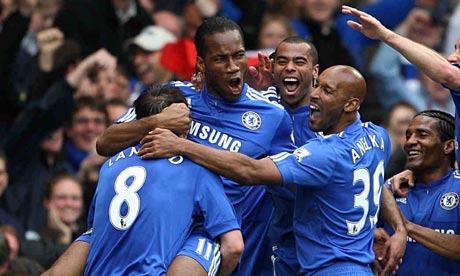 If ifs and buts were candy and nuts, Manchester United fans would have a veritable feast in the wake of their Premier League title surrender. Allowing myself a little time to wallow before taking a more rationalised evaluation, you wouldn't be surprised to find one of my major bugbears lies with the media representation of Chelsea's one point title win.
They can act like Mike Dean and Steven Gerrard didn't make the difference; but as Didier "manchild" Drogba argued with teammates through the game and celebrated like a rockstar when he got the toy he asked for for Christmas; as John Terry took his hands off the ball to pick up the trophy; as the country's scribes finally got to hit "publish" on those long awaited obituary style attacks at Sir Alex Ferguson and United, one can't help but think how utterly pathetic and hollow their celebrations were.

I'm reading about the West London powerhouse and how they destroyed all in their path with a handful of admittedly impressive avalanche scorelines, even if the last two of those came against a club that has a fundamentally bizarre ABU core and a team that knew the Gods were conspiring against them so got thoroughly deflated when another set of generous refereeing decisions managed to settle any Chelsea nerves. Phil McNulty, the BBC correspondent wrote on Twitter  "all was right with the world" when Drogba finally scored after poncing round like a baby all afternoon. Really, Phil. It would take too long to elaborate just how wrong that is, on so many levels, suffice to say I was questioning the value of my licence fee.
I've no problem with Sky's double channel broadcast and I've no problem with the fact that Chelsea had the actual trophy while we had a replica despite being the holders on the brink of history, however unlikely. I'm paying a subscription to Sky though as millions of United fans are, though, so I find it a little annoying that I have to listen to ex-Arsenal forward Alan Smith smugly describing – at great length – a goal celebration from the manchild in the other game. My feelings were perfectly captured by Patrice Evra's face of thunder as he did the standard end of season lap of honour. It didn't feel too great. But, before I surrendered my TV for the day, I wanted to stick around long enough to hear Fergie's address. Stoke fans were predictably classless enough to chant through it so it was made difficult enough as it was, but Sky then force fed us a splitscreen of Chelsea's celebrations during the speech. No real source of anger but still general annoyance.
I was sent the Sun's match report of the United game that mentions nothing about the match and is instead the most poorly disguised attack on Sir Alex Ferguson, labelling among others, van der Sar, Scholes and Giggs as past it when they were probably the games outstanding players yesterday!
Regular readers of my articles won't be surprised to see a mention of Football365 here but their front page this morning leads with how they supported Chelsea on the final day because they were the best team. This is the same website that suggested Blackburn would roll over and die for us a few weeks ago but is now saying Chelsea are the best side by virtue of a one point difference, a few more goals scored and a couple of Merseysiders shaming their profession to literally give them crucial goals.
Basically, it was a nationwide celebration. Football365's reaction summed it all up. All season, whenever United have lead the table or looked like we might win it, it's been a terrible season and a sign of decline in standards of mammoth proportions. Chelsea win it by being gifted games in the same manner they were complaining Blackburn would give us 3 points and suddenly it's been the best ever Premier League season with the best ever winners.
But, this was no defining victory. This is no powershift. The "Premier League/ship pendulum" hasn't permanently swung back to London. The league wasn't decided by Chelsea's impressive goalscoring machine. It was decided by one point, and where that decisive point was gained can be traced back, as I said, to two Merseysiders with no connection to Chelsea but plenty to Liverpool Football Club. Take your pick of the two when deciding which one made the vital difference but they needed both.
I will argue that the decisions made by Mike Dean and Steven Gerrard were intentional; plenty will say I'm bitter, and you know, I can take that. Because in the black and white of the situation, whether or not they were intentional, beyond how disgruntled I am, those are still the moments that have proved the difference between Chelsea winning the title and United not.
It's not been Frank Lampard's brilliant second half of the season, Didier Drogba's golden boot, the team spirit among their core created by Mourinho and rediscovered impressively by Ancelotti. It's not for any reason forcefed to you by any media outlet or Chelsea fan about the West London club. It's not for anything to do with Chelsea, it is because Mike Dean and Steven Gerrard made it happen. They are as deserving of a league winners medal as Frank and Didier.
As we reflect on this 1 point difference, what have we learned from our Manchester United team? Were we really one point short of this blue behemoth? Does the lack of medals mean that Antonio Valencia, despite physical evidence to the contrary, has had a disappointing first season at the club? That Wayne Rooney's 34 goals were not enough? That Nani's incredible switch from facing the exit door to arguably the league's most exciting player isn't so? Sure, we can lament the almost season long injury list that decimated our defence and in particular the pre-Christmas spell where we were playing with Fletcher and Carrick in the back four. Or we could instead say that we got where we did in spite of that. Crippled by injuries all over the pitch all season, United did amazingly well to take it to the last day. The sensible conclusion would be that perhaps with a full complement we would have got a better result at any of the places we dropped points. Just one result would have made the difference, if Valencia or Berbatov had scored at Blackburn when they had great chances.. it's natural for us to look at our own failings but that would be unfair even on the under-pressure Berbatov, because no matter how you look at it, United's players did all that was asked of them and their effort should have.. no, their effort was enough to win the title. It's unfair to look at what we did and say what we could have done because our players did enough to win a fair competition. We can't be responsible for others' abuse of their professional positions, and we shouldn't use that abuse and attribute it to our own players as signs of their shortcomings when it clearly isn't so.
The league table doesn't lie, I've been told ever since Chelsea made everything "all right with the world". It doesn't, and Chelsea are top and got the trophy. However, there's no gulf in class. Despite all of their good things – and there are plenty – they have won the title because of Mike Dean and Steven Gerrard, and that's what they were celebrating yesterday. So when Sky were forcefeeding it to me, I couldn't help but think how hollow it all was.
As hollow as I felt when Pedro Mendes scored that against us from the halfway line, and how pitiful it was that we got a point from it. I couldn't celebrate that no matter how hard I tried and immediately wished Spurs had won the game just for the sake of fair play so I know just how fundamentally vacuous the rejoice for Chelsea getting the trophy is. That they and the people who report it are being deliberately blissful in their ignorance to the reality of the situation says far more about these people than it does about whatever shortcomings exist in the United team.
Where we got to was an incredible achievement – mother nature could not stamp out the incredible inherent desire that breathes within our players and their drive for the club to succeed, and had it been a fair race then this morning we'd all be nursing slightly sore heads with a haze of happiness, celebrating four titles in a row and a record 19th league title overall.
All being right next season you would say United's injury list won't be quite so bad. With a season's acclimatisation, Antonio Valencia and Nani will flourish in their roles as first choice wingers. With a pacy forward and some more creativity in midfield and hopefully with a fighting fit Anderson, United will have a whole new dynamic. More importantly, though, unless the fixture list conspires to have Liverpool playing Chelsea on the last day or we get Mike Dean in one of our games after March then we won't see a set of circumstances that can be predicted days in advance pan out before our very eyes. Of fundamental, immediate concern is now the ownership of the club, and hopefully the Glazers will bow to pressure and leave in time for us to build for next season.
If anything, the conclusion we should have reached from the Premier League season is that you can decimate our team but it still needs more than a little outside help to take the title from us – as we look forward, the team who deserved to win the title, as they should be, are the team that look best placed to win it next year. And that team isn't Chelsea, no matter what the table says.