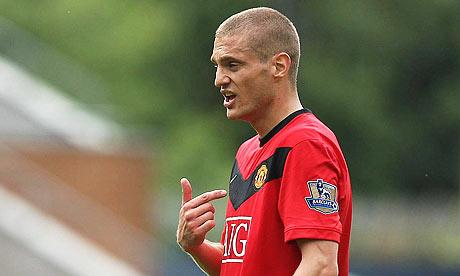 Manchester United's Serbian defender Nemanja Vidic is set for a 10 day spell on the sidelines after tweaking a nerve in his leg before the embarrassing 1-0 defeat to Leeds United on Sunday. There are a number of reports suggesting that Vidic is looking for a transfer out of United, although his agent has stated that the defender is 'happy' at Old Trafford.

Providing the game is on at Birmingham tomorrow, due to the dangerous conditions outside the ground, United will be without Vidic, who has played in only thirteen league games so far this season due to injury. We looked at his performances since the 4-1 defeat to Liverpool at the end of last season against the games before and it was evident that the defense as a whole lost the psychological edge that saw United go fourteen games without conceding a goal.
Sir Alex Ferguson today spoke on Vidic's condition:
We sent him to a specialist on Wednesday and the problem will be solved by some exercises. He felt a bit of a problem with the right side of his leg and didn't feel confident about playing the game. I understand that because it was quite painful. He should be back in about 10 days' time.
Vidic has been a huge success at Old Trafford since signing four years ago in the January transfer window, although an interview he gave in August 2008 caused quite a stir as he implied that he would one day like to move to Spain. Vidic was quoted as saying:
"In future, I would like to test myself in another top league. I'm thinking of Spain. At least there will be no reason to complain about the weather. In England, they say that Manchester is the city of rain. Its main attraction is considered to be the timetable at the railway station, where trains leave for other, less rainy cities."
However his agent, Paolo Fabbri, quashed recent rumours surrounding the real reason (suggest a rift between Ferguson and the defender) why the Serbian missed the defeat to Leeds:
"I am quite surprised by all these rumours, the situation is under control and is not unusual. As far as I know, the player is not negotiating with any other club. Regarding the mood of the player, I think it is standard. I have not spoken to him since the last defeat [against Leeds United in the FA Cup] but, as far as I know, there is no problem."