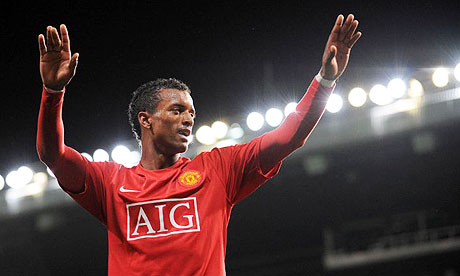 You've seen it before – a right sided player is jockeyed by two players, he performs a ludicrous Cruyff before wrong footing the opposing player and delivers a cross to the far post, which is bundled in by the out of sorts keeper. Garrincha I hear you say? Or perhaps Luis Figo? Nope – Luis Nani today showed the whole world his quality, determination and class by putting on a mesmerising show at the Emirates today.

I have never been the biggest fan of Nani, but only in terms of him being 'the next Ronaldo'. He never was going to be the next Ronaldo, nor never will. However, you can not take away from him the class he showed today to help open the scoring at Arsenal. His trickery and skill were all on show today but also an urgency to attack, which is something that I have always cited as his biggest weakness. He broke at pace to setup Wayne Rooney for the second. There was to be no hesitation, no checking inside but a determination and drive to get forward and attack.
I would like to think that I am not fickle, I tend to stick to my initial views – which could actually make me slightly narrow minded. However, my earlier criticism of Nani was shared by many Reds and obviously Sir Alex Ferguson, who keep him out of the first team for a while. Coming back into the side and performing like he has done recently shows great determination, grit and a fire in the belly that I didn't know he had. We were linked with Angel DI Maria last month and there were reports Nani was offered up in exchange. We ran a poll and the result was quite surprising. Possibly caught up in transfer window hysteria, but a massive 93% of you (566 voters) wanted to get Di Maria in at the expense of Nani. I'm sure a lot of you, including myself, will be pleased that you initial vote didn't materialise and I'm hoping that we'll see many more performances like that from Luis Nani.
Nani obviously shares our opinion that he performed well today with his post match comments:
"I think that was my best game. I played well, scoring and getting an assist. It was a fantastic performance from the team and I was so happy to help. I'm working hard every day to be fit for the team. I want to help the team play well. I can feel the confidence of my team-mates, the fans and the manager. I'm so happy and want to continue this good form."
Sir Alex Ferguson is also heaping praise on the Portuguese winger:
"His last three games have been absolutely first class and today was his best. It's difficult to say why we're seeing his best form now, but maybe maturity is one reason. He's 23 now. He's a very shy boy, and maybe his personality is getting stronger and better for dealing with playing for us every week. Today was an example of that maturity."