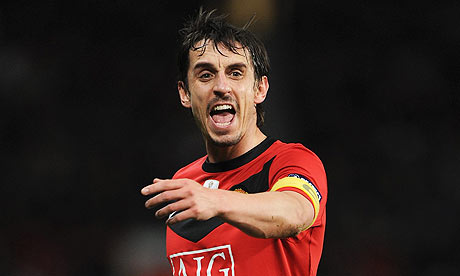 Gary Neville has distanced himself from the appalling financial figures that were released by Manchester United last week. The club captain believes that the debt has "nothing to do with him" and that the players never get involved in "the financial side of things". Neville's comments are in complete contrast to former United captain and iconic figure Eric Cantona who claimed "Glazer could pay me 100m Euros to be manager and I still wouldn't go there". Should Gary Neville have been a little more tactful with his comments? It is difficult to believe that recent financial figures at Old Trafford would not concern a senior player like Neville even slightly. Or is he right – the players should concentrate on playing football rather than getting involved in finances – of course contract disputes are completely different matter, right Gary?

Gary Neville, who has made five Premier League appearances so far this season, was speaking to a Sunday paper and made the following comments:
"All the speculation about the finances at Manchester United does not affect the players. We are always very well protected and never get involved in the financial side of things. There have been talks and rumours over the years going back to when the Glazers took over, and even when Michael Knighton nearly took over in the 1980s. As players we never get involved in those things; our job is purely on the pitch and we allow people who are paid to do jobs in other areas of the club to do their job. It is nothing to do with us at all."
I don't understand why Neville had to make the comments in the first place? I agree that players shouldn't be involved in the financial dealings of a club – but surely Neville understands the concerns, fears and anger from the United faithful towards the Glazer family? By stating, "it has nothing to do with us" is distancing himself with the fans that saw him replace Paul Parker in the mid-90's and become one of the most successful full backs in the history of our club. Talk of selling Old Trafford, Carrington and Wayne Rooney to help fund the Glazer debt is quite literally unbelievable and I think Neville might be a little concerned if Rooney leaves for a rival club.
So is Neville right to distance himself from the financial crisis OR does he, as club captain, have a responsibility to speak up and voice the concerns of the fans?