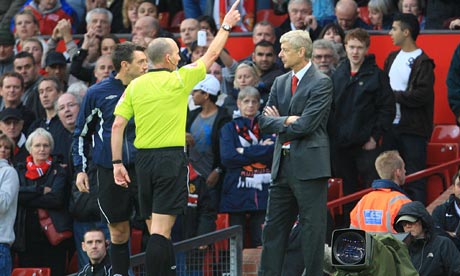 Arsenal manager Arsene Wenger has claimed that his Arsenal team is 'stronger' than both Manchester United and Manchester City – despite losing to both teams within the past month. Wenger believes that on the basis of those matches – in which Arsenal conceded six goals and scored three – Arsenal have a claim to be the stronger team. Wenger also cited injuries to key players being a main factor.

The Arsenal boss was quoted as saying:
"There is a belief after the games against Manchester United and Manchester City that we are stronger than them, we have to transfer that into points and wins. I am not talking about the whole package, but on the basis of that match we should not have any inferiority complex. We'll see when the season ends. I had £30m in the summer, and I spent £10m on Vermaelen. Apart from that I did not want to buy. We have an unbelievable squad. Against Wigan, Bendtner was on the bench, Walcott, Arshavin, Nasri, Denilson did not play."
Now – I know we'll get the old 'Wenger is the best manager that ever graced the earth' and 'Rooney dived' – but I think it quite a ridiculous comment. I agree that Arsenal should have got a point at Old Trafford three weeks ago – however, the same could have been said when United went to the Emirates last November and came away empty handed after a 2-1 defeat.
Most Arsenal fans will also admit that they need a holding midfielder and a goalkeeper – whilst Gael Clichy is still prone to losing concentration at critical moments – Arsenal are far from a perfect team. Unfortunately, the ugly commercialization of football has benefited Manchester City and although Arsenal play a much superior brand of football – they can't compete financially (same as United) with City. United on the other hand have a great squad and an impressive number of youngsters on the way through.
Should Wenger have got something out of the game at Old Trafford? Yes, I think a draw was a fair result – but to state that Arsenal are 'stronger' than United is tad delusional if you ask me.
Would you like to discuss this topic further? If so please post your thoughts here.