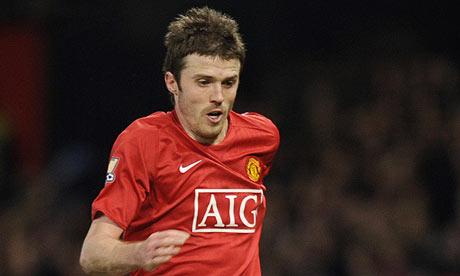 Michael Carrick is a fine footballer, who has grown into one of the best midfielders in Europe since his 2006 move from Tottenham to Manchester United. His passing range is immense and has proven how valuable his creative vision is in the center of the park for United. However, he does still get his fair share of criticism from rivals fans and of course United fans who don't get too excited when he gets on the ball.
To quote Johan Cruyff 'Football is simple, but the hardest thing is to play football in a simple way' – something that you could apply to Michael Carrick. He doesn't score too many goals, rarely gets in the box like Scholes used to but he has been pivotal in United's success since he joined the club three years ago. His ability to switch play is superb and his vision helps us counter attack – something that will be extremely important tomorrow. I have no doubt that he will be part of a midfielder three consisting of Anderson and Fletcher – with Carrick being the main creative force.
I had blogged about Carrick earlier in the season, which was when he was playing out of his skin – however in recent weeks he hasn't been at his best.  Against Inter Milan I though he was poor and off the pace whilst against Aston Villa he was anonymous – however tomorrow he can really stamp his authority on the game and control proceedings – something Gooners will be hoping Cesc Fabregas can do.  The duel between Fabregas and Carrick may be closer if Robin Van Persie plays from the start – with Fabregas more likely to adopt a deeper role rather than the second striker role he adopted last week and against Middlesbrough and Liverpool.  Both midfielders are capable of controlling the game with outlets in the form of Anderson and Song aiding their creative guile.
I am confident that United can build on the one goal lead obtained from Old Trafford last week – however Arsenal will not play anywhere near as poorly as they did in the first half last week.  Ferdinand and Evra are confirmed starters with Robin Van Persie back for Arsenal.  I presume that Robin Van Persie will replace Diaby with Nasri going out left and Fabregas dropping a little deeper to influence play.  I don't know who Fergie will play up top out of Berbatov and Tevez – my gut instinct would be Berbatov with instructions to Anderson to get forward to support.  It should be a fascinating encounter and I just hope that United can get that away goal early, which will really silence the Emirates – hopefully through a Michael Carrick assist.