You may also find these links interesting: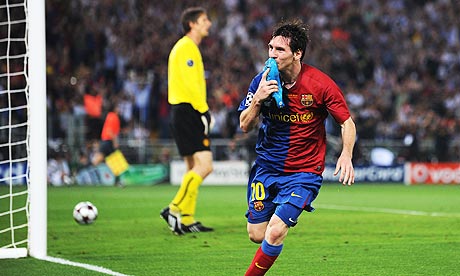 To the delight of almost of all English football, Barcelona easily won the Champions League with a comprehensive display against holders Manchester United with goals from Samuel Eto'o and Leo Messi.
United started brightly but after the first ten minutes conceded a goal as Eto'o squirmed a shot past van der Sar – and then barely put up a fight to retain their trophy.
Ronaldo had three chances in that opening period and Park had one, from the Portuguese's free kick, but once the Cameroon striker scored after only 10 minutes the holders were well and truly beaten. It was a truly disgraceful response from the Champions and they were comfortably dethroned. Indeed, Barcelona could have scored more, hitting the woodwork even before Messi converted Xavi's cross with a simple header.
What started as an evening that could have completed United's best ever season instead concluded with as simple a victory as Barcelona could ever have wished for.
Sir Alex Ferguson will surely recognise that in Park and O'Shea his side had serious limitations against a top class side but more severely than that, with the likely departure of Tevez and the constant flirtation between Ronaldo and Madrid, will find himself with the need to make serious reinforcements in the summer.
In an attacking force United were spent and in midfield Carrick was anonymous, Anderson's hit and miss season played firmly on the miss side on the evening, while the veterans Giggs and Scholes, who may never have the opportunity to erase the nightmare, had no influence on the game.
It could have been far worse for the Red Devils as their limp performance constantly threatened to invite a humiliation but fortunately for the supporters on the night the score was kept to a mere two. The repercussions will start in the summer for Ferguson whose side had threatened Jekyll and Hyde all season – with Berbatov, substituted onto the pitch midway through the second half desperately poor, posing a major decision for the United boss.
Fergie will probably have to wait until after his retirement to see United win the trophy again, but if he intends to lift it as a coach again, he will have to seriously reconfigure the dynamics of his squad.
Source: (Yolkie)