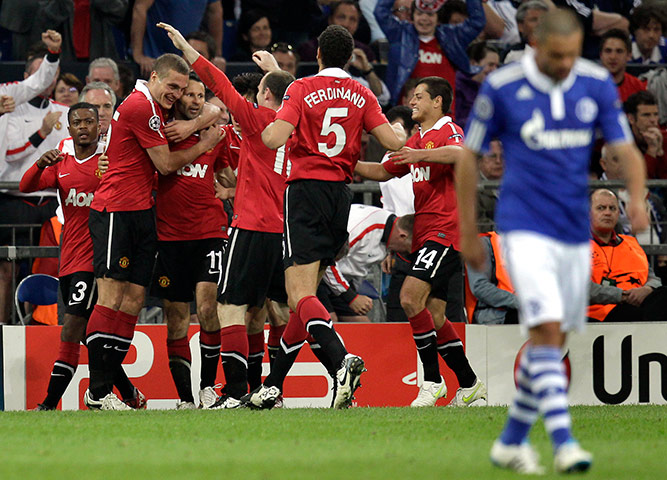 AUTHOR: – Doron
With a strong 2-0 lead from the first leg, Man United are in pole position for the return semi-final at Old Trafford tonight. Neither side had the ideal preparation for this game, both lost away from home at the weekend but for FC Schalke, this is their most important game of the season. Many United fans are already looking ahead to Sunday's showdown against Chelsea as their own biggest game. One good result and United will be in their 5th European Cup final, their second at Wembley.
United went to Germany last week and produced a performance to make Europe sit-up and take note against it must be said, a Schalke side who never 'turned up'. It was only United's third win on German soil in the past 55 and sets up this semi-final nicely in their favour. It was the first ever meeting between these sides which rather skews the fact that United now have a 100% record against the team from Gelsenkirchen. However if last season's two home games against German opposition are anything to go by, then United should be firm favourites again tonight – they saw off Wolfsburg 2-1 and beat Bayern Munich 3-2 at Old Trafford last season, although away goals meant it was Bayern who progressed to the semi finals.
Ralf Rangnick hasn't been in the Schalke job long and is already under pressure having taken over from the sacked Felix Magath just over a month ago. Rangnick did lead Schalke to a 7-3 aggregate win over Inter Milan in the quarter finals of the Champions League but like Magath, he's been unable to find a winning formula in the league. Schalke have had a terribly bad domestic league season with December being the only month they went unbeaten in. At present they are 10th in the Bundesliga (only 6 points off 16th) with a poor away record (P16 W4 D4 L8). They have the 7th best away defence in the league with 24 goals conceded but have no team has scored fewer goals than them – only 13 in 16 games, the same as Wolfsburg and St Pauli. Schalke come into the game off the back of an away 4-1 loss at Bayern Munich and they're now winless in their last four games, stretching back to the 13th April. That defeat was their 13th in all competitions this season and means that in 23 of their 46 games now they've not won.
In Europe this season, Schalke qualified 1st in their group ahead of Lyon, winning 4 of their games, drawing 1 and losing 1. In the last 16 they saw off United's group opponents, Valencia, 4-2 on aggregate before thrashing Inter 7-3 on aggregate in the quarter finals. Away from home, their European record is slightly average – P5 W2 D2 L1. They have scored 8 away from home though and conceded five – their approach to away football up to the quarter finals was cautious, only scoring three in the four games. However they decided to attack Inter in the quarter finals and stunned fans across Europe by winning 5-2 at the San Siro. It's this type of attacking naivety that United must be wary of tonight.
Schalke don't have too much to worry about on the injury front – Christoph Moritz, Christian Pander and Mario Gavranovic are long-term absentees. However both Benedikt Höwedes and Klaas-Jan Huntelaar who missed the first leg should return to the team (although neither even made the bench at Bayern Munich on Saturday). Unlike United, Schalke have four players just a booking away from missing the final – Sarpei, Papadopoulos, Jurado and Raul.
Expect Schalke to line up in their usual formation of a 4-4-2. Given Schalke have little to lose they may play with less caution than usual but their normal set-up involves one central midfielder sitting deep, wingers cutting in (although if Farfan is selected he'll do that less) and usually Raul as a deep striker behind a main front-man. Both domestically (against Bayern Munich) and in Europe (against Valencia and last week against United) Schalke play this way. I expect Schalke to be much more direct tonight so United will have to be wary of counter attacks and men being committed forward. Jurado may well return to the left side of the pitch tonight – if so, he'll pose a challenge to United's right side given that he tends to hold a very unorthodox position for a winger.
There's bound to be even more attention on Manuel Neuer tonight than there was last week. The German number 1 and arguably one of the best goalkeepers in the world has previously announced he'll leave Schalke this summer with Bayern Munich expected to be his destination. Following a stunning display against United last week, calls for United to make their interest in Neuer stronger were heard from all quarters. Ferguson said post-match that he believes a deal is unlikely though however Schalke fans would prefer to see him join United rather than another German club.
There are plenty of players worth picking out as important to Schalke. Both Farfan and Jurado have already been mentioned as key wide men and last week we looked at both Höwedes and Metzelder whilst picking out Papadopoulos as 'one to watch'. This week I've chosen to single out Joël Matip – the 19 year old defensive midfielder. Matip was incredibly recognised as having potential at aged just 3 and joined Schalke's Academy just before his 9th birthday. Although he was born in Germany, he's chosen to play for Cameroon and is already a full international. Since making his debut in November 2009 he's gone on to become a key man for Schalke and has shown his versatility by slotting in at centre back too. His strengths are in his tackling, positional discipline and his height – he's yet to fully fill-out and broaden but he cuts an imposing figure in front of the back four already.
It seems wrong to not mention Raul again. He ended an 18 year affiliation with Real Madrid last summer and chose to move to Schalke. Now at the age of 33 he's still a key figure in European football. He'll float between United's defence and attack as both a link-up man and someone who can make a telling difference under pressure. Last week he struggled for regular involvement – not helping by the fact that Schalke in general saw little of the ball. He has of course scored against United before and remains an incredibly well respected footballer, hopefully he'll get a fitting reception from the United fans tonight.
Given that United play Chelsea on Sunday and Ferguson has said players will be rested for that game, I predict United will line up like this:
Given the likelihood of Schalke playing their usual 4-4-2 type formation, United have a big decision to make. Either they match them in their own 4-4-2 or, knowing a draw is enough, Ferguson sets them up defensively in a 4-5-1. I can't see the latter happing so have gone for a 4-4-2 or a 4-4-1-1 formation. Missing for United are: Fabio, Hargreaves and Rooney.
With Edwin likely to keep his place in goal there are a few decisions to make in front of him given the Chelsea game at the weekend. Rio Ferdinand has played in 6 of the last 8 games and so a rest for him would make sense with one of Smalling or Evans to come in. After a run in the side, Smalling has only played in 3 of the 9 games since the start of April so giving him some minutes would make sense. In the full back areas, both Rafael and O'Shea need minutes – particularly the former who hasn't played in a month, so I expect certainly one of them to feature at right back with O'Shea a candidate for left back too given a break won't harm Evra.
In the midfield Carrick, Giggs and Park may all be rested with the Chelsea game in mind. Scholes has been serving a domestic ban and Ferguson has hinted he'll start. I've decided to partner him with Gibson who got the nod in the quarter final against Bayern Munich last year. Anderson though may be given a chance alternatively. Darren Fletcher is available again having not played in two months although his lack of match fitness suggests a bench role may be more likely than a start. United had a lot of success on the wings last week against Uchida and Sarpei, both Valencia and Nani must be hot favourites to start out wide tonight therefore. With Rooney all but out with a minor hamstring injury, Berbatov and Owen may get rare starts. Berbatov has only started 3 of the last 15 games as a result of the form and blossoming partnership between Rooney and Chicharito. Like Scholes, the manager did also suggest he'd consider starting Owen too. Owen has of course promised United fans he has a big goal in him so to send United to a Champions League final at Wembley would certainly be worthy of that!
United are top of the Premier League and have suffered just six defeats all season – four in the league at Arsenal, Wolves, Chelsea and Liverpool, and one in each of the domestic cups. The clubs home form has been nothing short of outstanding with sixteen league wins from seventeen games including 43 goals scored and just 9 conceded. In the Champions League, oddly United's away form has been better than the home form – away from home United didn't even concede a single goal. Five games at home in Europe this season have been dealt with successfully enough though three have been won with two drawn. United have only managed to score 6 in their 5 games with three conceded. United's strong defence has only conceded three goals in all eleven European matches so far, this helped see United top their group with 14 points. To get to the semi finals United have dispatched of Marseille (2-1 on aggregate) and Chelsea (3-1 on aggregate). Heading into this tie United lost 1-0 away at Arsenal at the weekend and have won 8 of their last 11 games.
This season is United's 22 in Europe's top competition and remarkably it's the 12 time United have reached the semi-final stage of the competition. The experience United have at this stage of the competition, particularly under Ferguson is invaluable and should help against a Schalke team who've never been this far before. Should Edwin van der Sar play he'll set a new record – it'll be his 14th Champions League semi-final appearance, breaking former Chelsea and Real Madrid midfielder Claude Makelele's record of 13. Edwin can also continue to set the record for the most clean sheets in the competition, last week was his 50th. Wayne Rooney needs just two goals to become the top scoring Englishman in European Cup/Champions League history – Paul Scholes holds the record with 24 goals.
There is a need for caution though. German teams have a history of knocking United out of Europe – last year Bayern Munich knocked United out on away goals, as did Bayer Leverkusen in 2002. Back in 2001 Munich again were to deny United and in 1997 at this stage of the competition it was Borussia Dortmund who won 2-0 on aggregate. In recent years though United fans have been blessed with success in this competition though – this is the fourth time in five years that United have reached the semi-final stage and in getting to another final, it would be a third in four years after Moscow (2008) and Rome (2009).
A place against Barcelona in the final at Wembley is what awaits either United or FC Schalke. United most certainly have the advantage from the first leg and in order to win Schalke have to score the same number of goals United have conceded all competition. However, Schalke can approach the game with a nothing-to-lose attitude that could be dangerous. With United expected to make changes in order to compensate for a huge league game at the weekend, Schalke will feel they have a chance and no doubt there will be nerves around Old Trafford. United are a well-oiled and well-drilled unit and I therefore predict a 2-1 win for United.
You can share with us your thoughts ahead of the match and your favourite Champions League matches against German opposition or semi-final moments on the forum.
As a final thought, United have enjoyed a few Champions League semi-final second legs before…
21st April 1999, away at Juventus, 3-2 win:
29th April 2008, home to Barcelona, 1-0 win:
5th May 2009, away at Arsenal, 3-1 win:
AUTHOR: – Doron