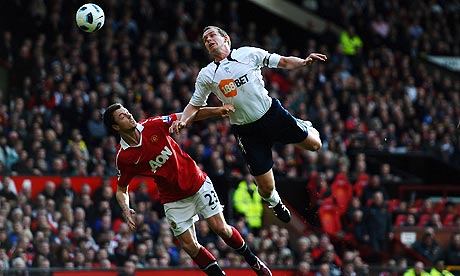 AUTHOR: – Doron
Manchester United opened up a five point gap over Arsenal as an 88th minute winner by Berbatov was enough to see off a resilient Bolton team. United were looking to avoid a third straight league defeat and weren't helped when Jonny Evans was sent off with the score still at 0-0. Here we discuss the talking points of today's game and welcome and comments from both United and Bolton fans.
Talking Points
Michael Carrick
Michael Carrick has this season so often been the whipping-boy after a poor performance and today once again was another one of those disappointing games. However, Carrick was superb.
Lining up in the middle alongside Giggs, Carrick had to shoulder a lot of responsibility. For much of the game he operated deep, breaking up Bolton play and looking to shift the ball on to Giggs or out wide to one of the wingers. Indeed, Carrick did his job well – his 7 tackles are more than any of the other CMs (on either team) made and there were numerous crucial blocks.
It was though Carrick's passing that ended up being ever so important today. He is much maligned for balls sideways however quite simply keeping the ball is better than giving it away. Indeed when comparing him with his partner Giggs, it's staggering just how they compare:
Click on images to enlarge
Giggs passing vs. Carrick Passing
As shown, Giggs had a success rate of only 60% – granted, 6 of his unsuccessful passes were crosses, but even so that is an incredibly low rate for a central midfielder at United. By contrast, Carrick was up at 82% – consistent with where he's been all season. Carrick is never going to be a flair player who does the extraordinary but as proven today he does the simple things very well. He was a vital part of our play and up against the ever-energetic Muamba and Holden, did well.
Smalling, Evans and the red card
In the match preview I alluded to how Bolton under Coyle play good passing football. Today however they reverted back to a lot of long-ball football. Kevin Davies and Daniel Sturridge started up front but with Sturridge taken off after an hour, Elmander moved off the wing alongside Davies.
Smalling and Evans will rarely face tougher centre forwards in terms of aerial ability and physical presence than Davies and Elmander but they countered the threat posed well:
Bolton successful vs. unsuccessful passes
As shown above, the majority of Bolton's unsuccessful passes were long balls up to the strikers. Evans and Smalling both won considerably more aerial battles than they lost.
Smalling's recent form has been excellent however Evans who has been out for some time with an injury has had a very up-and-down season. Yet, today the pair, backed by a vocal van der Sar behind them did well. United certainly benefit from having two young centre halves who read the game so well – their interceptions made up nearly half of the total made by the entire team:
Evans and Smalling interceptions
In the first half particularly, Bolton kept United busy and Smalling and Evans had to be kept alert to the danger. Today was often as much about simply 'hoofing' the ball clear as anything else. Between them, the centre back cleared the ball 18 times – over half of the clearances made by United today.
Evans and Smalling clearances
There was potential for the game to turn after 75 minutes. A 50-50 tackle – Evans vs. Holden was won by the former however in a reckless manner. Both players dived in but Evans got their first and after winning the ball naturally followed through and caught Holden on the knee. Upon seeing a replay there's no doubting the red card shown to Evans was the correct decision. There was no malice in the tackle, he had only eyes for the ball but it was a poorly executed tackle. Holden went off on a stretcher with a bad cut to his knee – hopefully the injury is no worse than that as he played well.
It was a sad ending for Evans who, like Carrick, has often been the scapegoat this season when he's played and has certainly had a dip in form. Today though, alongside Smalling he looked impressive and assured. It was a very positive return for Evans after so long out.
His suspension coupled with an injury to Brown leaves only Fabio, Evra and Smalling as 'available' defenders at the moment. The international break couldn't come soon enough for United.
Striking options
It was, once again Berbatov who missed out on a starting spot in the side today with the in-form pairing of Chicharito and Rooney favoured. A first half in which United struggled to threaten saw Chicharito swapped with Berbatov at half time. In truth neither had a good game. Chicharito put a good chance just wide in the first half, as did Berbatov in the second.
The winning goal was scored by Berbatov. Having been offside all of the half, the one occasion the Bolton defence played him onside he was unmarked to scuff in the lose ball after Jaaskelainen spilled a Nani shot. The beauty of the goal was that Berbatov, who's often criticised for having little impact when he plays poorly did this time have a positive impact and game up with the goods despite a nothing performance.
United's star man though was once again Rooney. His return to form whereby he has a positive influence on the side has been coupled with a deeper role. He spoke after the Arsenal game about how it comes naturally to him – how when he first broke through at Everton it's the role he played there. Rooney's partnership with Chicharito has allowed him to flourish as the Mexican plays off the last man and moves about so much creating space for Rooney. Berbatov naturally likes to come deep but was disciplined to try to hold a high line too today (and ended up being offside most of the time).
Rooney's all-round display of passing, tackling and hassling the opposition is shown by his passing chalkboard – he's all over the pitch:
Rooney passing
Rooney can be a driving force for United. The French media were full of praise for him after our game midweek, and rightly so. His passion has been criticised but one only needed to see his celebration when Berbatov scored today to see that he's playing with his heart at the moment. Whether he's 'back-to-his-best' or not remains to be seen but of late, along with Smalling, he's been a star performer for United.
Match Conclusion
An injury depleted Manchester United came into the game knowing that it was imperative to win every game now to try and secure a 19th title. Once again Chicharito was favoured ahead of Berbatov and there was a first start for Antonio Valencia since his injury. At the back, Evans came in from injury to partner Smalling.
The first half probably belonged to Bolton. Whilst van der Sar was never tested and only really had a tame Petrov free kick to deal with, the United defence had to put in countless blocks. United felt they should have had a penalty midway through the first half – Cahill blocked a Chicharito shot with an outstretched arm but Andre Marriner waved play on. Two further chances fell United's way before the break – a Rooney volley was comfortably saved and Chicharito put an effort just wide after being picked out at the near post.
Wes Brown was replaced at half time by Fabio because of an injury and Berbatov came on for the ineffective Chicharito. Berbatov's introduction failed to put any spark into the game and he was guilty of missing a good chance after being picked out by Rooney before being tackled by Cahill when clean through. United had upped the pressure in the second period and Bolton were on the back foot.
The game changed though when Holden and Evans collided in a 50-50 challenge. Despite winning the ball, Evans went in recklessly and was shown a red card whilst Holden was stretched off with a bad cut to his knee. Holden's replacement, Taylor, then had the best chance of the game – he was picked out unmarked by Steinsson but could only head the ball straight at van der Sar. The sending off seemed to give United a kick up the backside and Nani started making driving runs forward. Having seen Jaaskelainen deal comfortably with his shots, Nani's effort on 88 minutes was surprisingly spilled by the Bolton keeper and Berbatov was able to scuff the ball into the net. United held out to go 5 points clear of Arsenal who could only draw at West Brom
United's next game is away at West Ham in the league on Saturday 2nd April.
AUTHOR: – Doron