Manchester United vs. Bolton Wanderers Match Preview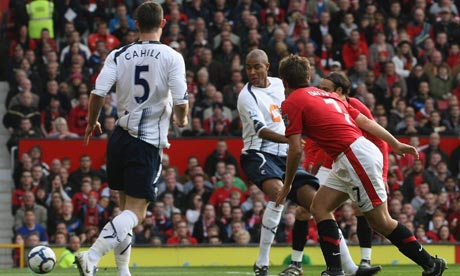 AUTHOR: – Doron
After successful FA Cup quarter final wins last weekend, United and Bolton return to league action at Old Trafford. Surprisingly, Bolton are the more in-form side and one has to go back 6 weeks to find their last defeat. United need to return to winning ways in the league after two straight defeats and must continue to keep a gap between themselves and Arsenal.
Bolton's transformation under Owen Coyle has been in a word, outstanding. Coyle joined just over a year ago and lead Wanderers to safety and 14th place in the league. Already this year, with 9 games still yet to be played, Bolton are one point ahead of their end of season total last year (39 points). One of the big turnarounds has been scoring more goals (42 so far, the same as the total scored last year) and conceding fewer. At present they're 7th, just two points short of Liverpool and a European place. One area where they do still struggle is away from home – only a handful of teams have a worse record this year (11 points taken from 42).
It's bizarre how quickly football can change. Only 15 months ago one would have associated Bolton with the long-ball game. Whilst still having that option available, it no longer is the style in which they play. Today Bolton are a team who pass the ball around comfortably and like United, they'll try and get it wide where possible. More often than not, they line up in a 4-4-2 with Davies very much as a focal point and either Elmander or Struridge working off him. They are able to go 4-3-3 too with Sturridge, Elmander and Davies all starting – that's how they lined up at Spurs recently. The loan signing of Sturridge in January has been a master-stroke from Coyle. He has four goals in his five PL games but it has also been good for competition with Klasnic's form picking up too.
Bolton are on a high at the moment. To go along with their 7th place in the league, they are in the semi finals of the FA Cup having beaten Birmingham last weekend. They are unbeaten in their last three league games, the most recent being a win against Aston Villa. Whilst Bolton's league form has them down as the 6th most in-form side with 10 points taken from a possible 18; their away form is awful. Only 1 point from a last 18 away from home has been taken and this is only beaten (or worsened depending on how you look at it) by Stoke. Their problem has been scoring goals away from home – they only average 1 a game. Conceding them away fro home isn't the issue, Arsenal are the only side to have scored more than 2 against them.
Joining the list of defenders and midfielders who aren't fit for tomorrow's game (S Davis, Knight, J O'Brien, Gardner, Ricketts, Samuel) is Mark Davies. The midfielder has been in excellent form lately but injured his ankle last weekend and is a big doubt for the match. However Gretar Steinsson is expected to be available after missing training this week with a stomach bug.
Bolton's record at Old Trafford isn't bad compared to some teams. In the Premier League years they've managed 2 wins from 11 games and only conceded 25 goals. The wins came in back-to-back seasons, 01/02 and 02/03. Since then, United have won 7 in a row and only conceded three goals. Last year's game ended 2-1 to United with Valencia getting his first goal for the club.
Enough on Bolton…onto United and my predicted line up:
An injury crisis is upon us! The easy part of this match preview should be telling you who's out of the game but with Fergie you never know. Based upon what he's said we're missing: Lindegaard, Rafael, O'Shea, Ferdinand and Vidic. Scholes is suspended. Then there is a handful of players who are back in training but may or may not be fit enough for a place on the bench, they are: Anderson, Evans, Park, Hargreaves and Fletcher.
I've gone for a 4-4-2 – the preferred formation for home games. In front of Edwin the back four rather picks itself due to injuries – Fabio, Brown, Smalling and Evra. Evans has been training but I should imagine he'll only be on the bench. As with all the doubtful or unfit players, there is no point taking any risks as there is a two week break after this game where they'll have time to make sure they're fit for when comes recommence. I think Rafael will be favoured over O'Shea, but aside from that Smalling should line up next to Vidic with Evra at left back.
For a change there are options out wide. I think after their injuries, both Nani and Valencia will start and should either tire (as expected) Park who needs minutes himself and Giggs who probably needs a mini break after Tuesday would be able to come on. In the middle there is no such luxury of having options. Only Carrick and Gibson are fit and whilst this may seem like an obvious pairing, I can see Carrick anchoring the side with Rooney going up and down the pitch next to him. Rooney's deeper role lately seems to have allowed him to play with freedom and recapture some form. This of course leaves Berbatov free for a start after a while on the side and Chicharito with him. Owen could be free for a place on the bench. All the injuries may well give some of the Reserves or U18 starlets an opportunity for a place amongst the substitutes. Certainly, Morrison and Tunnicliffe have earned the right to be considered of late.
United remain top despite losing two league games in a row. However since defeat at Anfield there has been a morale boosting win over Arsenal in the FA Cup and Champions League success over Marseille. United are entering a crucial run of very winnable league fixtures. There is no margin for error anymore.
Recent form shows United sitting a lowly ninth in the form league with 9 points taken from a possible 18 in the last six games. However, at home, it's a different story. United have won 13 of their 14 home games scoring 39 goals (the most in the league) and conceding only 9 (the fewest in the league). This match therefore pits the best home run against one of the worst away sides.
In Dimitar Berbatov United have the league's top goalscorer (19 goals) and in Nani the league's top assister (15 assists; Rooney is joint 2nd with 11). Rooney likes playing Bolton, he has 6 goals in 8 league games against them for United. Two more would also see him reach 100 Premier League goals for the club.
It's just over 9 years since United lost three league games in a row and I don't think that will happen again tomorrow. Despite injuries, I think United will offer too much going forward however I can see us conceding. Therefore I predict a 3-1 win for the Reds.
You can share with us your thoughts ahead of the match and your favourite moments from games at home to Bolton on our forum.