You may also find these links interesting: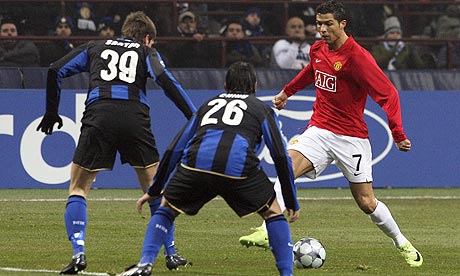 Manchester United returned to European competition at the San Siro and were held to a 0-0 draw by Italian champions Inter Milan – a result that will be lamented more by the visitors following their controlled performance.
The pre-match relief that both O'Shea and Evans had been passed fit was matched with a little wonder regarding the decision to leave Rooney, Tevez and Scholes on the bench and play with Giggs and Berbatov up front.
It was a decision that was soon vindicated as Giggs was instrumental in all things good for United – and in the first half, all WAS good. Ronaldo had more than a handful of chances, including free kicks and two headers from fantastic Giggs crosses, one of which was saved by Julio Cesar, the second of which was narrowly wide.
Berbatov had a header and then wasted a glorious opportunity from an incisive Giggs pass, and Giggs himself was similarly indecisive after finding space following a skinning of defender Rivas.
United had all of the possession and all of the big chances (12 in the first half), with great performances all the way around the pitch. The first half mustered no goals but nobody was in doubt who was the standout side.
Inter were rejuvenated in the second half – they had to be – and had a couple of chances, though nothing clear cut. In all fairness neither did United – the second half was end to end but never dominated like the first, and despite Ronaldo's last gasp free kick hitting the target, no team ever looked like establishing a first leg advantage after 80 minutes. Giggs did perform a dazzling run towards the end but his shot was easily blocked.
The tie hangs in the balance, as Mourinho has an impressive away record in the Champions League, but if this game is anything to go by, United should have a real chance going into the second leg.
Source:(Yolkie)