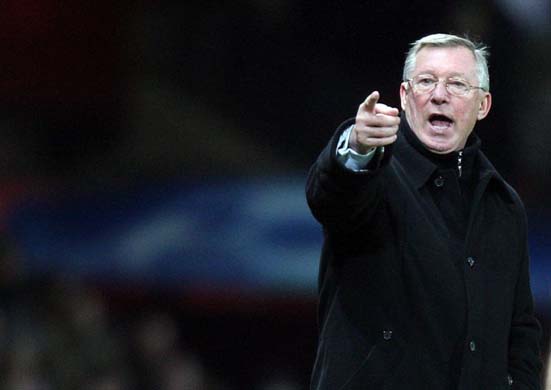 Nick Miller of football365 describes United as "the best of an average bunch"…
We could be accused of going a little blog crazy over the last couple of days but what with United's victory and Liverpool's draw putting the Champions 7 points ahead of the chasing pack, there was bound to be a media backlash.
And so came the first, from football365.com's Nick Miller (http://football365.com/story/0,17033,13320_4956614,00.html) , who far from gives kudos to United, derides their achievement by questioning that they are "the best of a simply average bunch", and says "seriously – this is a debate".
Well, so far, we've been slighted for the myth that we haven't scored so often. On 46 goals, we've scored more than any other team. As such, our defensive record has been referred to as the main reason we are in such a good position. The goals statistics defy this.
Our totally commanding home show this season, despite the number of teams who have come to Old Trafford with the sole aim of making it difficult for us, has been somewhat offset by what (at least a few games ago) seemed a dodgy away record. A record that could be quickly disspelled when recognising we had played all of last season's top half sides away by Christmas, and were still well within touching distance.
There are plenty more statistics that could be told, however, ask yourself this question. When Liverpool were top a few weeks ago, were they labelled "the best of a simply average bunch"? When Arsenal were leading the pack after their favourable fixture list up until this point last season, were they labelled "the best of a simply average bunch"? And when Chelsea were sweeping all before them with a powerful defensive unit, were they labelled "the best of a simply average bunch"?
No, they weren't. Arsenal were hailed as the best football side in the country (and, in some quarters, the best football side the country had ever seen), and Chelsea were feared as the most intimidating side of a generation.
I have often scribed my disgust at the way British journalism has failed to truly recognise the feats of Sir Alex's sides but to belittle the achievements of a side that has lost just twice in twenty six games but are still seven points ahead of a team with only one defeat in that time (and, incidentally, we're world champions) as "average" winners by 'default' is an incredible slight on a team which could potentially go on to have the most successful season in British football history. Yes, the internet does provide a path for the less knowledgable or embittered folk to cast their opinions, but the greater concern is that Sir Alex's sides of 2007, 2008 and the squad of today will have their achievements belittled by wannabe journalists who think because they have a pathway to a widely viewed platform, that their opinion holds any kind of credence in a proper discussion. Breaking news, pal, you may befriend a bunch of deluded scousers and gooners but in the long run you will hold no water.
You may be forgiven, as I could, that we would be getting some credit for such a fantastic turnaround in such a short space of time.
But then, I was crowing about waiting for credit for a Premier League and Champions League double last season. Little did I know we were doing it with an average side….
Source:(Yolkie)