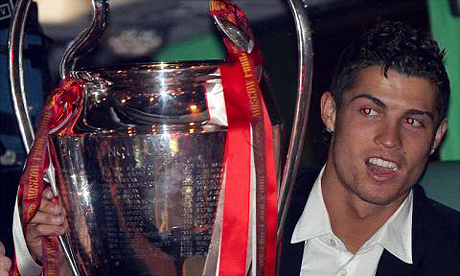 Ronaldo's petulance
Those who watched the game on Setanta Sports will have had the misfortune of being subjected to Craig Burley's personal singling out of Cristiano following his flick out against Blackburn, saying that this was the "3rd or 4th time" he's done it this season, before later correcting it to "4th or 5th time", highlighting the incidents at Tottenham and Stoke (so that makes it the 3rd).
I won't make excuses, Ronaldo probably deserved to go. But where was the same vilification when Diouf did the same shortly after? And, perhaps more significantly, where were the statements of uproar when Ronaldo trudged off pitches in the autumn with stud marks and bruises clearly visible all over his legs?
Indeed, David Dunn was giving Ronaldo more than just a little personal attention when our winger retaliated. Perhaps to those who believe they walk on a moral high ground they will say two wrongs don't make a right and Ronaldo should go (without making any kind of comment about the treatment he has suffered prior to his lashes out). As Craig Burley said "Ronaldo is supposed to be world player of the year. He should be used to this treatment".
Really? Should he? Maybe he's grown tired of the lack of action taken against his numerous attackers so he's decided to do something about it. Some would call it petulant, just as many violent. But there's a small pocket of us who would call it retribution.
Seven points clear and a trip to the San Siro
Liverpool's title challenge lasted longer than most expected – the leaves are normally just falling off the trees rather than wondering when it's time to come back – okay, maybe a little tongue in cheek there, as there is still a long way to go and despite their latest setback they have shown the resilience to avoid defeat. Generally this has been Rafael Benitez's trademark and as such he is recognised as a good Cup manager, but there is still time for them to change those draws into wins.
Nevertheless, City's unexpected result at Anfield gave United some cheer heading into the Champions League 2nd round at the San Siro on Tuesday night. Cheer that's badly needed given the potential defensive mis-shape – the last time we were so badly afflicted for selection at the back was probably our last trip to Milan almost two years ago, and no-one needs a reminder of how that turned out.
That said, even John O'Shea has a calmer head on his shoulders, and though I suspect Fergie was keen to avoid selecting Rafael in the away leg, in being almost forced to do so he may see the making of the youngster. Against Barcelona's riches at the Nou Camp only Ferdinand and Evra from our "first choice" four played, so there is cause for some optimism, or at least, little negativity.
From a result perspective, a score draw or even a score in defeat by the odd goal wouldn't be a disaster.
Harry Redknapp and the fine line of a priority and sacrifice
The last 5 days have showed and the next 8 days will show the difference in mentality between Tottenham Hotspur and Manchester United, but more relevantly, show the shortcomings of Harry Redknapp as a manager of a "top, top" club, and why long term he is probably not the right choice for Spurs.
Prioritising team selection with one eye on the next game is all well and good but one thing that has constantly baffled me over the last 2 years or so (finally enough to provoke me into blogging about it) is the decision of some managers to treat the UEFA Cup with such contempt.
Redknapp all but threw the towel in before what (on paper at least) seemed a very winnable tie against Spartak Moscow and has more or less conceded defeat for the second leg by declaring he is going to give debuts to teenagers. His reasoning for this is that the Cup final is a more important game.
In isolation, he may have a fair point. And with Fergie saying that our team is going to be the same as the one that has qualified for the final, Spurs will arguably go into the game as favourites. But if they do win the game, what then? The whole point is to qualify for Europe, for the same "glory nights" they earned the right to have this season, the same nights which Harry is arguably pissing up the wall.
It's not just a point against Redknapp, it's a bizarre epidemic that reaches far and wide. Gary Megson inexplicably left 7 first teamers at home as Bolton travelled to Sporting Lisbon with more than a fighting chance of making the UEFA Cup quarter finals last year. They went out, narrowly, leaving the travelling fans wondering what might have been. A surprise package in Zenit went onto win the trophy and although it turned out that they were actually a very strong side at the time, surely there is a massive "what if?" lingering for some Trotters fans. And with a potential clash with AC Milan as a carrot for sides in this season's competition, I can't for the life of me understand why it isn't being treated with seriousness.
I'm aware the argument in principle is a very fair one, that the priority is Premier League survival.
But should the priority be at the sacrifice at everything else? Teams at the 3rd and 4th round stages of the FA Cup field weak sides with the guise that survival is their priority but when you get 10 or 11 sides doing this and you know three of those sides will get relegated, it seems such a shame to the fans of those sides who get relegated or narrowly avoid it that their manager robbed them of the chance of a little bit of excitement in the Cup competitions.
Of course it's just my opinion but last season's FA Cup quarter finals as well as Middlesbrough's fantastic UEFA Cup run a few years back should have at least served as a glorious reminder of the feeling of success against the feeling of another season of underachievement.
Personally, I feel that progression in competitions has just as much potential to provide an extra buzz and enthusiasm as it does to provide a hindrance. There's a fine line between team selection and sacrifice and I just happen to feel sorry for the fans of such clubs, as well as lucky that Sir Alex recognises the difference. That's why, win or lose in the Carling Cup final, I at least won't bemoan the team selection.
For every manager you get bemoaning that there are too many games you'll probably be able to find 20,000 fans who can't get enough of the games coming thick and fast. Yes, perhaps the footballers cannot play to optimum ability with so many games, yes, that's why teams have big squads and yes, of course teams with smaller squads will always use that as an excuse. At the end of the day though it's still only 90 minutes of (occasionally) chasing a ball around a fantastically kept piece of lawn. I'm not Frank Lampard's biggest fan but think of the stick he gets for his supposedly generously proportioned body, and then take into consideration he almost never misses a game for Chelsea.
What do others think? Am I being too much of a fantasist? Has the game changed so much that fans accept being out of cup competitions at the earliest opportunity in order to supposedly increase chance of league stability?
If you've managed to get to the end of the blog, thanks for reading! Let me know what you think on any of the issues.
Source:(Yolkie)