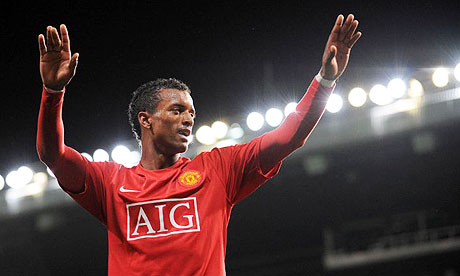 Following on from the blog I wrote in October 2008 about Nani – I must say that I was very disappointed with his overall contribution yesterday and feel that he really needs to start putting in some decent performances in order to remain a Manchester United player.
Every time the lad picked up the ball there was the inevitable groan of dissatisfaction when he ultimately gave the ball away. Too many times the young Portugugese winger failed to put a much needed foot on the ball in order to take a more assured touch than his constant flicks that were nearly always intercepted.  Of course, he did put in a good ball for Rooney to score the first goal – however, a decent ball in is hardly enough for a young winger trying to break into the first team.
When he signed for United he was labelled 'the new Ronaldo' – something i've never seen.  Ronaldo, in terms of physcial and technial ability, was streets ahead of Nani at the age of 21.  Sure, Nani has a shot on him and has scored some superb goals for United since he signed in May 2007, but I just can't see him ever cementing a place on the left or right flank for United.  I would give the boy another season – however if we are still talking about the same problems in a years' time – I think it will be time to offload him.  Haven't seen enough of Tosic yet to make an opinion on him, but I do hope we can try and bring in Valencia from Wigan – I think he has progressed greatly over the past year and you never know – we may even go back in for David Silva of Valencia.
Rovers Support
Bit of a moan about the away support yesterday – in the fact that there were hundreds of empty seats available.  Given the fact that the traveling support have to travel 32 Miles from door to door – you would expect a better turnout.  I know we're in troubled economic times – however I would expect a better turn out considering how close both clubs are to one another.
Internazionale
I really cannot wait for this game now but am quite anxious regarding our defensive situation.  Jonny Evans isn't looking too good and we're already without the experienced trio  of Wes Brown, Nemanja Vidic and Gary Neville; could we expect a centre back pairing of Rio Ferdinand and John O'shea?   If we can get through the first leg with a score draw – I will be immensely pleased considering that I think we will definitely get a result at home.
Couple of facts for you that you may not be aware of – Tuesday marks our 200th game in the European Cup/Champions League.  In this period United have won 110 games, drawn 49 and lost 40 times. United's first game in the competition was a 2-0 victory over Anderlecht in 1956 – Tommy Taylor and Dennis Viollet were on the score sheet.
Another good omen is that, we've only played Internazionale once and won the tie.  The two games occured in the treble winning season when a 2-0 victory at Old Trafford and a 1-1 draw in the San Siro send United marching on to the semi-finals of the competition.  A magnificent brace from Yorke, followed be a clearance off the line by Henning Berg and then a Paul Scholes strike were the main talking points of the tie.
Lastly, and not such a great point, no team since 2003 have won the competition and then gone past the last 16.  I blogged on this last August and although I am optimisitic we will be victorious it is something we will need to be aware of.  Is it just coincidence or is there a greater added pressure to the previous winners to progress?  Time will tell but I for sure cannot wait for the tie.