Wolverhampton Wanderers vs. Manchester United Match Preview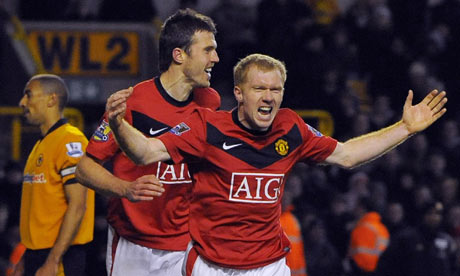 AUTHOR: – Doron
This match-up at Moleneuax pits the league's bottom side against the league's top team. Wolves have lost their last three games whereas United are on a run of three straight wins. That said Wolves are playing far from badly and few will forget how tough it was for United to win 1-0 at Wolves last season.
It's been one those seasons for Wolves and their fans. When you seem to have no luck at all and you lose games you don't deserve to lose you're in for trouble. Wolves finished 15th last year with 38 points – without a lot of investment it would have been unrealistic to imagine that Wolves weren't going to be in a relegation battle again. With the teams that gained promotion doing better than expected and other Premier League teams strengthening, Wolves are struggling and on course to finish with a lower points tally this year than they did last year. The worrying thing for Wolves though is the fact that they're bottom (with a game in hand). Mick McCarthy has got one hell of a job on his hands to fix this; it's far from as easy as the league table suggests.
It's very hard to know what to expect from Wolves? In terms of formation at home they've mixed it up this year, playing a 4-4-1-1 against Stoke last weekend yet against tougher opposition in Liverpool and Chelsea they've gone for a 4-4-2. It would be a surprise if Wolves did go for a 4-5-1 though. United don't like it when teams attack them and Wolves play at their best when they're attacking. At the same time though, playing attacking football and opening the game up may well suit United.There is little recent history to draw upon ahead of this fixture. Only two games have been played in the Premier League era at Wolves and both have ended 1-0; with a win for each team. United were the most recent victors though, Paul Scholes scored as United earned a hard three points last season.
Wolves are currently on a 3 game losing run. However since the turn of the new year they've only had 2 league games at home – a defeat against Liverpool and a very impressive win against Chelsea. Wolves are bottom primarily because their away record is by some margin the worst in the league. By contrast, their home record is better than Newcastle's who are in 10th. 17 points from a possible 36 at home is by no means brilliant but it's better than quite a few teams in this league. Yet it says a lot that there are only 4 teams in the league who have scored less at home and only 4 teams who have conceded more at home. Wolves though may take some heart from the fact that United have only won 3 on the road from 11. There's no reason for Wolves to feel intimidated for United away from home is a different proposition from United at Old Trafford.
Mick McCarthy has no new injuries in his squad for this game. There are four players though that will be missing this game – Guedioura, Hunt, Kightly and Mancienne. Karl Henry has been called into the England 40-man strong provisional squad; it's his first call-up and is a reflection on the fact Wolves have probably played better than their position suggests this season. However this is a surprise call-up for Wolves fans, Louis said, "This comes at a weird time. Injured for last 8 games and coming in for a lot of critisism from Wolves fans!"
Defeat for Wolves would see them lose four successive games for the third time this season. As unlucky as they may have been their 15 league defeats (mainly due to a terrible away record of P12 W1 D1 L10) is more than any other team. No doubt Sir Alex Ferguson will be congratulating Mick McCarthy as this will be his 100th game in charge of a Premier League team – his record in those games is W17 D18 L64 – McCarthy turns 52 on Monday.
Enough on Wolves…onto United and my predicted line up:
This is a surprisingly tough team and formation to predict…
Edwin in goal is simple, as should be the back four. Rafael has been confirmed as available by Sir Alex Ferguson and I'd expect him to replace O'Shea. Of course this is the first time in a preview we can definitely rule Gary Neville out of selection after his shock and immediate retirement. As per usual there is good back up in the form of Smalling, Evans, Brown, O'Shea and Fabio all fit to take a place on the bench.
The problem comes in the midfield. Away from home, Fergie has often favoured a 4-5-1 or a 4-2-3-1 variation. However whether the game at Blackpool where he had to switch to a 4-4-2 will have any baring remains to be seen. I actually think that we'll see a flexible 4-4-2, with Giggs shifting in and drifting along the middle and Rooney dropping out towards the left when that's needed. In which case I think Scholes selection may be key. In away games he is so vital to United being able to control a game and keep the ball. The selection of Carrick with him therefore may come as a surprise. Scholes probably needs someone to do his running but on the basis that United will have the ball, who better than someone like Carrick to play next to Scholes for he like Scholes uses and keeps the ball well. Fletcher is likely to be fit despite a gash to his head but I think he and Anderson may be best used from the bench if need be. Once again I'm unsure if Park is available having had some time off after the Asian Cup.
Rooney almost certainly won't be dropped and you'd have thought Berbatov will also start. Keeping the ball, as I seem to have said a few times now, will be key. Once again this will be ever so harsh on Chicharito but he spoke recently about understanding how a squad is used and knowing that he's only 6 months into his first season with United.
United remain top and following midweek results they have kept their small 5 point gap over Arsenal. The gap to City in third though has increased to 8 points now. I don't feel there is any need for much squad rotation – there is a week until the City game with players able to rest the weekend after when Crawley come to Old Trafford. Some of the squad will be on International duty this coming week but even so they should be fresh enough for City..
Recent form shows United sitting top of the form league with 16 points taken from a possible 18 in the last six games. Whilst United's home record is excellent, away from home the draw column seems a bit heavy; a record of P11 W3 D8 L0 is ok at best and certainly far from anything catastrophic but the "win" column needs to start to catch up the "draw" column soon. Since the turn of the year, United's away form does seem to have picked up though; three games have been played with two won and one drawn. It's helped make United's away form look good in comparison to other teams (only Tottenham and Arsenal have picked up more points on the road in their past six away games). Wolves will of course be trying to remove the "unbeaten" tag from United – not that the players or staff seem too bothered by this unbeaten league run. To do that they'll have to break down a defence that has conceded only 14 goals away from home; one of the best away records in the league. United have scored only 17 goals away from home, I say only as that really should be more, yet only three sides have managed to score more on their travels. Wolves will hope to repeat their feat of 2003/04 when they defeated United 1-0 – their only league win over United since August 1980.
For those interested in the unbeaten run and how it compares to Arsenal's at the same stage, United reamin four points down on Arsenal's 'invincible' squad of 2003/04. United have 15 wins and nine draws from 24 games, compared with the Gunners' 17 wins and seven draws. Avoiding defeat tonight will see the run come to an incredible 30 Premier League fixtures dating back to April 2010, setting a brand new record for United's best-ever top-flight run. Berbatov's 19 league goals this season is just five fewer than the entire Wolves team; he is of course the league's top scorer. Nani is the league's top assister. West Midlands teams have had a hard time against United in 2011, losing all three games. Three is also the number of away wins United have this season – on each of those occasions, Chicharito has scored!
I can see this being a tough game and whilst I'd like to think United will go 4-4-2 and be positive, we've hardly seen that away from home this season. Ferguson will probably go with a more cautious formation; I reckon this will be one of those nervous games! I predict a 2-1 win for United.
Paul Scholes scoring the winner at Wolves last year, his 100th league goal:
You can share with us your thoughts ahead of the match and your favourite moments from games away to Wolves on our forum.