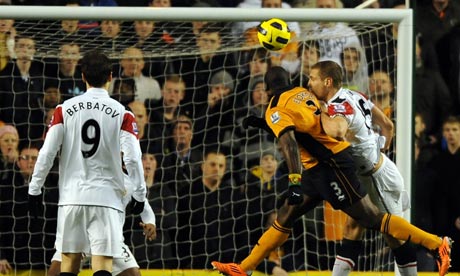 AUTHOR: – Doron
So this is what a league defeat feels like?! First off, massive credit to Wolves for putting in a really good display – the purpose of this piece is obviously to analyse what United did right or wrong so the lack of focus on what Wolves did right shouldn't take anything away from how they played. Talk of unbeaten records can now be put to bed. Despite taking an early lead through a great Nani strike, Wolves twice hit back in the first half with headed goals. A defeat away from home almost felt overdue but few would have predicted it would have come today; where did United go wrong then?
Talking Points
Centre Backs
Losing Rio Ferdinand in the warm up to a calf injury (he's out for two weeks) is never a good thing. In came Jonny Evans, somewhat revitalised after a really great performance against Liverpool in the FA Cup a few weeks back. It's of little surprise that United concede less with Rio playing than they do with Jonny when he plays (stats accurate before today's game):
Click on diagrams to enlarge
Evans inclusion today at the last minute shouldn't have caused many issues; it's no secret he and Vidic both play better with the more vocal and experienced Ferdinand than they do with each other. Evans today didn't make a single tackle or block – ok that's understandable considering the United defence was rarely troubled. Incredibly though, it was Vidic who was at fault for both goals (if anyone is to blame). The first Wolves goal he was too late in trying to forcefully challenge Elokobi – yet the whole team are arguably accountable for being slow to react to a quickly taken corner. For the second goal he misjudges the flight of the ball and gets too far ahead of the Elokobi/Doyle combination allow them almost a free header at goal. United may feel aggrieved as Doyle certainly looked offside but the fact that Wolves were able to score with two headers relatively easily is a concern.
It goes without saying that Vidic, if he's fit will be selected to face City next weekend; but who can replace Ferdinand? Personally I'd choose Wes Brown. Wes is experienced, a good defender and naturally a centre back. Whilst Smalling and Evans have had more minutes than him lately I think Wes's experience will count for a lot in a game like this.
Rooney, Berbatov and Chicharito
If there was one thing in particular I felt Wolves did well, it was to defend deep and in numbers. I've always felt that the way to frustrate United is to let them have the ball 30+ yards from goal and make them play it through you. Wolves did that very well today and forced United to play the long ball fairly often. Hence the tale of our three strikers today is one of frustration.
Rooney as we guessed in our match preview did play up front in a 4-4-2 but was often found to be swapping places with Ryan Giggs. His frustration was clear to see and it lead to him trying to give an all-rounded performance. Last year when at his free-scoring best, Rooney was playing the majority of his game in the centre forwards position and was getting good delivery. A combination of frustration, poor crossing (see chalkboard below) and a desire to search the ball out lead Rooney to drop deep today and try to find the ball hence his positioning was all over the place (see heatmap below):
United's 19 unsuccessful crosses
Wayne Rooney heatmap
For some reason and I can't quite work out why, it just didn't work for Dimitar Berbatov today. He was always on the periphery of the game and maybe it was Wolves tough approach that worked in keeping him quiet. Certainly getting service up to him seemed a struggle and on the few occasions there were good balls put in, it seemed like it was Rooney and not him getting close to the ball. Passes aren't necessarily a great indicator of how involved a player is in a game, but in the 65 minutes he was on the pitch, Berbatov only made 16 passes (see chalkboard below).
Dimitar Berbatov passes
Berbatov's replacement, Chicharito was given 25 minutes plus injury time to try and pull United back into the game. Incredibly, he only touched the ball 4 times whilst he was on the pitch (3 passes and 1 blocked shot). That's not to take away from his movement or desire to be involved but it shows how many players Wolves defended with and how well they stopped the service to United's front men.
Chicharito passes
Even if Rooney cut a frustrated figure today; at least he attempted to be more involved in the game today. As analysis of Berbatov only last week showed, he doesn't always have to be constantly involved to be effective, but today he was on the fringes of the game, correctly substituted and seemed possibly more lethargic than usual (bar one moment where he tracked back to win the ball deep inside the United half).
Wayward United
Two areas of United's play today were off-colour. Shooting and passing. Of United's 14 efforts on goal, only 4 (including the goal) found the target. Three chances from under 8 yards out were all missed. United this season have not struggled to create goalscoring opportunities but away from home in particular, they've struggled to be clinical enough. The red lines below represent efforts off target (with dark grey indicating blocked shots):
Man United efforts on goal
The other area of United's game that was poor was the passing; particularly in the midfield area. As I mentioned in the last section, it's fair enough saying some of the striker's didn't get involved and that Rooney's passing was poor but he was forced to come deep to actually try and influence the game; but the midfielders are the ones who have to supply the front players and today their passing didn't reach the high standards expected of a United player.
These are the passing chalkboards of the two central midfielders that started the game today, Fletcher and Carrick:
Fletcher – 79% successful passes; Carrick 70% successful passes
What's noticeable is that despite both players being comfortable in keeping the ball in the middle, as soon as either midfielder attempted to play the ball forward towards the strikers you see red lines appearing – unsuccessful passes. It may be surprising to know that in his 8 Premier League appearances this season, Darron Gibson has never had a passing completion rate as low as Carrick's today, and only on two occasions has it been as low as Fletcher's today.
Like the central midfielders, the wide players struggled to supply good ball today. I earlier pointed out that United's crossing was poor but even when Nani and Giggs cut inside today they struggled to provide consistently accurate balls to the forwards as again this chalkboard shows many red, unsuccessful passes:
Nani – 65% successful passes; Giggs 66% successful passes
The only midfielder today to actually keep the ball well was Paul Scholes. But even he struggled to penetrate the organised Wolves defence:
Scholes – 91% successful passes
With Carrick today playing poorly and being withdrawn at half-time, and Fletcher despite being the best of a bad bunch somewhat still down on his usual performance level; it could be now that Anderson is given a chance after being out of the first XI picture a little bit lately (potentially due to the fact he revealed his knee still isn't properly healed).
There was some suggestion post-match on Twitter today that United may have overused Giggs recently. With Park back amongst the squad now after the Asian Cup and a weeks break he may be the man to provide fresh impetus against City.
Unbeaten run ends
After 29 league games unbeaten, stretching back to Chelsea at home on the 3rd of April last year, today finally saw an end to the club-record equalling run. It was always unlikely that United would match "The Invincibles" Arsenal team in going 49 league games unbeaten but I think the manner of today's lacklustre defeat will have disappointed many Reds.
I believe that to go 29 league games unbeaten is a great achievement and it's something the club should certainly be proud of. Of course it will mean nothing if title number 19 isn't won this season but nevertheless now it's ended we can reflect and praise the team for it – something we have been reluctant to do or make a deal out of. I certainly believe that in some ways it lifts a burden off the team – the media on TV, radio and in the written press have been the people playing up the unbeaten run. With it now over hopefully there will be no added pressure coming from them; no more of the "United are still unbeaten" and speculation over when the run might end. It may even lead to some praise for the team and what they've achieved – something that I personally feel hasn't gushed as much as it should have with instead articles written about how United's squad isn't good enough and the general consensus that United are only top because everyone else has been poor an inconsistent. Am I bothered that the unbeaten run is over? No but I'm proud.
Match Conclusion
It was a performance we've seen time and time again from Manchester United away from home this season; just without the dramatic finale. Unlike at Blackpool, West Brom, Stoke and Aston Villa there was no late show to grab a point or three. United took the lead within three minutes as a terrific bit of skill from Nani was followed by a cut-inside and an early left foot shot flew into the near corner of the goal. Wolves though were level within six minutes as United failed to react to a quickly taken corner. The corner itself was frustrating and dubious; Rafael should have passed the ball back to Edwin van der Sar but instead tried to win a through and in the end conceded a corner that looked suspiciously like a goal kick. As the corner was played short only Rafael reacted to block the first cross but the second found a free Elokobi who powered in an equaliser. The winning goal came four minutes before half time. A free kick was whipped in and a combination of Elokobi and Kevin Doyle headed in a second for Wolves. The only players marking Elokobi and Doyle were each other. Doyle claimed the goal ahead of the Cameroonian and in doing so caused another talking point as he looked to be in an offside position. For all their pressure and chances, United rarely came close to scoring and Wayne Hennessey wasn't tested as much as he should have been. Wolves defended bravely and well – they were deserved winners.
Next up are rivals Man City at Old Tafford on Saturday. Having dropped points midweek, City beat West Brom 3-0 today as former Red, Carlos Tevez scored a hat-trick. The result leaves City only 5 points behind United but having played a game more.
strong>AUTHOR: – Doron