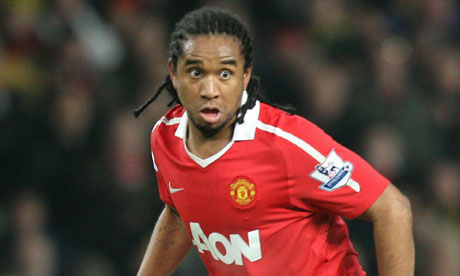 AUTHOR: – Stretford-end
Manchester United's Brazilian midfield Anderson is reportedly out for up to two months following conflicting reports that the midfield has picked up either a knee or hamstring injury in the 1-0 victory over Crawley Town at the weekend. Anderson suffered a serious injury at the start of 2010, when he damaged his cruciate ligaments in a league cup match against West Ham United at Old Trafford. United's number eight has made 21 appearances for the club this season, scoring one goal against Valencia in the Champions League.

Anderson was substituted at half time against Crawley and it looks almost certain that the industrious Brazilian will be out until the end of April – a real blow for a player who missed so much of last season and, reportedly, fell out with the manager. Anderson's performances are split between most Reds. Some see him as a skillful, competitive midfielder who can operate deep and burst forward with great acceleration. On the other hand, Anderson has only notched up two goals in his time at Old Trafford, although the most hardened of supporters will also point to a crucial penalty in the 2008 European Cup final. Rio Ferdinand and Ji Sung Park are also set to miss the match on Wednesday against Marseilles.
Anderson can still succeed at United
I still believe Anderson can make it as a top player at Manchester United, although he needs to start dominating games and being a little more clinical in front of goal. Of course being a midfielder isn't all about scoring goals, however with Anderson's movement – you would think he should be getting on the score sheet more often.
Since his return to the first team against Valencia away (did play a few minutes against Liverpool and also played in the League Cup against Scunthorpe United) he has looked extremely promising in some games and demonstrated why Sir Alex Ferguson parted with a reported £17million to secure him from Porto in 2007. This lead to him being awarded a new long-term contract with the club. With the absence of Anderson, United will inevitably turn to Michael Carrick to provide a bit of craft in the middle of the park, with Darron Gibson waiting in reserve. It may also force Ferguson to play a 4-4-2 much more than he'd like with Scholes who is unlikely to be able to play every game. I still believe Anderson has a lot to offer at United, despite is lack of goals and assist this term. Don't ask me why, I just do.
You can discuss how much of a blow this is on the forum