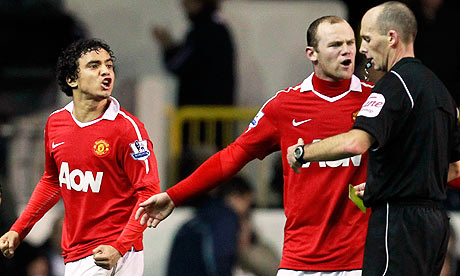 In what was the 148th match between Manchester United and Tottenham Hotspur (United winning 74 and losing 35) finished in a goalless draw, with United ending the match with ten men following the dismissal of Rafael for two yellow cards. United were going into the match in second place, following Manchester City's 4-3 win over Wolves yesterday (although City had played three games more than United), whilst Tottenham were in 5th place and looking to overtake Chelsea, who beat Blackburn Rovers at Stamford Bridge on Saturday. United last lost a Premier League clash at White Hart Lane back in the May of 2001 – when the League title had already been wrapped up.
There were many talking points today and we of course welcome comments from both United and Tottenham fans following the scoreless draw.
Talking Points
Rafael – Angel & Devil
Rafael made his debut for United in the 1-1 draw with Newcastle United at the start of the 08/09 season, coming on as a substitute. Since that day he has become a firm favourite at Old Trafford for his committed and energetic displays. This commitment can get Rafael in trouble at times, with the best example being in the 3-2 victory over Bayern Munich back in April – where United were eliminated by the away goals rule.
We all know what happened in that game, with United demonstrating some excellent free flowing football in the first half, only to come undone, after being 3-0 up, from a Michael Carrick error – leading to Bayern's first and a sublime volley from ex Chelsea and Madrid winger, Arjen Robben. In between Gibson's opener and Robben's volley – Rafael was sent off for two bookable offenses, which in turn ended the contest as United were resorted to long balls for Nani to chase on to. Today, Rafael was sent off again for two bookable offenses – with the second a very harsh dismissal indeed.
In my opinion, there was no arguments with the first booking – even if the young Brazilian won the ball. Things have changed in English football over the years and a challenge that may have been acceptable thirty years ago, isn't today. Rafael did win the ball, but he was off the ground with studs showing and was rightfully shown the yellow card. With the second booking, from what I saw, Assou-Ekotto was clipped by Rafael's legs as he ran across him. A definite foul, however a yellow card? The offense occurred just past the half way line and I guess your decision will be based on the fact whether Rafael was being cynical or not. I know Rafael is quick to put a challenge in, which most of the time are hard but fair – but did his challenge on Assou-Ekotto warrant a booking? I don't think so.
Luka Modric – Superb
Obviously our main focus is to analyse events surrounding United, however I was extremely impressed (again might I add) with the performance of Luka Modric throughout the 90 minutes. I'm reading on Twitter from some Reds that they were shocked Modric won MOTM for the game ahead of Vidic (will get to Vidic later on) – and although I think our skipper was excellent throughout, Modric was a constant threat and at times had Carrick and Fletcher chasing shadows.
I blogged last year on what a superb signed Luka Modric would be for Manchester United following some transfer gossip doing the rounds. However, with Modric performing like he did today, there is as much chance Barcelona selling United Lionel Messi or Xavi (not comparing the Barca duo to Modric – but just in terms of importance to Spurs and how unlikely the transfer is!). His low centre of gravity allows the Croatian to free himself from his marker, whilst his vision and passing helps to open up play. A marvelous midfielder, who was outstanding today. Below are his passing stats in comparison to his teammate Wilson Palacious and the United duo of Fletcher and Carrick:
Modric attempted 77 passes, which is 7 less than both Michael Carrick and Darren Fletcher together. Of course its not about quantity, but his pass success rate was greater than both Carrick/Fletcher – and he made the majority of his passes in a more advanced position. A great display.
Vidic & Van Der Sar – Solid
Manchester United's captain put in a solid display, which helped United to a point at White Hart Lane. Vidic's was immense in the air against Peter Crouch, who of course has a distinct height advantage whilst making five interceptions throughout the match (which was the same as Ferdinand, Dawson and Gallas' interceptions put together). As I mentioned, many were complaining that Vidic was the MOTM for his performance today and in my book was certainly inspirational in United obtaining a point at Spurs.
Fourteen years ago I used to think to myself "I don't know what i'll do when Eric retires" – and of course five months later Eric was no more as he quit the game aged 30 to pursue an acting career. I've only had that opinion with a few players over the years, but I wouldn't say Edwin Van Der Sar is far off that. His experience, agility and distribution are an enormous asset to the club since he signed in the summer of 2005. Fergie stated that he should have signed him years ago, but obviously missed out when the Dutchman moved to Juventus from Ajax in 1999. We ran a poll earlier in the season on Van Der Sar's inevitable replacement, with David De Gea coming out as favourite.
Today, Van Der Sar came and collected a number of crosses with ease, whilst punching and clearing his lines when necessary. The big Dutchman, schooled at the Ajax academy, is always willing to play quick football and his distribution to Rafael or Evra is often key in United's counter attacking play.
Match Conclusion
Manchester United earned a good point at Tottenham today, through resilient defending even if their normal passing game wasn't there. Tottenham demonstrated why they should be considered a top four side, with some slick passing and movement from Luka Modric – who orchestrated most of the play for the North London side today. United were forced, for the second time in two seasons, to play a quarter of the match with ten men following the dismissal of Brazilian fullback Rafael – who was rather harshly sent off for two bookable offenses. The first tackle was a yellow card, even if fullback did win the ball, as it was rash and off the ground. The second was a mere clash of legs, which nearer the halfway line than United's goal. Rafael had been very impressive throughout the game as he continues to go from strength to strength.
This was no doubt a tough encounter for United, who remain unbeaten with seventeen games left till the end of the season. If you would have offered me a point before the game I would have taken it. Spurs are a very good footballing side and although United have had better performances and results in recent seasons – a team that contains the pace of Bale and Lennon combined with the artistry and guile of Luka Modric – I believe Fergie will be happy with a point. Birmingham City are next up for United next Saturday.