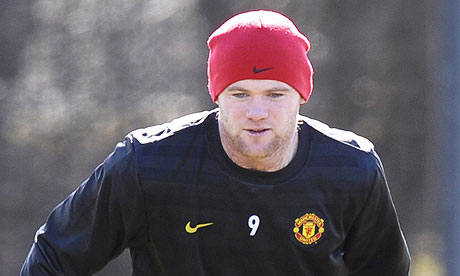 There has been a lot of discussion over the past few weeks regarding the potential goal scoring return from Wayne Rooney this season in comparison to that of his former team mate, Cristiano Ronaldo's return in 2007/08. We discussed the possibility of such an achievement a couple of weeks ago when Rooney surpassed the total goals scored by Cristiano Ronaldo last season. I'm going to put my neck out and say that in our remaining games (potentially 14) Wayne Rooney will score thirteen goals – taking his goal tally up to a whopping 43 for the season (including community shield goal).

In the summer of 2008 I honestly thought that I would never see a goals return like it again. In the season 2007/08 Cristiano Ronaldo had scored a bucket load of goals for us, with Carlos Tevez coming a distant second (with 19) and Rooney third (with 18). I honestly could not even have contemplated that anyone would ever get close to such an achievement. However, that is until Wayne Rooney demonstrated how much of an old round forward he actually is.
People used to say that Wayne Rooney needs to play deeper to get the most out of him. In Rooney's debut season he was forced to operate as a lone front man, with Ruud Van Nistelrooy unavailable for long periods due to an ankle injury. He did well as a lone striker, with support from wide areas in Cristiano Ronaldo, Ryan Giggs and, erm, Kieran Richardson – but it was clear that this would be a temporary fix for a team in transition. As the years passed Rooney developed, along with Cristiano Ronaldo who's natural ability allowed him to take centre stage – with Rooney often being sacrificed, especially in the latter European games. With Ronaldo gone Rooney has been effectively liberated from his shackles and United are reaping the rewards, whilst Ronaldo's Galacitco's crash out again in the European Cup's last sixteen.
I was looking through Ronaldo's stats from 2007/08 today and if we do a like for like with this season – we'd be at the 1-0 victory over Derby County, where Ronaldo scored the winner. He then proceeded to score twice against Bolton, once against Liverpool, once against Aston Villa, once against Roma, once against Middlesbrough, once against Arsenal, twice against West Ham United, once against Wigan Athletic to help clinch the title and that header in the Champions League final against Chelsea (phew).
So, if we get to Madrid this May Rooney has an opportunity to play in fourteen games, where his form would surely be a great shout for him to surpass the total set by Ronaldo two seasons ago. The fact that we have a superb athlete in Valencia who has put in some immense performances over the season and the trio of Fletcher, Scholes and Carrick behind him – he has a superb opportunity to do it. I like the fact that he plays in a free role up top on his own. He has license to roam around the final third, which draws defenders out as their petrified of Rooney running at them with pace. He showed he is still an unselfish player for the team when United do not have the ball, running back to cover for both Nani and Valencia who ventured forward. He really is a class act and an all round forward.
Any regular reader of this blog will know that both Yolkie and I like to pull out the stats now and again, so here is another one for you:
The above chart shows the breakdown of Rooney's 30 goals so far this season, with his goals in the last ten minutes and injury time looking very impressive. Its shame we haven't recorded 'type of goal' as we could breakdown the amount of headed goals he has against right foot, left foot, long range (e.t.c.).
So to conclude, Rooney has a great opportunity to surpass Ronaldo's goal tally of 2007/08 – something I never thought I would say a mere twenty months after it happened. He has a manager who believes in him, fans who adore him and a talent that allows him to score all types of goals. Rooney will no doubt play down his own personal compliments, stating he does it for the team and he could just help us win a nineteenth Championship and fourth European Cup. Fingers crossed.