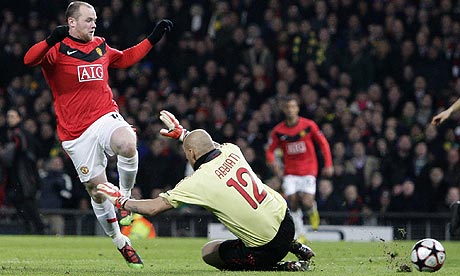 Relentless, ruthless, Rooney – these were the three R's that inspired Manchester United to a historic victory over grand European opponents AC Milan. It was a classic action packed European night at Old Trafford with many subplots; but it was United who triumphed with a massive 7-2 aggregate scoreline to progress to the Champions League quarter finals.

Sir Alex Ferguson's line up was more or less the same in formation as his decision in the San Siro, deploying Park on Pirlo and opting for the experienced Neville on Ronaldinho. But any pre-match thoughts of containment were quickly erased; two early Rooney chances were accompanied by that rarest of sights, Gary Neville charging forward to fire a well struck left foot shot from 20 yards just over. None of these three chances were as close as Ronaldinho's header on 8 minutes from a free kick, drifting just wide to the obvious frustration of the Brazilian. An action packed opening quarter hour was sealed nicely – Neville, on another rampage into Milan territory, rolled back the years to cross a ball perfectly to the head of Wayne Rooney. The end result, given Rooney's form, was obvious, but even so this was a tremendous effort even by his own imperious standards.
Pirlo did force van der Sar into action with a vicious, moving drive from 20 yards, but United drew the sting and fight out of the Milan effort. With the last act of the first half, Fletcher almost scored a screamer from 25 yards – it took only a matter of moments after the restart to seal the result. Nani had had a frustrating time in the first half, but he was to improve greatly in the second – his first contribution was an incredible outside of the boot pass to Rooney who exhibited the composure of someone ten years older to wait perfectly for the exact moment to caress the ball first time into a goal exposed by the onrushing Abbiati. It was a goal of truly breathtaking quality, a real world class moment in this demolition.
On the hour, United extended their advantage. The home support were in full swing, alternating between chants continuing their campaign against the Glazers and songs for the returning Beckham. They were sent into a frenzy when Valencia passed to Scholes, whose pass to Park was perfect. The South Korean's first touch was brilliant, with a finish across goal to match. It was party time; cue the substitutions. An emotional Beckham was introduced, looking visibly overwhelmed by his warm reception from the Old Trafford faithful, though he was ironically – though, it should be said, lovingly – booed upon his first few touches. It was then Rooney's turn to get a standing ovation, arguably getting a bigger cheer than Beckham himself, and Neville, who was brought off for Rafael but came off in the knowledge that he has probably added to the growing clamour for the most unlikely of career autumn international recalls.
Ex-Arsenal player Flamini had a long ranger before Beckham rifled a stunning volley that van der Sar had to be alert to – United had by this point found a pattern of sitting back and allowing Milan the ball, attempting to break when possible. On one of the final breaks, with just 2 minutes left, Milan failed to clear effectively. Park managed to outwit Ronaldinho and lay the ball into Rafael's path. The youngsters cross was sensational, perfectly into the path of Darren Fletcher – the Scot headed comfortably over the keeper to seal a magical scoreline and evening for last season's beaten finalists.
After the game Beckham further endeared himself to supporters – if at all possible – by accepting a green and gold scarf, and then spoke with emotional fondness about the occasion. Elsewhere in Europe, Beckham's successor in the number 7 shirt, Cristiano Ronaldo, was finding life in Madrid a little sticky as Real Madrid yet again failed to make the quarter finals. Not that it mattered to Sir Alex – he was in bullish mood, so impressed by his teams performance that he suggested he would take on anyone when the draw for the next round is made.
It has to be said – with good reason.
Ratings : van der Sar 7, Neville 8 (Rafael 7), Ferdinand 8, Vidic 8, Evra 7, Valencia 7, Fletcher 9, Scholes 9 (Gibson 6), *Park 9, Nani 8, Rooney 8 (Berbatov 6)
Source:Yolkie on 10th March 2010
Rating:4 out of 5 out of 102 results
A match report for the Manchester United vs. AC Milan match.