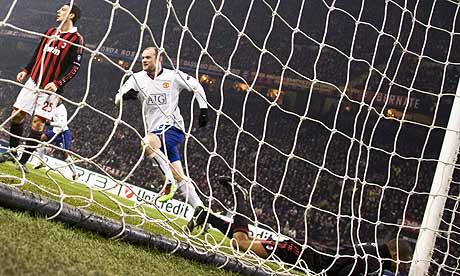 In an enthralling Champions League second round first leg tie, Wayne Rooney added to his ever growing reputation with a fantastic double in the San Siro to give United a great advantage going into the second leg. AC Milan and Manchester United is one of the great traditional European nights and this occasion had plenty of that old romantic feel with each side boasting a collection of modern day legends, stars of tomorrow and plenty of hard work, but if one word could sum up the opening period, it would be fortune.

Fortune that saw the home side snatch an early lead, fortune for United that denied them adding to it, and fortune that brought the away side back into the game. All the talk pre-match was of Beckham's first ever game against the Red Devils but Ronaldinho unbelievably hadn't played against them either. The Brazilian marked the occasion by grabbing the opening goal after just three minutes, Beckham's free kick acrobatically but poorly cleared by Evra to Ronaldinho whose shot was deflected in by Ferdinand. It seemed "Own Goal" had defected for the evening – but lady luck was certainly smiling on the visitors who struggled to compose themselves and could have been further behind. Ronaldinho tricked his way into a scoring position on 6 minutes but was denied by van der Sar.
Antolini was then guilty of missing a great chance after Thiago Silva ran fully 50 yards. A feature of United's attacking play was the number of times Nani found himself in space, however all his crosses were poor bar one, which was played into a great area on the quarter hour but wasted by his team mates. United were again fortunate when Scholes was sloppy in possession, gifting Ronaldinho the chance to bamboozle Ferdinand with his trademark footwork. Ferdinand was at sixes and sevens, and appeared to trip the forward on the edge of the area, but no foul was given. From the resulting clearance Wayne Rooney fizzed an 18 yard shot just wide of the post.
Klaas Jan Huntelaar then made an impression with two chances just after the half hour, the first after a poor header by Ferdinand and the second after being allowed acres of space – neither, however, finding the target, however narrow the margin. United then snatched their own piece of luck but it was luck that was earned after brilliant build up – Park waited for Fletcher to make a move outside, the Scot played the ball in perfectly for Scholes who went to volley on his right, completely missed before the ball struck his standing leg and crept agonisingly past the despairing Dida.
Had Michael Carrick's 30 yard shot 3 minutes later been a foot closer United may have had a half time lead but the last real chance of the first half fell to Ronaldinho whose wonderful turn and shot tested van der Sar. The equaliser had a defining impact on the match as the second half began – Milan's composure and exhibitionism gave way to a lack of ideas and energy while United's on the ball nervousness evaporated as they began to look for ways to take the game to their hosts. An early chance created by Nani was almost headed in at the far post before Milan answered with two chances of their own, Pato heading over from Favalli's cross and then Pirlo asking the question of van der Sar with a brilliant 35 yard free kick.
The game was on the proverbial knife edge, waiting for someone to step up to the mark, and United got not one but two – it may be no secret to United fans that in Wayne Rooney and Darren Fletcher they have the priviledge of watching arguably the best two players of the season, but displays such as the one this evening surely will make the whole of Europe sit up and take notice. Fletcher was excellent throughout as he nullified any attacking threat of his illustrious opponents but the game was screaming for Rooney to grab it by the scruff of the neck and he duly obliged. After offering threats first by winning the ball and driving forward 30 yards and then having another 15 yard shot saved, it was clear that maybe a tactical shift was needed to fully exploit United's ascent – Sir Alex, perhaps as frustrated with Nani's inconsistent delivery as Rooney visibly was, removed the Portguese for Valencia. There was no secret, no hidden message – clearly the mandate was to put Valencia on Favalli and it was a recipe that bore instant fruit. Scholes played in the winger and his first contribution was to float a perfectly weighted ball to the far post. The header from Rooney was sensational and ensured his 50th Champions League appearance was marked by his 24th goal of the season, a career best.
He wasn't done there, though. Fletcher had teed up Rooney moments before doing so again with a move that was brilliant and simple in equal measures – the forward headed to Fletcher, who cut inside, delayed his move and then crossed to his teammate in space in the area. Rooney still had work to do and expertly headed in with over quarter of an hour left to seal the result on the night. It should, and almost was, a procession – United could even have got a fourth had anyone had been as quick as Valencia's stunning cross-goal pass in the 82nd minute, but Sir Alex was fuming by what he later called "a carnival" that manifested itself in the visual feast of a late AC Milan flurry encouraged by a goal 5 minutes from time. Ronaldinho got the ball on United's right, exposed by a naive rush up field from Rafael, and his smart pass was equally smartly finished by the veteran substitute Seedorf. Inzaghi, Ambrosini and Nesta all had chances after to level the scores and ensure a nervous closing stage, a period not helped by a sending off that was as harsh as it was foolish. After Patrice Evra had been penalised for a foul, Michael Carrick diverted the ball away from himself. For the referee's part, it was really exercising his discretion to give Carrick a second yellow, for Carrick's part, he is experienced enough to know that at this level some referees need no excuse.
The performance proved a steep learning curve for Rafael and Evans in defence who both had moments of uncertainty – however, there were some plusses as both made valuable blocks at times, and it would be unfair to just highlight those moments where the much more experienced forwards got the better of them. The latest blow to midfield selection will further test Ferguson's discipline resolve regarding Anderson, too. Seedorf's goal means that what would have looked a relatively comfortable prospect on paper in the return becomes decidedly less so when you consider the effect Carrick had in this fine midfield outing but such plans can wait; the attention tonight should be on Fletcher and Rooney after their brilliant displays.
Ratings : van der Sar 6, Rafael 6 (Brown), Ferdinand 6, Evans 6, Evra 7, Nani 5 (Valencia 7), Scholes 8, Carrick 8, *Fletcher 9, Park 8, Rooney 9.