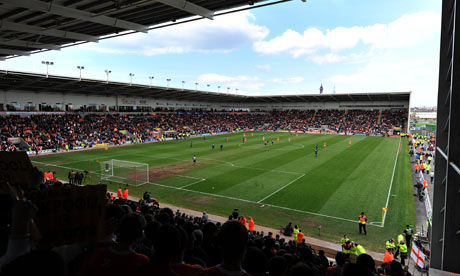 United's game against Blackpool tomorrow has been called off due to a frozen pitch at Bloomfield Road. There's little doubt that this can be spun in both a positive and a negative way. I'll assess the impacts of this postponement on United.
To begin with, the facts. The Premier League, the Match Officials – lead by Peter Walton, Manchester United and Blackpool all agreed today to postpone the game. The referee expressed his concerns that patches of the pitch would not thaw in time for the match tomorrow with another cold night ahead. There has been no date yet assigned for the fixture to take place.
Why couldn't Blackpool get it ready in time? Firstly for our readers outside of the UK, there has been unseasonably cold weather and the majority of the country is covered with snow. Evening temperatures of -8C or colder have frozen the ground solid. Blackpool do not have undersoil heating installed at Bloomfield Road. They have hired in huge generators to blow hot air onto the pitch but clearly they have not worked well enough. To me, it seems unacceptable that a Premier League match should fall foul to the weather. There should be minimum standards for competing in the league. I saw a few people on Twitter site the fact that Birmingham had undersoil heating installed for only £300k last year – given how much promotion to the league is worth, it seems as though this is not a huge outlay in the long run. Blackpool have actually been training abroad this week – they have no indoor training facilities and their training ground was frozen. It had even been suggested by Ian Holloway that they would consider training on the beach if need be.
The positives. Well this might be clutching at straws but I feel there are a few positives. Firstly playing in cold conditions and on hard pitches is the perfect combination for injuries. What United have now is a chance to rest further. Key players will get an extra break and players like Scholes who was a doubt for tomorrow but might have been involved, need not be risked. Additionally the next game United play is on Tuesday evening at home to Valencia. The match is a dead rubber – United can afford to play a weakened team with qualification assured and first place nearly tied up – hence first team players may end up having a nice two week rest from beating Blackburn last weekend until the huge games against Arsenal and Chelsea. The squad should be fresh and ready – although some might argue that in two weeks players can get a bit rusty and lose rhythm.
The negatives. The obvious negative is that both Chelsea and Arsenal can go above United. United can end the weekend in third. As Sir Alex Ferguson would testify, it's always better to lead the race than be chasing – the psychological disadvantage of being third is massive, even with a game in hand. One need only to look at the Blackburn away game last year – the team didn't perform but knew they had to as they were chasing. If Chelsea win this weekend and next weekend, they could be four points ahead of United before the Arsenal game on the Monday. The flip side to the players getting a rest is that there will now come a time where a fixture will have to be squeezed in and United will have to play an additional league fixture that week with their rivals more than likely to have one less and therefore a less tired squad.
The final argument is of course that it makes no difference. United are a professional football team and should Ferguson wish to put a spin of positivity or negativity on the situation he'll know the best one to do – until then it probably makes little difference to the team who have been called in to train anyway – as Rio confirmed to me on Twitter, "@rioferdy5 @DoronSalomon training 2mo, running and a gym session. Good stuff!"
I'm not sure if it'll make much difference myself. Personally my thoughts are more with the fans who had made travel or accommodation arrangements – hopefully these can all be refunded. United have confirmed that away tickets issued for the game will be valid for whenever the match is rescheduled. Take care in the snow folks and enjoy watching some football over the weekend from inside and in the warmth.
Please feel free to discuss the topic using the comments section – however do try to be polite and rather than criticise the author (myself), stick to the topic and it can be debated in a sensible manner. We do have a topic running on the forum about the game so you can share further thoughts there too, click here for that.