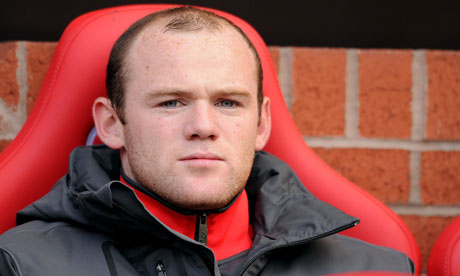 Much has been said over the past two months regarding Wayne Rooney. The first month concentrated on his poor form on the field and his reported adulatory off of it, whilst the second month focuses on the fact that Wayne Rooney had requested to leave Manchester United after six years at the club. If the first two issues rocked the boat, the second tipped the boat over all together and to make matters worse City were favourites for his signature. A few days after, and the shock still hadn't subsided, Fergie announced that Rooney had signed a new contract – keeping him at the club until 2015. So how did Ferguson manage to persuade Rooney to change his mind and what does the future hold for our number ten?

Sir Alex Ferguson has worked miracles at United with some of the biggest egos to ever grace the Red jersey. Between them, Eric Cantona, David Beckham, Cristiano Ronaldo and Wayne Rooney have notched up 417 goals between them – but life could have been so different had Fergie not intervened. Eric Cantona could well have left United all together following his kung fu kick on a Crystal Palace supporter back in the January of 1995. Likewise David Beckham, a player who improving season after season in 1998, could well have walked away knowing the abuse he was going to get following his sending off against Argentina, which many blamed as the moment England lost the match. Lastly, Cristinao Ronaldo's flirtation with Real Madrid happened long before the summer of 2008, when the Portuguese star clearly wanted a move away to the Bernabeu. Wayne Rooney's sending off against Portugal was all down to the 'winker' that is Ronaldo and like Beckham – he could well have done without the abuse. However, one man was key in keeping these players at the club and turning their fortunes around – Sir Alex Ferguson.
Eric Cantona
For me, Eric Cantona was and still is my hero. Adored by the United faithful and will forever be remembered as a great by all the fans who saw him play. However, his volatile nature was a little too much to handle for Howard Wilkinson (who sold him for £1 million), Trevor Francis (who had him on trial at Sheffield Wednesday) and Grame Sounes (who reported turned down the offer of signing Eric prior to the trial with Wednesday). Sir Alex saw things differently and of course reportedly managed Eric the way he saw fit – which was to let Eric express himself and give him more 'freedom'. We've all heard the story of the black tie event in which all the players were told to be 'suited and booted', which of course was missed by Eric who turned up in trainers and a white blazer. Sir Alex apparently turned a blind eye to the Frenchman's attire – because sometimes you have to treat genius a little different.
Eric could well have jumped ship, or should I say trawler, following his eight month ban handed out by the league. He could have gone to Italy with Internazionale apparently interested in his signature – but Ferguson was key in keeping his star man. United had just signed Andy Cole and there were reported Fergie was trying to offload Hughes to Everton. Then Eric lashed out at Richard Shaw and the destiny of all involved changed. Now i'm not going to talk like I know Cantona, his personality or his behaviour – but I will discuss reported stories of what occured in between the kick and the penalty against Liverpool in front of the East stand. Fergie apparently chased Eric around on a Harley Davidson in the Paris night trying to persuade his troubled tailisman to stay at Old Trafford. When he eventually met up with Cantona, they talked football into the night and the great Frenchman decided that Manchester was the place he wanted to play his football.
We all know what happened between October 1st 1995 and May 31st 1996 – with United picking up a second double in three season and Eric Cantona playing the key role in both League and Cup successes. His presence also had an influence on rising stars such as Beckham, Butt and Scholes – who in turn developed as players in their own right. Without Ferguson, would Eric have been persuaded to stay at Old Trafford? Would United have wrapped up the FA Cup and League Championship? Would United fans have still sung his name had it come to light that he was, reportedly, considering playing elsewhere? Eric was a genius and if there was ever a right place at the right time – this summed it up brilliantly. If United and Ferguson needed Cantona to rise from ashes of defeat in 1992, then it could also be argued that Eric Cantona needed Sir Alex Ferguson and United all the same.
David Beckham
In 1995 it was deemed that Beckham needed to 'toughen up' before becoming a regular in the first team. His loan move to Preston North End was deemed a success and Beckham returned to Old Trafford a more confident player with first team experience playing lower league football. Although he played a part in the 95/96 double, his breakthrough season – in terms of top class performances – came the following season. Beckham has been in and around the team when Kanchelskis was in his pomp, running leftbacks into the ground up and down the country. Beckham was of course a completely different player to him and Ferguson may have felt in 1996 that Beckham still wasn't ready for the first team – signing Karel Poborsky after an impressive Euro 96 showing.
We all know that Poborsky didn't quite work out at Old Trafford – with a massive part of that down to the improvement of Beckham. When Eric Cantona lurked on the edge of the area prior to the Beckham corner that was fumbled by the hilarious flapper that is David James – it was rumoured that Ferguson stated to Brian Kidd "If he hits one more corner to James i'm taking him off!". Cue corner, straight to the flapper, Cantona volley, goal – pandemonium occurs. So, if indeed James had of held the cross – Beckham may have been taken off – an indication that Fergie still may not have fully trusted the future United legend. The goal against Wimbledon may have changed his life, due to the audacity of the shot – but for me his performances were so much better than the season before. When 1998 came along, Beckham was well established in the England squad and was a key performer for United – who were pipped to the title by Arsenal. His confrontation with Diego Simeone may have just been the making of the man.
England fans believe they are hard done by over they years – citing Diego Maradona's ludicrous handball and Ronald Koeman's comical foul on David Platt (before going down the other end and scoring a free kick) – and Beckham was of course public enemy number one post Argentina. His flick of the right leg towards Simone, who tumbled to the ground like a fat man getting smashed in the stomach with tuba, was ridiculously stupid, considering the position of the referee. Beckham was sent off and England went out, on penalties – again. Now, I have my personal view on why England have only featured in one World Cup final compared to Germany's seven and Italy's six – but that is for another discussion (but do check out my entry on the other blog). Beckham's treatment at the hands of opposing fans were of course aimed at getting a reaction from United's number seven – which of course did the complete opposite.
At the end of the 1998/99 season – I felt that Beckham was United's best player that season – which was reflected in his runner up spot (to the excellent Rivaldo) for European player of the year. I felt he deserved to win it, despite the brilliance of Barcelona and Brazil's number ten. Ferguson no doubt played a massive part behind the scenes, explaining to Beckham his importance to the side and his quality that could help United reach the promised land. Juventus were considered the benchmark, who included a player that was apparently unwanted (Zidane) by United due to the potential hindrance of Beckham's progress. United and Beckham disposed of Juventus, before beating Tottenham, Newcastle and Bayern Munich to win United the unprecedented treble.
Cristiano Ronaldo
Cristiano Ronaldo, for me, is the best player in the world and I think (after comments made) that Fergie is of a similar opinion. His early performances were of course a mixture of jaw dropping amazement combined with longing frustration regarding his final balls (Ruud VanNistelrooy reportedly also had an issue with Ronaldo's over elaborate play). In order to be as good as Ronaldo you need to have natural talent, practice more than you can imagine and have an ego the size of a small moon orbiting Jupiter. The latter point is something that can rub fans up the wrong way – if you don't have the quality to back in up. Pre 06/07 – there were glimpses of the talent (MOTM performance in 2005 FA Cup final and two goals against Arsenal – away – in the same season) – but I doubt anyone could imagine what a player he would turn into.
His part in the Wayne Rooney sending off was again the main focus of England fans who believed that this was the main reason as to why the three lions weren't going to be lifting the World Cup trophy on July 9 2006. He apparently wanted to leave United for Real Madrid/Barcelona (we all know this story) – but Ferguson had other ideas and knew that the 21 year old was going to play massive part in the destiny of Manchester United. His player of the season performance in 2006/07 followed by a laughably excellent 42 goal haul in 2007/08 – which of course resulted in a European and Domestic double – demonstrated that Ferguson was 100% right to stick by United's number seven and persuade Ronaldo that he had unfinished business at Old Trafford. Ronaldo eventually fulfilled his 'dream' of playing for the nine times European Champions and it must be said is in 2007/08 form for Los Blancos (currently on 14 goals in 12 La Liga games). His rise to the top with United is no doubt down to his ability, which was nurtured by United's coaching staff (hat tip to Rene Meulensteen) – but also to the patience and faith put in him from Sir Alex Ferguson.
Wayne Rooney
73% of you thought Wayne Rooney would surpass the 42 goal haul of Cristiano Ronaldo when I ran the poll back in March. To be honest, at the time, I voted 'yes' due to the superb form he was in. We didn't envision the ankle injury that would derail United's Champions League and domestic challenge (despite losing the league by a single point and outplaying Bayern Munich for most of the second leg), nor did we imagine what could proceed it. A poor World Cup finals, which he then continued into the new season, and reports of off the field problems were unimaginable when he smashed the ball high into Bayern's net in the quarter finals in March. However, it was his conduct over his contract demands that angered United fans.
His statement, which was widely disregarded , indicated that he was concerned by the ambition of United to compete at the top level and reluctantly wanted to leave Old Trafford. I have no doubt in my mind this was down to money rather than try and pull at the heart strings of United fans by claiming he was concerned by the progress being made by the club. If we rewind thirteen and a half years – we are in Sir Alex Ferguson's office the day after United have been eliminated by Dortmund in the semi finals of the European Cup. Eric Cantona walks in and claims that he wants to retire from football and cites two reasons (reportedly) as to why he has become disillusioned by the game (he did state in the 40th anniversary of Munich match that he 'lost his passion'). One was that United were exploiting his image rights (which continued to rattled the Frenchman even after he left the club) and the other was the that recent United signings lacked 'ambition' to succeed at the top level. Looking at Eric after the Dortmund game, his head down and torso showing expression told us that something wasn't quite right with our captain – although his retirement did come as a massive shock to us all.
Although the general consensus is that Rooney was only interested in receiving a bumper deal, we do never know what goes on behind the scenes at a football club. I am an active participant on Twitter and although many bloggers (rightfully so) criticised Rooney, I didn't really see the need to do so. Ferguson will turn Rooney around as he has done so many times in the past with examples explained in this article. It may not be against Rangers on Wednesday, however it won't be long until Rooney is scoring (from open play!) again for United. Will his conduct be forgotten? Not for a long time – however many Reds seem to have forgiven Rio Ferdinand after his apparent 'holding out' back in 2005 for a new contract. There of course must have been a problem between Rooney and Fergie – which was highlighted by Rooney's omission that his 'ankle is fine' despite Sir Alex resting him the previous match. Ferguson has once again turned around a situation that will no doubt be in United's best interest. Many United fans will of course have ill feelings towards our number ten – which will most probably vanish if Rooney's responds with a bucket load of goals that results in a nineteenth league title for United. I do think that we all can be quite naive at times when we lose ourselves in our hero association of players – and I blogged about this two months ago, which focused on the UK's celebrity obsessed culture.
Wayne Rooney will no doubt come good again – we all know that – but without Sir Alex Ferguson's intervention and man management my predicted future may never have been a possibility.