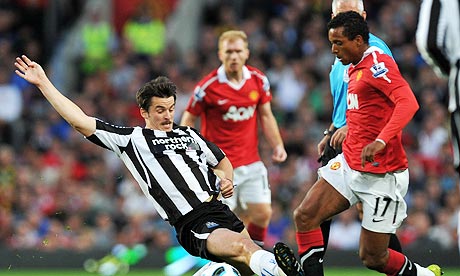 The month of August saw United kick off the season in decent fashion. 7 points out of 9, a convincing victory over champions Chelsea in the Community Shield, and some encouraging performances by some players who were all but written off prior to a ball being kicked. Come this way to see who we voted player of the month, goal of the month and see who's heading our Fantasy Football League..
Player of the Month : Paul Scholes
Could it really be anyone else? The ginger prince has been a class apart in the early weeks of this season, and has managed to hit the headlines (for all the right reasons, regardless of whatever bile Wenger chooses to spew) for his stunning form. Scholes was just one of a collection of United players written off in pre-season; he and Giggs, yet again, were considered past it, Vidic wanted out and Dimitar Berbatov was past his last chance and was left at Old Trafford simply for other clubs to laugh at. The four have been United's best performers (Giggs admittedly in a cameo) so far this season, however it is Scholes who has been the stand out performer in the league. His 200 passes – in less than 3 games – are not only phenomenal but is 33 passes higher than his nearest peer, Darren Fletcher, and a staggering 60 passes higher than his nearest rival from another club, John Obi Mikel. It's made more impressive when you consider these are 35 year old legs working in a 2 man midfield in a team everyone gives that extra 10% against.
United have made 994 passes as a team – unsurprisingly the most in the league – but Scholes' contribution to over 1/5th of those is quite simply astounding.
These stats merely flesh out the evidence of our own eyes; his raking pass that led to the opening goal at Wembley, his clever assists in the first league game, his trademark strike in the second , and his effortless brilliance in the routine victory over West Ham were more than evidence enough that this living legend has enough in the tank to make a substantial difference. Our average match rating for Scholes in August was 8.33. 
Goal of the Month 
Paul Scholes v Fulham
 We've seen it all before. The ball finds its way from a corner to Paul Scholes, 25 or 30 yards out, who duly pulverises it into the back of the goal. It's a trick that he has been doing for over 10 years and a trick that no-one else worldwide can perform to a similar standard of consistency or brilliance. That he makes it look so effortless shouldn't detract from how incredibly difficult the ability is; that he makes it look so effortless is yet another testament to his inherent class. 
Fantasy Football
"Little Pea Diddy" managed by Nick P are currently heading our Fantasy Football PrizePlay competition by virtue of being our highest placed eligible participant. Yolkie on the other hand is languishing rock bottom after making wholesale changes last week..