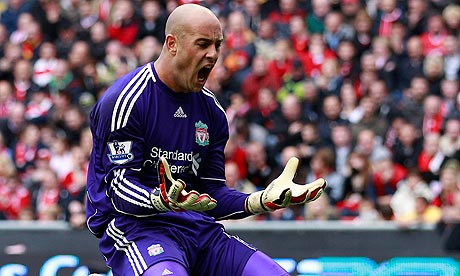 AUTHOR – Stretford-end
Liverpool's influential goalkeeper Pepe Reina has again been linked today with a move away from Anfield to Old Trafford, after he failed to rule out a move to the league leaders. The Spanish goalkeeper has been a key figure for his club since his 2005 move from Villarreal, but with Liverpool lingering behind teams chasing champions league football next season – he may opt for a move away in the summer.
Manchester United of course are on the lookout for a new number one after the news that Edwin Van der Sar will retire at the end of the season. Many names have been touted around as possible replacements, including David De Gea, Manuel Neuer and Igor Akinfeev.
Pepe Reina spoke to a Spanish radio show and was quoted as saying:
"Yes, well Van der Sar will hang up his gloves in the summer so of course they are looking. I can't do anything. I can't say anything logically as I have a contract with Liverpool. Of course one likes to fight for titles and be in a team that does that. We always fought to be in the Champions League and try to win the title. But unfortunately it hasn't been the case in the last couple of years. I won't lie, I want to play in the Champions League and challenge for titles,"
Although I rate Reina as a top quality goalkeeper, I can't see this move happening whatsoever. A couple of years ago Heinze openly wanted to move to Anfield, however Ferguson decided to sell the wound up Argentinian to Real Madrid, a side he "would not sell a virus to" apparently. I'm not stating that Heinze is anywhere near the importance that Reina is to Liverpool – I just can't see the move materialising.
My money would be on David De Gea, however he is still quite young compared to the other candidates. Van der Sar moved to Old Trafford in the summer of 2005 – and has been one of Fergie's best signings, so I don't know if it really matters as to the age of the goalkeeper. Phil Chisnall remains the last player to be transferred directly between the two clubs – back in 1964. Someone asked me on Twitter recently about Ramon Calliste, who was transferred to Liverpool on a free in 2005 – however, he didn't make a first team appearance for United.
What do you think? Can you see Reina moving to Old Trafford if Liverpool don't get Champions League football? If so, how much would you pay for the Spaniard?