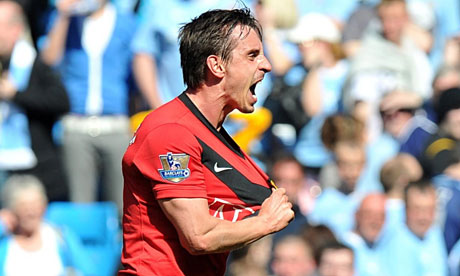 AUTHORS: – Doron, Herzog's Child & Stretford-End
As the dust settles and the realisation kicks in that United's right back for nearly two decades has finally hung up his boots, we want to reflect on what a great servant, captain and player Gary Neville has been. Eight Premier League titles, three FA Cups, two league cups and the biggest prize of them all – the 1999 European Cup. Neville would surely have been part of the 2008 victory in Moscow had he not injured his ankle in the March of 2007 in a challenge with Gary Speed.
The Stretty Rant takes a look back at some of his key moments of a glorious career since he made his debut in the 0-0 draw with Torpedo Moscow back in 1992 (ironically the only time Neville played in the UEFA Cup) right up to his last match against West Bromwich Albion at the start of the year. We also aim to tackle some of the comments flying around that Neville is one of the biggest over achievers in football.
Gary Neville Tribute
The latest addition to the Stretty Rant team, Herzog's Child, has put together an account on one of Neville's most controversial but at the same time hilarious actions at celebrating a last minute Rio Ferdinand goal in front of a number of angry Scousers:
Neville's Celebration
It was the statement, all 47 words of it, which embodied the man, and verified, beyond suspicion, precisely why he will be forever remembered fondly in red hearts. The crime, as with most in football, was predictably pitiful: a showing of passion, against United's most hated rivals. Seconds before, as the clock trickled towards its climax, Rio Ferdinand bolted the net with a towering header. And Gary was off – not towards Rio, or the rest of team-mates, but on a mazy run towards the away end. Ouch.
As hordes of sickened scousers, salivating and embittered once more, collapsed under the weight of yet another United crusade, Neville further riled them by doing exactly what we all dream we'd do. Charging towards them with the giddy exuberance of a child lapping a acid-drenched candy-apple, Nev, staving off self-combustion, hopped, skipped, and took to the air with flashing air-punches and kisses towards the club-badge.
Tediously, the tightly-wound knights of morality crashed down on the act. Recently culled Richard Keys, whose greatest sin was showing his face to the nation in the first place, found the celebration 'unfortunate.' Odd, that, to preach nullification when the very essence of Sky's network is to overhype and transform the game into a mindlessly dull parody of itself. Similar indignation escalated, and, as a result, the F.A.'s head-honchos felt obliged to act.
A fine of £5,000 followed, along with a formal warning over his future conduct. Football, again, was the main sufferer. Refreshingly, the player's response was atypical of the modern, too easily sedated, footballer. There was no formal apology for the sheer sake of it; Neville, mouthy as he may be, is fundamentally a man of principle. Instead of proffering a stale response expressing false sorrow, he chose a route too often ignored in the modern game: honesty, delivered brutally.
His statement, delivered with a clear unease, queered the direction the game was traversing, and denounced the F.A.'s arcane methodology. '"I am extremely disappointed with the decision," he expressed at the time. "It's a poor decision, not just for me but for all footballers. And I ask the authorities: 'where is football being taken? Being a robot, devoid of passion and spirit, is obviously the way forward for the modern-day footballer."
The concerned sentiment, dealt concisely and to the point, unearthed, once more, the reasons why he was so adored and hated to equal measure during his sustained playing career. Football is a vacuous sport now. Passion has become the first loser in the modern assault against the game. Its displacement has fractured many from their love. Atmospheres within grounds have receded gradually. Footballers and managers alike have followed the trend. Few exceptions remain: Roy Keane, Ian Holloway, and a brief smattering of others imbue the now almost alien trait to go against the inane grain.
The loss of Gary Neville, as a footballer, has slackened the number once more. His type is a dying breed who are unlikely to be replaced. He, like United before him, was hated, adored, yet never – ever – ignored.
Neville's rushing charge that January day, as United unleashed yet another scouse-busting master-class, warmly typified the nature of the player – the man – he is/was. Lesser players would have shirked causing mass ire, but Gary, a red since childhood, celebrated in the utterly blissful manner only a genuine red could do. Unable, or perhaps just not wanting, to compose himself, Neville further solidified the severe wrath the scousers subject him to, and engrained himself further into United's unbridled adoration.
The fact that he refused to accept the F.A.'s reasoning for his punishment was an admirable act, the way in which he played the game, always with heart, even more so. His immediate retirement came as a blow to many; his impact on the field cruelly served through age, it would have been nice, many reds have since stated, to have seen him take to the field once more.
To whip one more deftly precise cross in; to charge beyond his winger to strengthen yet another United surge; to crunch an opposition winger who dared round him; to celebrate in the style he made his own. Nev is the first of the remaining 3 United legends to depart; his moving on is a poignant reminder that the worst is yet to follow, and soon two more -who, like he, embodied the red cause- will sadly depart.
He will not only go down as our most successful, and perhaps best right-back ever; he will also go down as United's most passionate player, who played the game like we all would, who knew what it meant to be the most cherished things of all: a red. A once off, who's already dearly missed.
Neville's Key Games
Vs. Crystal Palace 1994/95: won 3-0
Neville's debut season proper (he had made one league appearance in the previous campaign, in the final game of the season, which saw Bryan Robson play for the club for one last time) saw the youngster dislodge Paul Parker and compete with new signing David May for the right back spot. Neville went on to make 23 appearances in all competitions as United lost out to Blackburn Rovers and Everton in the league and FA Cup respectfully. United beat Palace 3-0 with Neville linking up with Andrei Kanchelskis for one of the goals.
Vs. Newcastle 1995/96: won 1-0
I guess everyone remembers how key this game was in the run in to the 1996 Premier League title. United were battered for forty five minutes with Peter Schmeichel making a string of saves from Peter Beardsley, Faustino Asprilla and Les Ferdinand. Eric scored a second half volley to give United a 1-0 win – as the reds marched on to a third title in four season. Neville played as a centre half along side Steve Bruce, with Denis Irwin on the right and brother Phil Neville on the left. Although if fit, Pallister would have course played – Neville showed maturity and versatility to set into the centre out of his comfort zone on the right. Many felt Neville would go onto be a centre half, however it never quite happened for him – although did a job when called upon.
Vs. Middlesbrough 1996/97: drew 3-3
Appearance number 114. Goal number 1 for Gary Neville. He'd go on to better a goal every 114 games, but not by much; this was the first of just 7 he'd score for United and probably was his best. It was the 36th league game of Cantona's last year and United needed something like 4 points from their last three games to guarantee the title (as it happened results elsewhere would mean the title was won when United weren't playing). Middlesbrough came to Old Trafford, fighting for league survival. It was a wet windy afternoon in May and United despite playing well kept letting Middlesbrough into the game.
After Keane had pulled United back into the game at 1-1; 'Boro went 3-1 up before half-time. Neville picked his moment well. Beckham had drifted inside as United were pushing high for a late goal in the first half. Neville as always had filled the space Beckham had created and was found just inside the opposition penalty area on the right hand side by Cantona. He let the ball roll across him from left to right before hitting a sweet effort across the goalkeeper into the far left hand side of the goal. The celebration wasn't quite of the badge-kissing variety but he clenched his fists and with his sodden hair draped over him he grimaced before a passionate celebration that I think ended in a kiss from Beckham. The timing of that goal was important, United had been poor and probably deserved to be going in two behind – reducing the deficit to one goal pumped the team up and in a tough second half Ole Solskjaer got the equaliser that played its part in a march to the title and the relegation of 'Boro.
Two things stand out from that game very clearly. One was Emerson's bizarre dance when he scored for 'Boro. The other, Gary Neville had actually scored.
Vs. Juventus/Bayern Munich 1998/99: won 3-2/2-1 respectfully
Roy Keane ridiculed the fans that remembered that night in Turin more fondly than amazing game in Barcelona a few weeks later. Of course winning the biggest prize of them all, in such emphatic circumstances, should be considered the key game – but it showed the mental strength of Neville and his team mates having gone 2-0 down to Juventus, who had reached the last three European Cup finals – winning the 96 title.
We all know that the eternal predator Inzaghi scored two goals early on, which of course has a massive impact mentally on the players, considering United were second best at Old Trafford and were saved by a late Ryan Giggs strike. Against Dortmund two seasons earlier, United frustratingly just came up short – however, against the Italian Champions United showed unbelievable character to respond to a devastating early blow. The treble is the pinnacle of any players career – Neville played in 54 matches out of the 63 games that season.
Vs. Liverpool 2005/06: won 1-0
The 2005/06 season was one of changes at United. In the January Vidic and Evra were bought as United went on to win the League Cup. It was fitting that the new recruits should witness a sensational win over Liverpool at Old Trafford just weeks into their new careers. The game really should be remembered for Rio Ferdinand's bullet header late late on in front of the Stretford End – the "fight until the full time whistle" United attitude being a great introduction to Vida and Evra. However it was Gary Neville who delighted United fans that day. As described above he ran straight to the away supporters and thrust in their direction with joy whilst grabbing the United badge on his shirt. It's one of the most iconic images of Neville and one that every United fan relates to.
Vs. Bolton Wanderers 2006/07: won 4-1
The game that started the end. A strong performance and a straightforward 4-1 win was overshadowed by an injury to Neville. It was a tackle early on and Neville limped off with the help of the physios into the tunnel. There was no stretcher and no massive concern. Two months later and Neville was running again and only just ruled out on returning for the FA Cup final defeat against Chelsea. However Neville's attempts at playing again were blighted by groin and further ankle problems. He pulled out of a comeback reserves match at the end of the year and it would be 13 months until Neville would return against Roma.
Vs. Roma 2007/08: won 1-0
After a strong 2-0 away win in the first leg of this Champions League quarter final, United were able to name a changed team for the second leg. A Carlos Tevez goal all but put United into the semi-finals and allowed Ferguson to reintroduce Neville to the Old Trafford crowd. Neville had been injured for over a year after injuring his ankle against Bolton in March 2007. A few setbacks had slowed down his return and he in fact scored on his comeback for the Reserves but this is what United fans wanted to see.
Anderson was subbed off and on to vociferous applause came Gary Neville, playing in the centre of midfield. A second cheer followed a few seconds later as Rio Ferdinand threw Neville the captain's armband. He was back. He'd have to wait until the charity shield against Portsmouth in August to make his first start for the first team and he'd go on to play another 62 times, passing the 600 appearance mark. Neville himself admitted that the injury against Bolton was probably the start of the end. He'd often have small niggly injuries and despite some big performances against Liverpool and Man City he'd never truly be the first choice right back again.
Vs. West Brom 2010/11: won 2-1
1.1.11 – the day Gary Neville played his last game for Man United. Neville played 71 minutes of a hard fought and unconvincing win over West Brom. Neville looked slow and his performance was unrecognisable compared to those given in his earlier years. He was lucky to remain on the pitch after making a 'tackle' as the last man. The referee incorrectly deemed it fair. It's fair to say in the short-term sadly this is the game football fans – not just United fans – will remember him for. It wasn't the way he'd have wanted to bow out of club football but considering everything that came before in his career, it's not how United fans will remember him.
Gary Neville Overachiever
Now, I assure you – i'm not a very sensitive fan, so I don't get wound up by journalists criticising United players in favour of inferior players. Oliver Kay wrote on Twitter that Gary Neville is a 'great overachiever', in comparison to the talents of Micah Richards and Glen Johnson – something, which although I took as a backhanded compliment to Neville (and not a criticism from Oliver at all to be fair), it was something that puzzled me considering that perhaps the modern day demands of what a full back needs to have in their locker is clouding the quality and intelligence that Neville demonstrated for years in a Red jersey. So I thought I would take a look at a couple of quotes and get your feedback on whether Gary Neville is indeed 'Footballs greatest over achiever'.
Rafael is going to be United's full back for many years to come, he is quicker than Neville and is tenacious in the tackle like his predecessor also. If we look around Europe we see fullbacks that fit the blueprint of the pacey athleticism that is required at the top level to provide width as teams looks to play 4-3-3 or 4-2-3-1. Jack Charlton (in 94) once remarked that the fullback position was 'the most important on the pitch', which does sound ludicrous considering some of the attacking talent on show over the years, however the World Cup winner does have a point. Take a look at how Ferguson lined up against Inter Milan two seasons ago, with Ji Sung Park selected on the left to stop the surging runs of the Brazilian Maicon or the tactical nous of Mourinho in the 1-0 victory over Chelsea in last season's Champions League where he deployed Samuel Eto'o and Goran Pandev in wider areas to stop the attacking runs of fullbacks Ivanovic and Zhirkov.
Back to Neville and the comparison with Johnson and Richards. Neville won 85 caps for England, and in the early part of his international career he played alongside Stuart Pearce, Graeme Le Saux and brother Phil Neville. Fast forward 10/15 years later, England's full backs are Ashley Cole and Glenn Johnson – two athletically (with Cole being far more talented than Johnson) gifted players occupying the full back spots. Claiming that Neville was somewhat inferior to Cole or Johnson as a player is somewhat confusing considering there are many qualities needed to succeed at the top level for as long as he has. Yes, physicality, athleticism and pace are key components for any player that wants to make it as a footballer, you cannot survive on natural talent alone – however, the likes of Sheringham or Zidane played at the top level without being gifted in the same way that Richards and Johnson are, but their importance in the teams they played in were far greater than those of the two English fullbacks mentioned.
Neville provided leadership, superb crossing ability, good header of the ball and he could defend from crosses superbly, often placing his body in the way of the player and the ball, which was also him using his experience – rather than obstruction as some cynics may cry! It is of course arguable that Neville did all of these things better than Richards/Johnson – and indeed if you agree with me on that, how does this make Neville an overachiever? England has always been obsessed with the use of power and pace of skill and technique, which could be one of the contributing factors to England's laughable World Cup campaign – which saw Germany tear them apart.
I do think Oliver Kay was trying to compliment Neville citing his attitude, dedication and hardwork as the reason as to why he reached the level he did. However, I think we all agree that if you don't have the talent – you get found out. Neville won 85 international caps for his country, won eight English League Championships, a European Cup and three FA Cups. He was consistently picked at right back over a 13 year period and was such an influential character in his time at Old Trafford. Neville may not have the pace and power of Richards or Johnson, but he ticks the boxes in all other defensive attribute – which arguably make him a better player.
What are you thoughts? Was Neville an overachiever? Or did he deserve to win all he did for the talent he has?