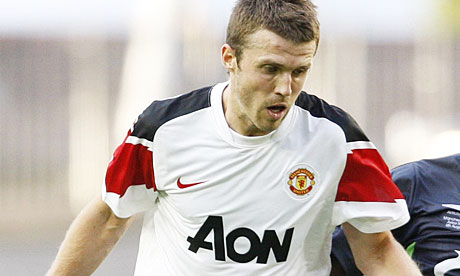 AUTHOR: – Bricki
Michael Carrick used to always be on the bench for England. Last night he wasn't even in the squad. Its a position he seems to have been stuck in since the middle of last season. The question is what has happened to the player who was an integral cog in 3 championship winning teams and a team that reached consecutive Champions League Finals?
The introduction of Carrick into the United team from Spurs gave the midfield a more composed look and protection for the back four. This allowed Fletcher, Scholes and the newly signed Anderson to play further up the pitch and support Rooney and Ronaldo. After several quiet displays early on in his United career he excelled against Chelsea at Old Trafford, snuffing out attacks and giving more presence in Midfield.

From this point on Carrick upped the effort and became a mainstay in the team as Rooney and Ronaldo ran riot up front resulting in the first title at Old Trafford in 2 years. His good form continued in the following season and with Scholes out for a long period injured and Hargreaves suffering the same fate, Fletcher and Carrick became a central pairing with regular support from Park or Anderson. In the 'Quarterback' role, Carrick kept the team ticking over as well as protecting Vidic and Ferdinand when required.
A stellar passing performance against Inter Milan in the San Siro led the Italian Press to laud Carrick as a fantastic player and question why he had failed to appear at International Level. The composed performances continued until the Final against Barcelona in Rome. Without Fletcher next to him and a very poor Anderson performance, Carrick struggled against Xavi and Iniesta, no shame in this with both players possibly playing the best football of their careers.
This appeared to be a watershed moment for Carrick in his play, he didnt look the same player the following season. Appearing to lack confidence and belief in his abilities, he seemed to be playing within his abilities and not taking risks with his passes. Injury followed and his place in the team was lost and never recovered as United missed out on the title to Chelsea and suffered defeat in the quarter finals of the Champions League to Bayern Munich.
On the national team front Carrick has suffered due to several reasons. The biggest reason is the continued dominance in centre midfield of Gerrard and Lampard. Both players have more 'Impact' and a bigger profile in the Premier League than Carrick, however have never gelled for England. Despite this every England coach has persisted with both players and playing 4-4-2 instead of only picking one of the two with a more suitable partner to bring the best out of them. The 4-4-2 formation is also an issue when it comes to getting the best out of Carrick.
His strongest performances for United have come in Europe when they have tended to play a 4-2-3-1 system with players such as Fletcher, Scholes and Anderson in the middle with him. This allows Carrick plenty of options for distribution and the ability to sit and conduct proceedings. As this is a formation that England play extremely rarely it doesn't allow for Carrick to establish himself in the team. It can also be an issue that very few English players and teams play this way meaning its not a system most England players are not used to.
Heading into this season Carrick needed to rediscover the belief and confidence in his play. He clearly has the talent and skill as proven in previous seasons and whilst Paul Scholes is currently in form naturally that he has faded at points this year as injury has taken its toll. This is the chance for Carrick to make the big comeback and prove he deserves at the highest level, its fair to say that Carrick is in a make or break position with regards his Manchester United future. As Scholes and Giggs eventually step back it needs players to step up and take control, Carrick in his role could become a heartbeat of the next United team.
Carrick could have a genuine chance to make a huge impact this Saturday in the Manchester Derby. With the shape and style of play that Manchester City have played this season, it is Carrick in the deep role ahead of the centre halves who could have a big say in the outcome of the match. Tevez has shown time and again he likes to drop deep and look for the ball, with Carrick in this space it limits the time Tevez can have on the ball and hopefully nullify the attack. with the full backs dealing with the wide players this allows Vidic and his centre half partner to deal with any runs from midfield from Barry, De Jong et al.
Its a golden chance for Carrick to show the style of play he brings to the team with his composure, positioning and support going forward and at the back.
It could truly be the day we rediscover the Michael Carrick of old, i hope he can deliver…