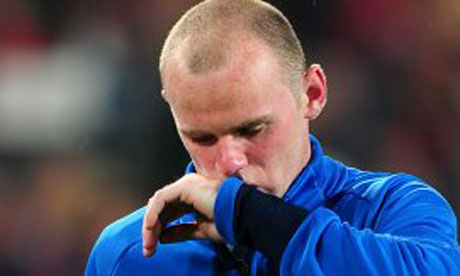 Its been quite a disappointing 2010 for Wayne Rooney having started the year in fine scoring form for United. Since his goal against Bayern Munich in the Allianz Arena back in March, Wayne Rooney has failed to score a goal in open play (has since scored two penalties against West Ham and Rangers). He was clearly off the pace in South Africa for England over the summer and has had troubles in his personal life. However, for United fans the biggest blow came when Rooney handed in a transfer request in October, citing lack of ambition at the club. The striker eventually signed a new 5 year contract to stay at United – however, many fans felt betrayed by the apparent flirtation with Manchester City.

Wayne Rooney has revealed that United fans have been brilliant since he signed the new deal and he was full of thanks for the United faithful. Rooney was quoted as saying:
"It has been a hard few months for me and the United fans. But they have been brilliant since I signed the new deal. They can see the desire I have got to play and win. They have been fantastic for me and I thank them for that. When you are injured or suspended it is the worst time, especially coming to the end of a season. You have worked hard from the beginning of the season and you want to play in the later games to help the team be successful. I just picked up an injury at the wrong time."
Rooney has featured in twelve United games so far this season, however have notched up six assists in all competitions so far (only Nani has more). His form against Blackburn Rovers recently, although he didn't get on the scoresheet, indicates that the PFA Player of the year is working his way back to his best – slowly but surely.