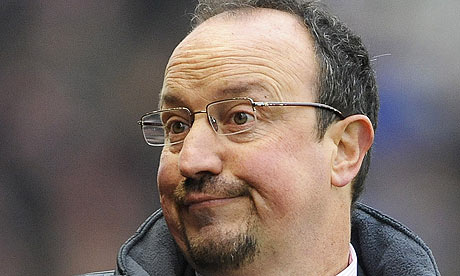 Liverpool's game with Chelsea just became the biggest game of the season. Amid concerns over United's great rivals approach to the game and despite Liverpool fans being torn over whether they even want their team to win, Stretford-End.com attempts to take a positive look at this huge clash.
I've been having what I guess given the popular penchant for tagging two terms together would be termed "twarguments" (over Twitter, get it?) with a couple of precious Arsenal fans; among their criticisms of my opinions were their incredulousness at my belief that Mike Dean unfairly abused his position as a referee in the crucial Chelsea game recently. Of course, they neither knew or would accept the common knowledge that Dean is a Liverpool fan, so that itself proved I was embroiled in an exchange where a rational, informed opinion could not triumph.
I was however given cause to contemplate my own belief over my opinion of Rafael Benitez's professional integrity. I was accused of having a ready made excuse should Chelsea win next week. You know, the more I think about it, it's a valid point. I'm not exactly sure whether having a concern over Benitez's integrity in advance – an opinion I hold regardless of an individual game, much as the opinion I have about Mike Dean's professionalism – constitutes for preparing an excuse, but, by voicing that opinion, I suppose it would definitely look that way.
The first thing that should always be pointed out is that every loss or failure from a team provokes a reaction from a supporter to identify a reason for that failure. The most common is of course application of blame in general; cheating from the opposition or a bad refereeing decision, before compensating for your own team "that player was injured/played out of position" and similar tales of lament. No fan is completely magnaminous in defeat 100% of the time, nor can I be expected to comment on events that have happened yet.
To challenge my own view I went introspective and looked back. When Liverpool last had a huge say in United's title hopes they beat Blackburn – managed by their favourite son Kenny Dalglish – only for us to screw it up (apologies for the grainy picture. It's like that game didn't even exist, online). They even won in the last minute after coming from behind, which would have made it sweeter, and gave no doubt whatsoever about their own application in that game. So, considering that, why do I have my doubts this time around?
Firstly, the Benitez factor, which goes without saying but I will elaborate just to flesh it out. This is a man who is so open in his dislike for Sir Alex that he delivered a targetted, personal attack (regardless of it having more holes than a Connect 4 board) and he just happens to be in charge of United's (historically, anyway) biggest rivals. A man who has shown little integrity for the Premier League in the past. A Liverpool fan website recently ran a poll where there was a definite split opinion over the question "do you want to win or lose"?
Coupled with my feeling about the inherent integrity of Benitez are the repercussions or punishment of a laying down. When he fielded a team of reserves in 2007 against Fulham, Sheffield United were the team who were relegated as an indirect consequence of that result – the Blades probably concentrated on the wrong wrong, if that makes sense, by blaming the Tevez affair. When the FA fined Wolves this season for their weakened team at Old Trafford their official line was that they "deemed that the club had failed to fulfil its obligations to the league and other clubs in the utmost good faith and was therefore in breach of Rule B13."
No clubs yet have taken the action of challenging retrospective team selections, but the interesting thing is that the fine was suspended in any event. If Liverpool make wholesale changes for the Chelsea game (not out of the question should results not go their way on Saturday) then they are certainly in breach of Rule B13. Would it be worth it to risk a suspended fine? Of course it would, if you were cynical. Meanwhile, the team who really get punished are a third party. The punishment for Sheffield United was being relegated; the punishment for Manchester United will be potentially having their chances of winning the Premier League taken from them; the punishment for the team that would directly cause this? Nothing, in the case of the Sheffield United relegation, and the remote possibility of a suspended fine in this case.
Liverpool fan referee Mike Dean was demoted for his performance at Old Trafford when we played Chelsea. A temporary demotion for being single handedly responsible for one of the worst decisions in English football history, which had a defining influence on the hated rivals of his favourite team. As I wrote back after that game, Dean's professional integrity was considered dubious enough to remove him from the FA Cup Final in 2006. The FA are as much to blame for his curious appointment to the United/Chelsea game, but the fact remains the cost for United is far greater than the cost to Mike Dean.
I won't pretend to have the solution for this; other than thinking a punishment to fit the crime would be appropriate, but would be practically impossible to implement. There are all kinds of situations that see clubs docked points, but the FA seem to be able to do what they want without being questioned or punished. Asking for the Chelsea game to be replayed is unrealistic and paints me as a bitter fan; something I also addressed after the game when I said that as much as the game was exhibit A for those who want video technology to be introduced, I have always disagreed with the essence of it, so however much it bites or sticks in my throat, I can't just change my opinion because it's gone against my team. But, shouldn't Mike Dean be sacked, named and shamed for his obvious corruption? Even that seems a small price to pay, considering as a grown adult, Dean must have realised this was a possibility in advance and decided to do it anyway. Would a suspended £25,000 fine for Liverpool in 2007 really be appropriate given the millions and millions of pounds of lost income for Sheffield United?
One of the things that was mentioned to me was that if Liverpool lose despite having tried their best, United fans will still say they laid down. Anyone can tell the difference between a manager that has picked a side to win or not and a team that is applied or not. Look at the difference of Chelsea's recent games, Bolton, Spurs and Stoke. Bolton played with great courage and deserved something from the game despite their lack of quality, Spurs of course upset the applecart, and Stoke were already on their holidays. I'm not suggesting anything untoward occured from Tony Pulis' men, but you would probably have seen greater application had that fixture been in January or February, and this was a comment I did make days prior to the game. So, as long as Liverpool give it a go with merit to their own club with respect to what they want to achieve, then you can't ask for anything more.
I'm don't want to dwell on re-inforcing my opinion, rather, I wanted to write a piece that is more optimistic in tone. So, how could it all go right? Well, to quickly challenge my point about the supporter opinion, I did read a comment on a forum from a Liverpool fan who said he would rather "die with pride than live with shame". It sums up the mentality of any right minded supporter, but still, one would suspect that it's the mindset of someone 30 or over, who has lived long enough to witness his own clubs success and prefers that to the schadenfreude of watching United fail.
It will be FSW's last home game (if the rumours of his exit are to be believed). If results go their way on Saturday, they will still have a fighting chance of finishing 4th with a comfortable looking game v Hull on the last day. If results don't go their way? Well, in that case, we'll be rooting for an Everton win. Everton play at Stoke, and if the Potters play anything like they did against Chelsea, that will be three points for David Moyes' team.
It's one thing suffering the blow of not qualifying for the Champions League, it's quite another suffering the indignity of finishing lower than their fierce local rivals Everton, and finishing lower than Everton in a race for a European spot. They could make sure that doesn't happen with a win at Hull but do they really want to go into that game uncertain? Hull after all do have nothing to lose, so the players would surely want to send the Kop home happy in the knowledge that Everton can't catch them in the last game regardless of result. Even a point against Chelsea would secure this, with Liverpool's goal difference.
The other factor to consider is how much Thursday's Europa League game takes out of the Liverpool team to the extent it's a ready made excuse. Extra time and you might as well throw the towel in and tie blue ribbons to the the Premier League trophy, an early goal from Atletico and we'll know that it has to be settled in 90 minutes. It will be a question of whether a group of professional players can play two games in 4 days; though if Sunday's opponents were United, well.. we have a recent example that demonstrates after a Thursday night tie, they did field a full strength side against us.
Under Roy Evans, hell even under Gerard Houllier, I would have no qualms about the professionalism of the Liverpool players. You look at Steven Gerrard and Jamie Carragher and think they have something to prove. You look at David N'Gog or Ryan Babel and think this is a chance to show they can have a future at the club. Regardless of this and their poor season, their home record is quite formidable and matches up to most other teams in the league. All this talk of "will they roll over" should really be enough to see a fully committed performance from Liverpool. The only way the race for a Champions League spot will be mathematically out of their hands over the weekend will be if they don't win against Chelsea. They know that all it takes will be a draw between City and Spurs next midweek and they will go into the last game with a stronger or at least comparable goal difference and with the benefit of their experience, should they win against Chelsea. It's an unlikely scenario but, after United, who are the one club who defy the odds to get achievements? The dippers.
If you're re-reading this and wondering why you didn't see this bit the first time, I have slightly edited this piece after a good point raised in discussion with a fellow United fan. I saw another popular fansite run an opinion piece where the editor claimed he would want United to throw the game if we were in Liverpool's position.
My friend was shocked by this; the reason being that in any situation you want your own club to be better regardless of the repercussions for anyone else. He rightly said, if we were in Liverpool's position and there was a chance we wouldn't qualify for the Champions League then we would automatically find ourselves behind in attracting the better players and then attracting finance (Glazers aside, for this hypothetical).
Whether or not we would be able to compete the following season, then the season after? Pointing out the relegations of teams like Newcastle and Leeds who were playing Champions League football less than ten years ago clearly illustrates the point. He also mentioned something I couldn't believe I missed first time round and that was Gillett and Hicks. They are selling the club and are wanting a better price – buyers are waiting to see what happens regarding the competition they're in. This won't neccessarily change Benitez's view given he'll more than likely be gone when the repercussions hit home but it does put pressure on players such as Babel and Lucas who with all respect don't want to be shipped out to clubs in the way that, for example, Jermaine Pennant was. I can't speak for Liverpool or their supporters, merely my own point of view, and this is all of course just speculation and debate. If I were a Liverpool supporter I wouldn't want my club to compromise any chance of prosperity or success even if it meant our biggest rivals getting a trophy.
After all my concerns over Benitez's professionalism he has had quite a few run-in's with Chelsea in his time in England – most of the staff may have changed but the club hasn't. If this is to be Benitez's last chance at getting one over on a Chelsea side that have proven tough opponents at home and in Europe, then it was at least encouraging to hear the Liverpool boss saying the right things, that the club are still aiming for fourth.
To further counter it, merely seconds before pressing edit, I was intrigued by another Tweeter who referenced a situation where he had joined in chanting encouraging the team he was following not to score – the team he supported were 2-1 down to a relegation threatened side and they had just discovered the rivals of the team they were supporting would be relegated instead if his team didn't score (wow, that was a complicated sentence).
I can't answer how I would feel if in that circumstance the team being relegated would be Liverpool, but my partner is from a huge West Ham supporting family (yes, I am North of the Watford Gap) and I was gutted that we lost in the last game of the 06/07 season even with their delight. No great compassion and certainly not a glowing reference to my ability as a significant other but at least, somewhat topical reference to my unerring support to the club I support even when it "doesn't matter".
It's likely to be the last chapter of a topsy turvy season that has seen so many teams become embroiled in the fortunes of others that the top league has become almost incestuous. Some will say United's failure in games they should have got points from, particularly at Blackburn, means that they aren't good enough to win the league regardless of what happens at Anfield. We haven't done enough. Some just commend us for even being in it at this stage after being struck with so many defensive injuries in the winter – in all seriousness, all season – at the same time.
It almost goes against the grain – beyond the pale, as Sir Alex would say – to want Liverpool to get fourth, not least because the end results of the season – the usual suspects in the CL, and the worst 3 teams relegated – will indicate it has been another predictable season, when the reality has proved that it's been anything but. United fans will be hoping the status quo is maintained, because if it is, we will have been given every chance to have retained the title. And if we don't even then? Then, we really will only have ourselves to blame.