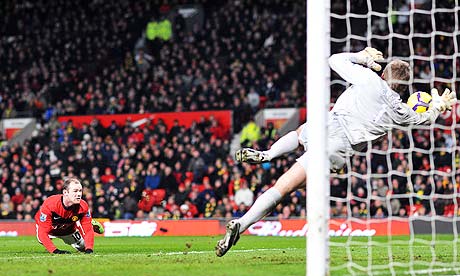 Wayne Rooney scored twice and Michael Owen came off the bench to net another as Champions Manchester United strolled past West Ham at Old Trafford. It was a poor game of football to mark the 100th anniversary of the Theatre of Dreams but Rooney did at least do his best to illuminate the fixture.

There were few moments to redeem a forgettable first half – an early chance for Valencia that was created by the trio of Anderson, Berbatov and Rooney was squandered before the winger had another chance to which Berbatov's rebound was deflected. Darron Gibson then had three speculative efforts from range just after the half hour.
The returning Nemanja Vidic started the push for the opening goal, bringing the ball out of defence and passing to Ji Sung Park. Park played into Berbatov who spread the ball delightfully to Valencia – the Ecuadorian wingers volleyed cross was smartly headed in by Rooney. The forward could have extended the lead when he brilliantly flicked and volleyed, but the shot hit the roof of the net.
A second half spectacle was never likely. With the Champions heavily rotated and Anderson leaving the field early in the game through injury, penetration was always mainly restricted to the outlet of Valencia. Anderson's replacement, Park, did smash the woodwork seconds after the restart, though. The kick off saw the forwards play the ball back to Scholes. Scholes played into Valencia who exchanged a one-two with Rooney, and then passed to the South Korean. Park shot smartly enough but was unable to convert. The defining second goal was not long in coming, as ten minutes into the second half, the Valencia-Rooney combo cut the visitors open again with Rooney's header doubling the advantage.
It could be considered a plus or a minus that such a scoreline at Old Trafford these days leaves a game descending into relative procession though beside the debate it will be one issue that Fergie probably cares little about – a Scholes chance aside, neither side really looked like they wanted to threaten the scoreboard until the 80th minute, when Scholes played in substitute Owen. Owen took the opportunity to strike home what was a carbon copy of his derby goal and restore the Champions to clear top scorers in the league.
Though the performance was far from illuminating, it was truly convincing – to win at such a canter with Wembley looming will be Ferguson's largest soother, with Rooney's creep closer to 30 goals a close second.
Ratings : Foster 7, Neville 7, Brown 7, Vidic 7, Evra 7, Valencia 8, Scholes 8, Gibson 7, Anderson (Park 7), Berbatov 6 (Owen), *Rooney 8 (Diouf)