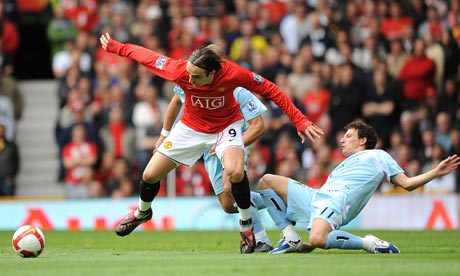 Manchester United manager Sir Alex Ferguson has revealed that he has explained to Bulgaria's leading goalscorer of all time, Dimitar Berbatov, why it is difficult to include the player when United play a three man midfield. Some of Manchester United's most impressive performances over the past eighteen months have come when United adopt a 4-3-3 formation, especially in Europe. Dimitar Berbatov was selected last season in the 0-0 draw against Inter Milan as the lone front man (which was due to Wayne Rooney coming back from injury). However, due to the scintillating form of Rooney, Berbatov's appearances in a 4-3-3 formation have been limited, with the recent games against Arsenal and Milan as evidence.

Ferguson praised the consistency of Fletcher, Scholes and Carrick in midfield and indicated that this was the main reason for Berbatov's exclusion. Fergie was quoted as saying:
"It's hard [to include him] when we decide to play three central midfield players. That's the difficulty for him. We could have played him in Milan but the threesome of Scholes, Carrick and Fletcher have created a consistency, a level of performance that makes it difficult to change, particularly in those kind of matches. Every time I have spoken to him [Berbatov] he understands what we are doing."
Dimitar Berbatov has had a mixed season so far, with his season being disrupted by injury. So far Berbatov and Rooney have scored thirty goals between them – and the Bulgarian is the clubs second top scorer with nine goals. He has been cricitised for his casual approach to play, however there is no doubting the creative streak that roams through our number nine's body. His oozes class, however he sometimes doesn't have the impact in some of the 'big games' that he is obviously capable of.