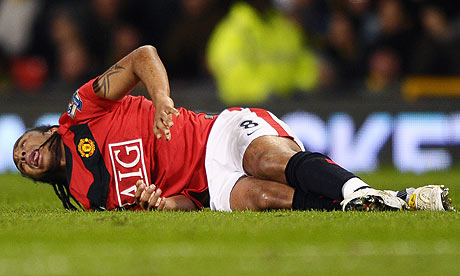 Brazilian Anderson will miss the rest of the season after damaging his cruciate ligament injury early in the West Ham game on Tuesday. The midfielder was making his first start after alleged disciplinary issues and got injured after less than ten minutes, hobbling round as a passenger until the 18th, but now it seems that the damage is far worse than first anticipated.
Anderson has polarised opinion between Manchester United supporters; there are plenty that thought we should have cashed in on him last summer, those who thought the recent AWOL trip tp Brazil was the last straw, and a few of us who still want him to fulfil his undoubtedly huge potential at Old Trafford. Given the clubs traditional stance on supporting players, the injury may have an ironic twist on the career of our number 8.
Sir Alex Ferguson is a clear admirer of the player – obviously, having bought him, and as recently as December praised his recent form, but after the Brazil trip, the manager had to take his renowned disciplinarian stance. Anderson apparently left after being told he wasn't being played in the Hull game – United were lining 4-4-2 and giving Scholes the berth alongside Fletcher. In another ironic twist it seemed Ferguson had settled on a 4-3-3 formation in the bigger games which would have probably given Anderson a solid run in the first team, but obviously after his disappearing act Fergie had to take the decision to punish him.
It's clear, too, that we were at detriment without him in the games at Park's Villa and Goodison. Ando came in for a bit of stick for an underwhelming performance in the Champions Legaue Final last season that seemed to be an exhibit for those who wanted to say he has failed during his time at the club, but that only masked the truth, that Anderson simply wilted under the pressure of the responsibility on his shoulders. No Fletcher and no Hargreaves meant that he was given the impossible task of marshalling both Xavi and Iniesta; it was no shame for him to have come up short on that day, and indeed could prove to be a learning curve. His form had improved again this season, notably with a terrific display against Essien at Stamford Bridge that underlined his impact in the 4-3-3 system, but although he has played well on most occasions this season, it's no real secret at this stage that he would benefit from the confidence that a settled run in the side would bring, just as he did when he first broke into the team.
The injury will end Anderson's season but bizarrely may just have granted him a reprieve at Old Trafford. How? It could be commonly accepted – and I am the kid's biggest fan – that the improvements about his game are probably due in terms of maturity and composure. Sir Alex has already said that he hopes Anderson will be ready for the start of next season, which would give him from now until then, with hopefully a decent amount of pre-season training behind him to develop in the off-the-field behaviour that seems to be lacking at present.
Roy Keane and Ruud van Nistelrooy serve as gold standard precedent – both had similar injuries and both went on to be the best in the world in their positions after returning. But it is the Keane scenario Anderson should closely observe – the Irishman used his time off to re-evaluate his game and returned a more composed player who was able to run a game and use his energy in the right ways. In his autobiography Keane described how his rehabilition programme coincided with that of United reserve Terry Cooke who had suffered an identical injury at almost the same time, and how it put things into perspective. Cooke was never the most gifted (although he showed flashes) but worked really hard to recover and eventually recovered to play football at a good standard. Keane knew that he was fortunate to be in a position where, as newly installed United captain, he would have the promise of at least a run in the first team upon a return, whereas Cooke didn't neccessarily have that. You could sense that it made Keane somewhat humble and reflect more upon the way he felt he could be less reckless with himself.
Keane and Anderson are different characters; Keane more temperamental and Anderson perhaps a little too exuberant. But both are/were dynamic and all action and it is here that our current star can take his own stock and allow himself some creative and constructive self indulgence. He doesn't have a Terry Cooke but he does have, in Owen Hargreaves, a colleague who joined at the same time as him and is fighting his own battle to merely play again. In Ole Gunnar Solskjaer he has a mentor who can share, or at least attempt to, his feeling of scoring at the Valley in 2006, his feeling of scoring at the Stretford End in the Champions League, and scoring winning goals for club and country after all his hard work. That his return only lasted a full season is probably more poignant.
Anderson has been blessed by fate in the most ironic of scenarios to get a second chance at the biggest club in the world, a fresh start, with fans who will get fully behind him if he works hard to recover (this clubs supporters in particular identify and appreciate more profoundly the hard work someone puts into overcome personal setbacks) and a manager who said he was "the best young player in the world" after his Autumn form of 2007 and as recently as last May identified him as the natural heir to Paul Scholes. This website has long believed and argued that he has the potential to go on and be the best in the world – I have found myself in long debates trying to explain why I wouldn't swap him for the likes of Fabregas and Gerrard.
It seems contrived by the hands of fate that the West Ham game was Anderson's 99th for the club – making any return one of double significance. Knowing United's history, it will probably be lining up against a major rival.
We obviously wish him, first and foremost, a healthy recovery from the injury. We shouldn't treat it as a given that he would even return to play the game again or if he did it would be a long term thing given the heartbreaking recent stories in this country alone with the differing experiences of Hargreaves, Solskjaer and Dean Ashton. If he does return to play that 100th game, and consistently at the level of United, then that in itself will be a significant achievement; if he follows the steps of Keane and van Nistelrooy and goes on to fulfil that huge potential then he will go down in club history. It may well be more down to luck than hard work; but as long as he does put the hard yards in, then that in itself may be character building for his possible return. But rarely has the news of such an injury instilled the feeling of optimism I have for that potential return – not that I am happy that he has suffered the injury; rather that I have faith the time spent recovering will be a valuable learning experience for the youngster. That's if he doesn't spend all his time watching Jeremy Kyle..
Even for someone who is well known for his less than able command of the English language yet, you would think that the respective plights of messrs Keane, Cooke, van Nistelrooy, Solskjaer, Ashton and Hargreaves will be stories that aren't lost in translation.