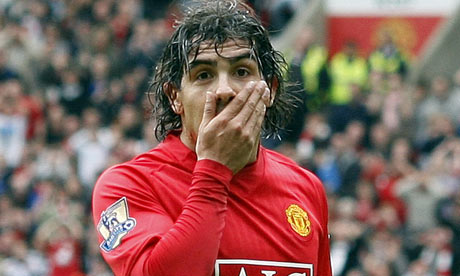 Barcelona hero Teddy Sheringham has revealed that Manchester United are obviously missing the skill, power and goals of Cristiano Ronaldo – but – are also missing the presence of Carlos Tevez, who moved to Manchester City in July. So, are we missing the drive, movement and workrate of the Argentinian forward?

Teddy Sheringham is a legend at Old Trafford for his quick thinking it turning Ryan Giggs' right footed volley past the despairing Oliver Kahn ten and a half years ago. He then flicked a Beckham corner to the back post where Ole was waiting to smash home. Sheringham had the impossible task of stepping into Eric Cantona's boots – as the King left for a career in acting – but did a great job scoring 46 goals in over 150 United appearances. Although a bit flash, he has always been a likeable and honest professional – who prolonged his career due to his remarkable intelligence and reliance on vision rather than his physical attributes.
Sheringham was speaking to a national newspaper today and stated that United miss both Cristiano Ronaldo and Carlos Tevez:
"It's always difficult to lose a special player and *Cristiano Ronaldo is one of those. He created so much and scored so many goals that they were always going to miss him. But for me United miss Carlos Tevez just as much, if not more, than they do Ronaldo. His work-rate for United was phenomenal and it was always going to be difficult to replace someone like that."
So do we miss Carlos Tevez 'just as much'? As soon as Berbatov signed I knew that Tevez's days at United were numbered. At the time, I thought Tevez was harshly treated, considering he had been part of 2008 double and scored late goals against Lyon, Blackburn Rovers and Tottenham Hotspur to help us win both trophies. However, as the months past – he had a number of opportunities to win back a starting place and he failed to take it. He then stated that 'he would never sign for Liverpool because of the fans' and then signed for City. Personally, I think and always have done that he is a gifted footballer. His wide range of goals for Boca Juniors alerted me to his talent early on and I think his recent form shows that he has more to his game than just a high workrate. Am I right? Am I wrong? Do you agree with Teddy? Do United miss Tevez?