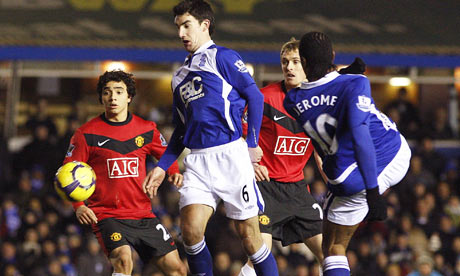 An entertaining game at St. Andrews ended in a draw as almost the only in-form team in the top division, Birmingham City, held Premier League Champions Manchester United to a 1-1 draw in a game that wasn't without its needless controversy.

United's attacking fluency in the first half was far improved from last weekend's humiliation against Leeds with Antonio Valencia predictably looking like the most penetrative player. But for all their possession the visitors found clear cut chances at a premium – no surprise given Brum have such an excellent defensive record this season.
Most openings were either half chances or brief glimpses that were quickly closed down, save for one brilliant Valencia pass that found Rooney with time and space. The first touch was exquisite, the second was a shot that was really too comfortable for loan keeper Joe Hart. Of the half chances fashioned, a Michael Carrick effort was caught before going into the top corner.
Birmingham then attempted a rare break and won a corner – United defended badly and the ball ricocheted kindly for Jerome who had the simple task of stabbing in. A rather more daunting task faced the Champions who so often this season have failed to find an answer when falling behind.
It's not that the current register of players are suddenly incapable – a team that has been the English Champions for 3 years don't become a bad side overnight. Until they went behind to that shock goal the Red Devils had done all of the pressing and looked more likely. However, there has been a clear shift when we fall behind. Players comfortable in possession suddenly look uncomfortable, incapable, and are second to most balls. That was the case here as Alex McLeish's men almost extended their advantage, with Kuszczak called upon twice to make stops early in the second half.
As Sir Alex prepared to make changes his troops unexpectedly struck. A spell of pressure on the edge of the area resulted in Evra finding space and drilling a ball across the six yard box. It was simply one of those balls that can't be defended, and despite the three United players waiting to pounce, it was the unfortunate Dann that diverted the ball past Hart. Referee Mark Clattenburg had a clear view of the incident but incensed the United players by consulting his assistant with seemingly no other intention but seeking a reason to disallow the goal. The assistant duly informed Clattenburg that he thought Rooney was offside – a call that would have dubious at best in itself – but the referee, in the knowledge he had seen the own goal, was unable to disallow it.
Ferguson brought on Ryan Giggs and, for his debut, Mame Diouf, however, despite flashes from Giggs neither influenced proceedings. This may have been due in part to Clattenburg's decision to send Darren Fletcher off for a second yellow card – no-one would deny his second tackle was a silly one to make in terms of the game but nonetheless taking each instance on it's merits it would be hard to argue the dismissal was deserved.
Home defender Roger Johnson almost snatched a win but Kuszczak was equal to it, before the fourth official signalled there would be 6 minutes of added time to incredulous screams of derision from "Blue Noses".
That they were in the ascendency with an extra man and the ball in their opponent's territory did little to dissuade them from insisting with their uneducated bile – and no doubt if United had scored they would have been labelled cheats while "justice" would have greeted a home goal – however, such an incredible supporter response says much about the reflection of ABU opinion on football matches that people care more about hating United than supporting their own team, particularly when they are the form team of the country! The only advantage of the added time was with the home team – with such a reaction it seems the only acceptable solution for every other club would be if United's players had a leg amputated and were not allowed to cross the halfway line as soon as the clock struck 90, although, given the pathetic reaction in this game, even that would not be enough to convince the idiot public that stoppage time exists for both teams.
Given results this season a defeat in the second city may well have ruled United out of retaining their title again, but to show character has allowed most Reds to feel a little more optimistic. There are still clear signs that improvement is needed and probably in the form of fresh faces in January but a draw against opposition in such marvellous form and with such ridiculous refereeing is not the worst result at this stage of the season.
Ratings : Kuszczak 8, Rafael 6, Brown 5, Evans 5, *Evra 8, Valencia 7, Carrick 7, Scholes 6 (Diouf) , Fletcher 7, Park 5 (Giggs 6), Rooney 6