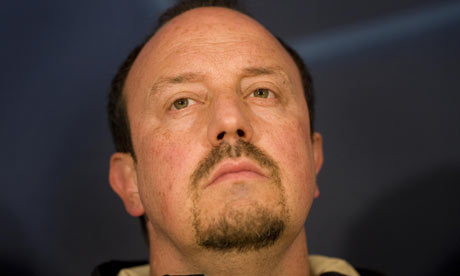 With the Liverpool / Manchester United game fast approaching we were enlightened to our opponent's current plight.
Apparently they've lost 4 in a row and it's their worst run for over 20 years. At Stretford-End.com we didn't realise this because you know, we're top and looking that far down the table would probably give us a nosebleed.
However don't let it be said we're not a charitable lot. We wrote to Liverpool Football Club to offer our support.
Wednesday October 21st, 2009

Dear Messrs Benitez / Gillett / Hicks

To whomever makes the decisions,

I am writing to you on behalf of a fan run website dedicated to the greatest football club in the world.

We understand that Liverpool Football Club are going through a sticky patch at the moment but we wanted to take a moment of our time to lend our very public support to the beleagured Mr Benitez and say that "In Rafa we trust".

Statistics show (probably) that Liverpool FC is the most popular real life crisis soap opera among Manchester United fans, particularly over the last 4 years, as fans flock in their droves to catch the 90 minute bi-weekly instalment hoping to see the latest comical catastrophe to befall their once proud neighbours. Admittedly it's a little more dour without it's two main cast, but the hilarious antics of the manager are unpredictable and so entertaining – what will he do next? Sell an integral player? Stage another ill-timed, ill-thought press conference? This is without mentioning the simply wonderful impact of the extras and props you've started to introduce to liven up the show in the absence of the main cast.

You will understand that in this current campaign trophies are a write off so a "change of the guard" as it were is unlikely to yield instant results at this stage – I implore you to do something for the rest of football and prolong the soap opera until it's natural conclusion.

I trust you will make the right decision.

Yours faithfully,

All at Stretford-End.com

PS. Should my support of your current management set up be ignored and you dimiss of this regime, let me be the first to get behind the return of one Kenneth Dalglish whose recent management record is impeccable. Roy Evans is still available to form a "dream team", I hear.

PPS. Should my above suggestion be dismissed or ignored I would like to suggest myself if the position became vacant. In view of the economic climate and the media reports of the financial damage sacking Mr Benitez will create I will work voluntary. It would be a pleasure.

You will note there is no address on the letter, please direct any response to Stretford-end.com .
As always we'll keep you posted if we get a response from our troubled neighbours.
Source: (Yolkie)