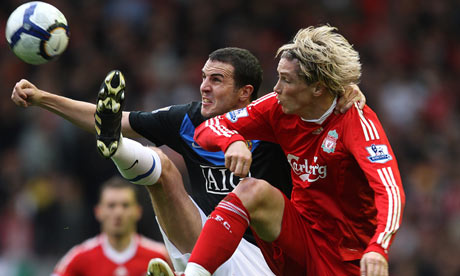 Fernando Torres and David N'Gog scored the goals to grant under pressure Rafa Benitez a reprieve as Liverpool comfortably, and deservedly, beat the Champions Manchester United.
As is often the case in games of such magnitude the first half was somewhat of an anti climax with chances at a premium, though admittedly Liverpool had the better of the opening exchanges.

After Evra was booked for a tackle on Torres – harshly, given that the Spaniard had shamelessly dived minutes before to earn Evra his first and final warning, Fabio Aurelio curled a free kick that required all the experience and brilliance of Edwin van der Sar. The Dutchman reacted quickly to stop the rebound from his compatriot Dirk Kuyt.
This flurry of activity on the quarter hour was enough to prompt a quick re-evaluation from United as they began to gather possession of the ball and dictate the game to their own pace – a tactic which almost paid instant dividends when a clever interlink between Rooney and Berbatov found Valencia wide right, however from his cross Rooney was unable to generate enough power in the header and it was a comfortable save. That was it in terms of chances created for the Champions in the first period save for some encouraging interplay and flashed crosses. On another day or in another part of the pitch Agger's blatant obstruction of Giggs may have resulted in a penalty or free kick but in front of the Kop with a referee overly fussy on the away side and remarkably lenient on the home it was never going to be given.
Liverpool's domination of the first half saw a couple more chances with a Kuyt chance horribly squandered after Scholes sloppily lost the ball and then an Aurelio header that was comfortable for van der Sar. However the home side were unable to turn this into any tangible advantage at the break.
The half time break should have served as an opportune moment for Fergie to tell his side to impose themselves more on a game that still looked there for the taking as the first goal looked as if it would be the decider, and that turned out to be truth, as Torres held off a challenge from Ferdinand to latch onto a Benayoun ball and smash home just after the hour mark.
This did force Fergie's hand as he brought off the poor Berbatov and ineffectual Scholes for Owen and Nani. However, perhaps feeling an unstoppable urge to be upstaged, referee Andre Marriner went from "fussy" to showstopper in a few single decisions. His continual refusal to book Lucas was getting to the point where you may have been forced to briefly consider if the two were infact related, and the same could almost be said for Mascherano's continual infringements had he not seen yellow with quarter of an hour left. However better was to come from Marriner who sensationally only gave Carragher a yellow card after the defender was caught out by Owen and hauled him down with the ex-Liverpool forward bearing down on goal.
It may have been implied that Marriner had a favouring over which side he wanted to win with his consistent string of bad decisions against United so there was probably not a more relieved man in the stadium than the referee when Vidic hauled down Dirk Kuyt on the half way line and should have seen red. Marriner however had fortunately given Vidic a ridiculous caution earlier on and in giving the Serbian his marching orders (the third consecutive time Vidic has been sent off against Liverpool) with a second yellow probably managed to escape calls of favouritism following the desperately poor Carragher decision.
With United piling forward against Liverpool's 12 man defence the ball was cleared and chased by Mascherano on van der Sar, with the Argentinian making a needless dangerous lunge at the keeper and forcing Marriner to reluctantly give the midfielder his second yellow. Deep into injury time another chased clearance resulted in N'Gog being clear of the defence and having the simple task of securing the win via scoreline even if it was never in doubt from other factors.
Taking nothing away from Liverpool who fully deserved the win, questions must be asked of Sir Alex's midfield selection – of course he will have bemoaned the enforced absence of Fletcher but it was a big call to play Scholes and Carrick against a defensive opponent, especially with an in form Anderson on the bench, and ultimately a call that backfired.
There was an unerring air of inevitability about the result as Liverpool were bound to be up for it and United had to match that determination but were found desperately wanting. There was little in the way of encouragement or goalscoring opportunities; just as in the team's other league defeat at Burnley. But just as in that game this deficiency seemed to be down to United's own approach than that of the opposition.
Sir Alex's immediate response after the game was probably far more gracious than it should have been, not drawing light of the referee, though taking recent events into consideration it was hardly a surprise Fergie felt he couldn't speak out in fear of having to start the next game with 9 men!
It is thus unlikely much will be made of Marriner's awful display but even the most staunch Liverpool fan will have to concede that although they deserved the three points they had more than just the rub of the green in this fixture – that does not however detract away from the fact that there are still huge question marks hanging over the consistency of the remodeled champions, and with Chelsea looking to ram home the advantage that their combination of stability and consistency brings, those questions need to find positive answers for United sooner rather than later.
Ratings : *van der Sar 6, O'Shea 5, Ferdinand 5, Vidic 5, Evra 5, Valencia 6, Scholes 5 (Nani 6), Carrick 6, Giggs 5, Rooney 5, Berbatov 5 (Owen 5)
Src: (Yolkie)