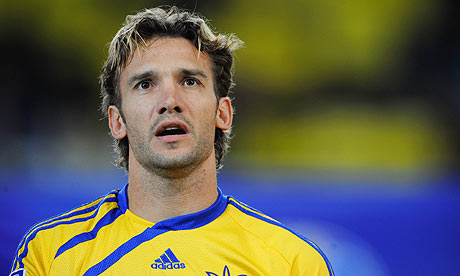 Andriy Shevchenko today stated that United tried to sign him when he was playing for Dynamo Kyiv back in 1999.  Shevchenko and Rebrov struck a superb partnership in the late 90's and reached the semi-finals of the Champions League under the guidance of legendary manager Valery Lobanovsky.  Dynamo Kyiv lost to Bayern Munich in the semi-finals but a new star of European Football was born.  Shevchenko revealed that he could have joined either Barcelona or Manchester United at 22 but chose the, then, five times European Champions AC Milan.  Over the years United have been linked to a number of star players throughout Europe who fell through the net for one reason or the other – who did you most regret not signing over the years?  The following article looks at some of the top players over the years who were linked with United.

Gabriel Batistuta – United were linked with the powerful Argentinian hitman through out the 1990's and also just before his £22Million move to Roma in 2000 (aged 32). Possible reasons for not signing was his loyalty to Fiorentina (having played in Serie B for them back in 1993), price for then one of the top marksmen in European Football and his ability to adapt to the English game. He scored 168 goals in 239 games for Viola and I have no doubt would have been a hit had he signed in the mid-90's.
Possible players missed out on/hindered progress: Andy Cole, Dwight Yorke, Ole Gunnar Solskjaer
United Factor (success or not): 8 (out of 10)
Zinedine Zidane – The best player of my generation growing up – Zidane was apparently available for transfer after his impressive 1995/96 campaign where he helped Bordeaux to the UEFA Cup final. The Frenchman went to Juventus to follow in the footsteps of Michel Platini and became a success both in Serie A and subsequently in La Liga following a £49 Million record breaking transfer. The story i've always heard was that Ferguson wanted to play Zidane on the right hand side of midfield but was concerned about the progress of Beckham.
Possible players missed out on/hindered progress: David Beckham, Paul Scholes, Eric Cantona, Juan Veron
United Factor (success or not): 10 (out of 10)
Marcel Desailly – Like a brick wall for Marseille, AC Milan and later at Chelsea – Desailly was one of the best most versatile defenders in his day. Comfortable in midfield, the Frenchman (who was sent of in the World Cup final for a laughable challenge on Cafu) played in and scored in one of the most shock European Cup finals of all time. The 4-0 defeat of Barcelona was summed up with the commentary 'and Desailly looks to curl one!' before bending the ball from the edge of the box past Johan Cruyff's dream team. Desailly revealed (in FourFourTwo magazine) that he had all but signed a pre-contractual agreement with United in 1998 before the deal feel through. He would no doubt have been a success at United but would United have signed a certain Dutch center half.
Possible players missed out on/hindered progress: Jaap Stam, Ronny Johnson, Nicky Butt
United Factor (success or not): 8 (out of 10)
Patrick Kluivert – Romantically stroked the ball past Sebastiano Rossi to secure the 1995 Champions League final and escalate the young Dutchman to superstar status. Born on the same day as Ruud Van Nistelrooy – Kluivert never reached the heights of that night in Vienna, however could well have been a success with the delivery from Beckham and Scholes after he fell out of favour at AC Milan in 1998. It was reported that the striker could have chosen a move to United, Barcelona or Arsenal (who were Champions at the time). The Ducthman choose Catalonia and United choose Dwight Yorke – the rest is history.
Possible players missed out on/hindered progress: Andy Cole, Ruud VanNistelrooy, Dwight Yorke, Ole Gunnar Solskjaer
United Factor (success or not): 7 (out of 10)
A lot of this could be paper talk, a lot of this could have been fragmented conversations overheard in a smokey pub – but – there is no doubt that the likes of the above along with Alan Shearer, Paulo Di Canio, Luis Figo, Lillian Thuram, Ronaldo and Shevchenko were linked to United in the past – and they say there is no smoke without fire! So just for a bit of fun – who do you wish had signed? Who's progress would have been hindered by the purchase? And how much of a success would the player of been at Old Trafford? I would have gone for Zidane, who I honestly believe is the finest playmaker i've seen. He had the temperament, flair and character to perform at Old Trafford and could have been integrated into a team that consisted of Cantona, Scholes (who was down the pecking order at the time) and Beckham.