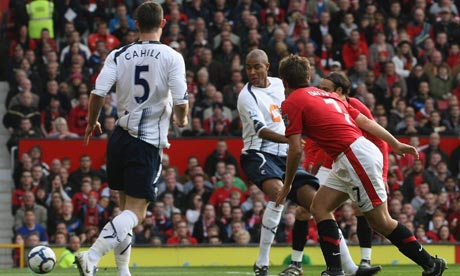 The two sides of Manchester United were on show as Bolton Wanderers threatened to overcome a two goal deficit to snatch a point – but in the end Antonio Valencia's first goal for the club proved to be the goal that put United to the top of the table.
Sir Alex Ferguson made a host of changes, some voluntary and some forced by circumstance – while Edwin van der Sar made a welcome return for his first league start of the season, Gary Neville, Antonio Valencia, Ryan Giggs and Anderson were restored to the line up while Michael Owen and Jonathan Evans started in place of the injured Nemanja Vidic and Wayne Rooney – Dimitar Berbatov also was selected when the birth of his daughter in the midweek had threatened to render the Bulgarian unavailable.

Despite the changes Manchester United had clearly been sent with a message in mind, to reclaim top spot after Chelsea were beaten at Villa Park, particularly considering that last time out the Champions had been held at home to Sunderland. Their bombarding early start was rewarded with a goal when Owen's connection from Evra's cross was directed into his own net by luckless defendr Zat Knight after only a couple of minutes.
More could have followed moments later – sublime interplay between Giggs and Berbatov saw the Welshman's dink across goal headed by Evans – the Northern Irish defender could scarcely believe his eyes as experienced Bolton keeper Jussi Jaaskalenien somehow clawed the ball away.
Berbatov was in good form and almost scored himself, but his acrobatic volley was deflected off Owen. However, Bolton's approach to the game was evidently one without fear and they were almost rewarded when Kevin Davies headed wide, and then Matty Taylor had a couple of efforts that went narrowly wide.
Shortly after the second Taylor effort, on 33 minutes, United broke – Valencia played a clever one-two with Neville and smashed home the return at the near post for his first goal for the club. A 2-0 half time lead was just reward for a performance which saw the home side dominate possession with 69% of the ball and rack up almost half a dozen corners before even half of the first half had been played.
There was no danger of any complacency after the break as United stepped up the pressure in an attempt to completely kill off their opponents. Berbatov was imperious and at the centre of everything, creating two chances for Owen – the first dragged wide and the second killed by the hesitation of the English forward – and then for Valencia, who couldn't convert – with magnificent passes. In the midst of all those created for others, Berbatov almost scored with an acrobatic effort similar to that converted in his last game against Sunderland, this time however the Bolton stopper was equal to it.
United's clear cut chances were few and far between however after the hour mark as the visitors tightened up the centre of defence but they still enthralled the crowd with sequences of brilliant build up play.
The game totally turned on its head on 75 minutes – Bolton's fearlessness found success when Kevin Davies' second attempt at a cross was headed in by Taylor. The Trotters had previously provided a scare when Klasnic put the ball in the net, however it was disallowed for handball in the build up, but the permitted goal unnerved the champions who had to survive an extremely uncomfortable final quarter of an hour.
Survive it they did – but the sense of instability created by the Bolton goal is something that will need to be addressed by Ferguson.
There were however plenty of positives to take – in Anderson, Giggs and Evra the Red Devils look to be finding a fantastic footballing combination that is a treat for the eyes as well as incredibly penetrative. Giggs in particular is showing that his form AND class are permanent. Berbatov and Owen combined well as on a day where the latter was sharper, being the beneficiary of the former's stunning passes and flicks could have given him a hat-trick – of course Rooney will always be first choice but this combination showed plenty of reason for there to be no panic when he isn't available (indeed, it looks like United have more of a problem replacing Giggs than Rooney given the Welshman's contribution to this new United side). And Neville and Valencia gave encouraging signs that they could prove to be a present day incarnation of a Parker and Kanchelskis combination. In a physical battle Bolton attempted to plot Davies onto Evans but the youngster was unfazed by the battle with the experienced forward.
The number of chances missed didn't exactly result in profligacy and perhaps it should be a positive that although United were made to withstand late pressure, withstand it they did with a fair degree of relative comfort.
Ratings : van der Sar 6, Neville 7, Ferdinand 7, Evans 8, Evra 8 (O'Shea), Valencia 8, Carrick 6, Anderson 8 (Scholes) , *Giggs 8, Berbatov 8, Owen 7 (Welbeck).