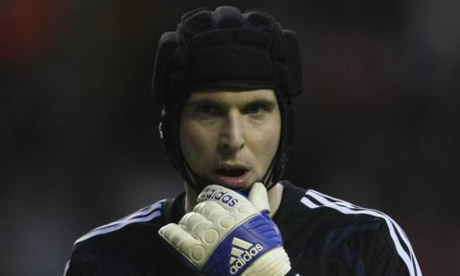 Manchester United manager Sir Alex Ferguson has revealed that the Chelsea goalkeeper Petr Cech may well have moved to United prior to his transfer to Chelsea from French club Rennes.  The Chelsea goalkeeper was bought, along with former United target Arjen Robben, by Claudio Ranieri before Roman Abramovich came to power at Stamford Bridge.  Fergie spoke on how close United were ingetting the Czech Republic International.

United had a whole string of goalkeepers after Peter Schmeichel left for Sporting Lisbon in 1999, with some fans labeling the six years between the Dane leaving the club and United purchasing Van Der Sar as a United goalkeeper crisis!  Sir Alex Ferguson revealed that he watched the Chelsea keeper twice when the keeper was only 19 but thought he was too young to replace Schmeichel:
"I think Chelsea had a better nucleus when they started spending (than city). They bought well under Claudio Ranieri with Frank Lampard, Joe Cole, Arjen Robben and so on. Terry came through the youth system and they bought Petr Cech very cheaply as it turned out, at 21. We actually watched Cech. I saw him twice myself and I thought that at 19 he was a bit young. I was looking for someone to replace Peter Schmeichel and I thought that was a big ask."
Petr Cech injured his head against Reading's Andy Hunt and was advised to wear his head gear for the rest of his career. As you probably don't have the same riches as Roman Abramovich and Chelsea, you might want to check out The Head Injury Site for head injury compensation.
United have found a solid keeper in the form of Van Der Sar, however the Ducthman will be 40 next season and Ben Foster spoke today of the 'big 12 months ahead of him'.